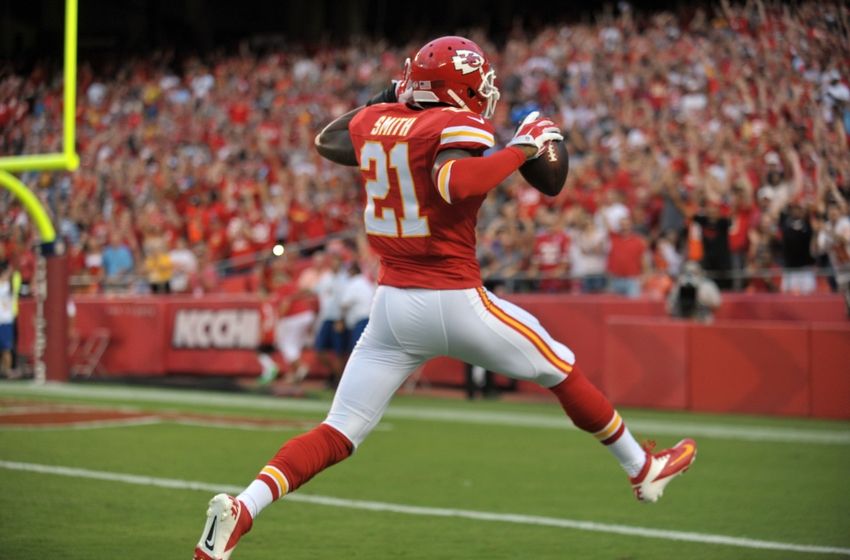 Just to clarify before we get into today's version of "the 49ers are treading water in a feces-laden duck pond," we don't know everything about what they're doing or not doing.
— The 49ers could be negotiating with multiple teams about a trade that would involve Colin Kaepernick, or they could be talking to one team or even no teams (although "no teams" seems rather unlikely at this stage).
— Perhaps they were never all that interested in Sean Smith, the big cornerback who was supposedly their top free agency target. Smith signed today with the Raiders.
— They could've been in on several top free agents, guys they really could've used (like Olivier Vernon or Alex Mack), before barely losing out on those players.
— They're waiting until this Kaepernick thing gets sorted out to make moves.
***
All of this ignores the fact that the 49ers certainly, absolutely, most definitely should be more active in free agency.
*** "But good teams don't build through free agency, they build through the draft!" ***
*** "The first-day free agency contracts are always overpriced!" ***
We've heard these claims a million times, because the Green Bay Packers, supposed geniuses due to their free agency strategy of abstinence, are the team every other franchise should strive to be. The Seahawks and Patriots were quiet yesterday, and the Broncos made news yesterday by losing players to other teams.
***
Except the 49ers aren't the Packers, Seahawks, Patriots or Broncos. Those teams have talented players. There aren't any reasons for the 49ers to abstain (other than frugality).
— They have over $50 million in available cap space after keeping Ian Williams, Quinton Dial, Garrett Celek, Ray-Ray Armstrong, and Shaun Draughn. They could've signed one or even two of the top free agents from this class and not crippled their cap in future years.
— As I've written countless times since the great offseason purge of 2015, the 49ers are nearly devoid of stars. It's a team full of roster-fillers, young guys who may or may not pan out, and NaVorro Bowman. He's their star, and while he led the NFL in tackles, he might never become the same do-it-all superstar he was before his knee injury.
— The 49ers' roster is very young overall (the previous coaching staff mentioned this on a near-weekly basis when making excuses for losses). Collecting veterans who not only can play, but know how to succeed as professional athletes, would help the entire team.
— Their offensive line needs help, and this free agency class featured some strong interior lineman. But the 49ers will probably end up with a lesser free agent o-lineman who they'll hope can perform better than last year's below-average free agent lineman, Erik Pears.
— They still need a pass rusher to pair with Aaron Lynch, unless they still plan to count on Ahmad Brooks.
***
But the 49ers are facing an uphill climb when they try to recruit players.
— State taxes and exorbitant housing prices in the Bay Area can't help.
("But the Raiders are dealing with the same problems," you say.)
— Sure. And like the 49ers, Oakland has cap space. But they were somehow able to land Kelechi Osemele, Bruce Irvin and Smith. The Raiders, despite the uncertainty regarding where they'll play their home games in future seasons, are on the upswing with a promising quarterback in Derek Carr and a superstar pass rusher in Khalil Mack.
— The Raiders also have a head coach who hasn't been ripped publicly by multiple former players … unlike Chip Kelly, who was called a "dictator" by Eagles lineman Lane Johnson. Evan Mathis said his former coach ran "a never-evolving, vanilla offense that forced our own defense to play higher than normal play counts."
Ex-Eagles offensive lineman Tra Thomas:
"One of the things that you're seeing right now, and these are the things that you have heard from the locker room from different players is that … they feel like there is a hint of racism," Thomas said on WTXF-TV Fox 29. "When you put that tag on someone, you've got to be careful with that, but there are some of the players that kind of feel like that's what it is. Especially when there was a report that came out last year that the Eagles were one of the whitest teams in the NFL. So you start to see the culture of the team change extremely quickly, when Coach Kelly takes over."
LeSean McCoy also tossed a racial accusation Kelly's way, and whether or not these claims are true, players listen to this stuff and draw their own conclusions.
— The way the 49ers treated Kaepernick and Jim Harbaugh — not just the firing/benching, but floods of leaks seemingly floated to destroy their reputations and make the 49ers' coaching staff and front office look better — sends a bad message to players (and coaches) around the league.
— The 49ers went 5-11 and their projected starter at quarterback is Blaine Gabbert. Their defense will have the highest workload in the league as long as Kelly is in charge. Kelly was unapologetic about this during his intro press conference after the 49ers hired him. Why would anyone willingly sign with this team if they're getting similar offers from other clubs?
— Besides, the 49ers are known for not offering a lot of upfront money. Nothing we've seen this week indicates this has changed.
***
Alex Boone, the team's former resident blowhard who also happened to be their second-best offensive lineman, is now a Minnesota Viking. Anquan Boldin reportedly "wants to play for a team that can compete at the highest level," and he's a smart player. Read between the lines there.
Losing Boone and Boldin in the same offseason wouldn't necessarily be crippling. Not compared to last year's offseason, especially. But thanks to that offseason and some mediocre drafting, the 49ers were already at a talent deficit before this week began, and if you think Trent Baalke is going to replenish the roster with his 12 draft picks in May, you haven't been paying attention since 2012. With most of the top free agents (other than Eric Weddle, who plays at a position where the 49ers are pretty much set) already off the table, it's time to start wondering if the 49ers are in a holding pattern, where the only thing that improves is their profit margin (which makes one wonder how much power Baalke has to improve the roster, or if he's hamstrung by Paraag Marathe's financial game plan and the Yorks' desire to get even richer).
"In terms of salary cap, just because you have room doesn't mean that you have to spend the room. You can transfer that room over to this year. We've got a lot of salary cap room. So, you can't just spend money to spend money. You want to make sure that you're spending money wisely. So, we will always continue to manage the cap. Trent and his staff know that if they need to spend the entire room, they can do it. If they need to roll it over, they can do it and we will do what it takes to get back to a championship level."
That's what Jed York said on January 4. Unless Baalke goes on a massive spending spree on the less-heralded free agents, guys like Cardinals offensive lineman Ted Larsen, it appears the 49ers' cap strategy will probably be to "roll it over" to next season as well. If that ends up being the case, the 49ers will roll over and finish no higher than third in the NFC West.