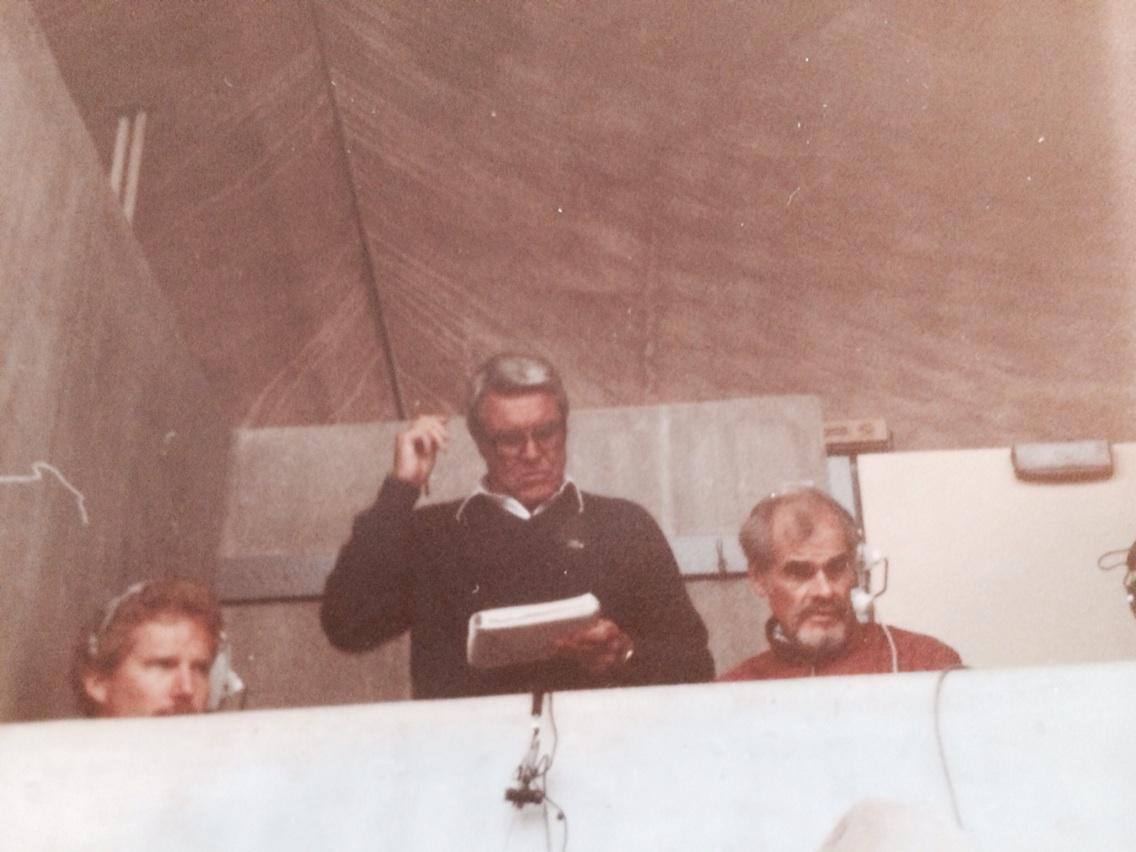 I was all set to write a column today about Opening Night and whether the A's could break the hex of losing their first game seemingly every year, but I had to go in a different direction. Yesterday the news of Lon Simmons' passing came out and definitely put a damper on any holiday festivities. A Hall of Fame broadcaster, Lon was a legend for the 49ers and both Bay Area baseball teams. Though he started in San Francisco, I will always remember him for his 15 years with the A's, where he was teamed with the incomparable Bill King. Sometimes in life we don't know when we have a good thing or we simply do not appreciate something until we lose it. Well, that was not the case with Bill and Lon. We KNEW how good we had it with those gentlemen and we DID appreciate every single inning. It's nearly miraculous enough to get one play-by-play broadcaster as talented as one of those guys, so it was an embarrassment of riches that we had both of them simultaneously.
You can read or hear some of Lon's fantastic calls and hilarious observations in many outlets today, so instead of listing some of my favorites, I will share with you a rather poignant memory of Lon. The date was October 17th, 1989. I was 24 years old and had a bounce in my step that morning because I had a ticket to Game 3 of the World Series at Candlestick Park. I left my house wearing an A's hat and a Raider Starter jacket. My team was up 2-0 in the series and I was excited to see the Bash Brothers wearing grey on the road. I took BART downtown to meet my friend Jeff (a Giants fan donning a Will Clark jersey) at Harrington's for some pre-game beers. We then drove in his truck to the 'Stick, sat in our left field seats, and waited for first pitch. He was sure the home surroundings would arouse the National League champs whilst I was feeling good about having 17-game winner Bobby Welch on the hill and going up 3-love.
Then my seat started to shake a little … then violently. I was holding on to the armrests and looked up at the light standards. They were twisting and shaking in a manner that had my gaze firmly fixed on them. I was sure one would snap off and crash onto the crowd. After the earthquake finally stopped, it seemed everyone except me cheered and clapped. I told Jeff, "that was a really bad one." He told me it was no big deal. Then someone with a Sony Watchman yelled out that "the Bay Bridge has collapsed!" I thought he meant both entire sections with thousands of commuters on them. Not a pleasant image to imagine. Then after a while a cop car blasted out on its PA horn, "The game is cancelled." We trudged back to his truck and then began a six-hour drive back to Richmond. All the bridges were closed. No phone lines were available. A huge plume of smoke rose from the Marina. All we could do was drive at a walking pace along with everyone else down to the bottom of the bay and back up the east side.
This is where Lon comes in. He and Bill became reporters at that point. Not just reporters, but trusted friends and father figures. They gave updates about the quake, which I feared was on the Hayward Fault. It was hard to believe when they said the epicenter was near Santa Cruz. It was Lon and Bill who informed me of the horror of the falling of the Cypress structure in Oakland. There was no way of knowing if my parents or brothers were ok. We could only plod along and pray for the best. The sound of Lon and Bill's voices, combined with the trust I had in them and how intelligent they were, was a calming influence on me. When I was studying journalism in college, a professor told me that the greatest on-the-fly news reporting he'd ever seen was when ABC Sports host Jim McKay was faced with the Munich slaughter of the Israeli Olympians. "They're all gone," is still one of the most chilling and memorable lines ever delivered in television history. But on that awful fall night in 1989, Lon and Bill held our hands and got a lot of us safely home. Rest in peace Lon Simmons, one of the nicest men I've ever met, and certainly one of the greatest sports broadcasters ever. We were beyond lucky to have had you with us all those years.