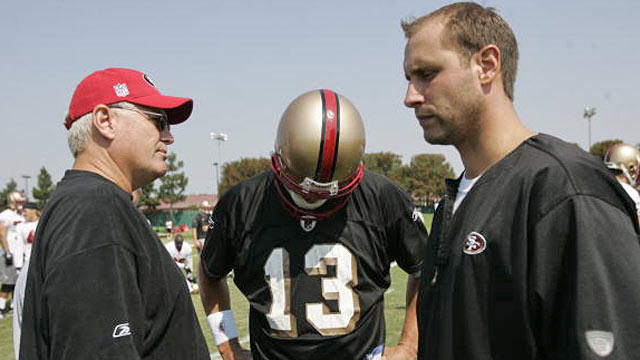 While it's obviously not Jed York this time, there's still plenty of bad 49ers business getting leaked to the national media. On Sunday, Tim Kawakami (who has been absolutely crushing it on the red and gold front lately) reported that Adam Gase lost his shot as 49ers head coach because he wouldn't elect Jim Tomsula to the position of defensive coordinator.
Now Albert Breer is adding some details to this fiasco:
Source said Adam Gase's pitch to the Niners was to a) keep Vic Fangio as DC if he was willing or b) hire Vance Joseph from Cincinnati. …

— Albert Breer (@AlbertBreer) February 16, 2015
… There was the chance Fangio would've left any way, and the Bengals did block Joseph. But interesting Gase wanted to keep Fangio. — Albert Breer (@AlbertBreer) February 16, 2015
This is some bizarre stuff. First of all, it comes as a surprise that Gase was in serious consideration for the job at all. If any of us were wondering just why on earth Trent Baalke spent so much time with Gase, that question is answered. The 49ers were seriously considering him to become Jim Harbaugh's successor. In fact, had he just toed the line, he would be exactly that today. But Gase wanted Fangio (meaning Gase is probably sharper than we thought). That may have been fine and dandy … until Baalke returned to the Bay Area. This is where the idea of Tomsula as a defensive coordinator crystalizes, and it makes you wonder just who it is that's so enamored by Tomsula exactly. It's really not a tough conclusion to draw.
Also, it's cause for concern knowing that Gase wasn't comfortable promoting Tomsula, the man who is now the 49ers head coach, to the position of defensive coordinator. The theme of the buck stopping at the offices of Trent Baalke and, more importantly, John Edward York reappears once again. Allowing an owner complete control of a franchise's decision making is never a good thing, but it's doubly bad when that owner has no idea what he's doing.