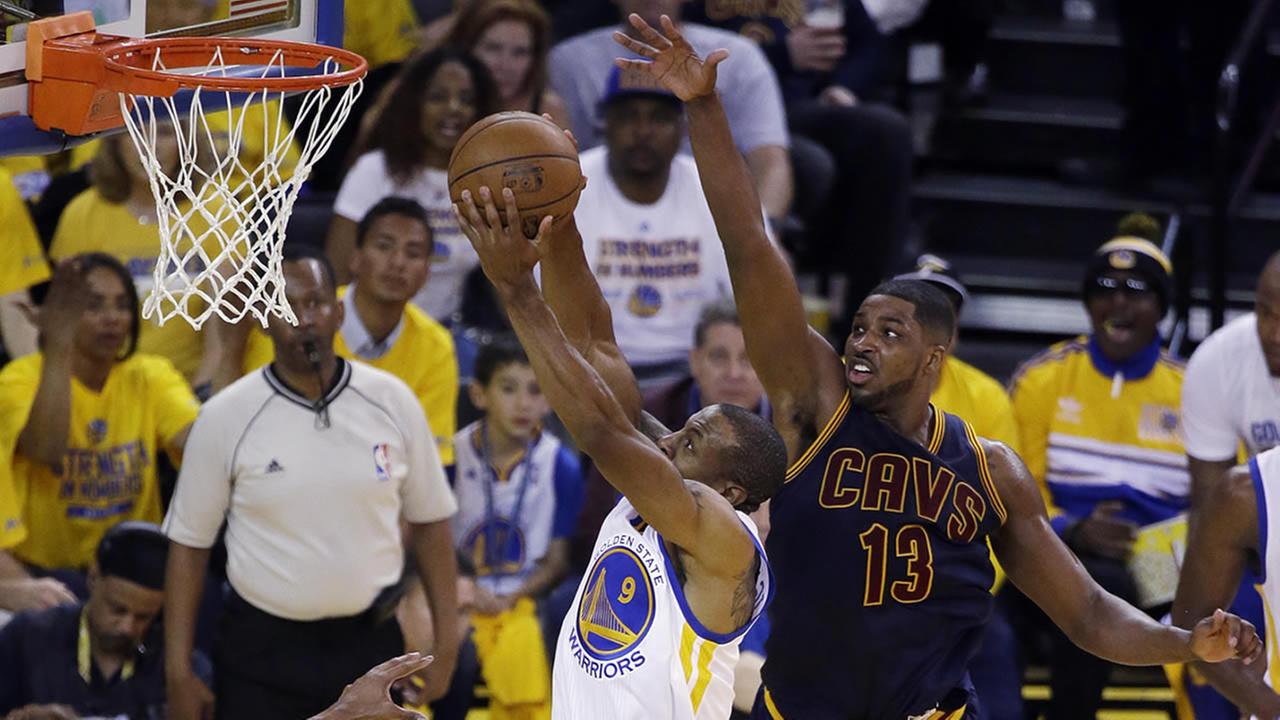 It was a game that could've gone five more overtimes and no one would've minded, but the Warriors outscored the Cavaliers 10-2 in the extra session to win 108-100 and take a 1-0 lead in the 2015 NBA Finals.
Check that — a few players on Cleveland probably would've minded if they had to play an extra 25 minutes. While the Warriors played 10 guys and got solid contributions from nearly all of them (ahem, Leandro Barbosa), the Cavs played eight and were carried by their starting five. LeBron James was a one-man show at several points of this fantastic game, scoring 44 points in 46 minutes. Incredibly, Kyrie Irving played 44 minutes and was an effective all-around player throughout, but he re-injured his left knee in overtime, left Oracle on crutches, and is questionable for Game 2.
That's what makes the result of Game 1 so great for Golden State and so catastrophic for Cleveland — the Cavs had a huge lead, they had a chance to close this one out in regulation, and now they could be without their second-best player for one game or even longer. James was talented and powerful enough to come THIS close to willing the Cavs to victory on Thursday night in Oakland. Cleveland is already without one of its "Big Three." Is it possible for James to keep his team in this series without two?
Andre Iguodala to the rescue
While the Warriors started slowly ("We all had nerves that first quarter, you could tell just how we there throwing the ball around," said Klay Thompson), the Cavs roughed up the Warriors without playing dirty — their dominance in the first quarter seemed to come from the confidence emanating from their transcendent superstar, which manifested in the form of offensive rebounds, Cavaliers scrambling for loose balls, and stingy play on the defensive end.
Great defense even came from Irving, of all people. The point guard who's known as a scorer first (and a defender dead last) played extremely well, and he came up with a block that could've been the play of the game if James would've made the third game-winner at Oracle Arena of his career.
Notice in that second video, the defense from Andre Iguodala.
The screen from Iman Shumpert did nothing (although Shumpert came close to sucking the life out of Northern California with that desperation heave from the corner that almost went in at the buzzer).
Iguodala's hands were so active, fighting against James' right arm to make sure that he wasn't able to go left and take the step-back he wanted (the same step-back that had killed the Warriors two times before, including one last year over Iguodala) from too close to the basket.
Then Iguodala swiped down at the ball as James gathered, close enough to bug the King but without making the kind of contact that would've led to game-ending free throws.
Finally, Iguodala challenged the shot about as well as any human could, once again while not fouling.
Iguodala was an absolute beast in this game. He crossed up James and dunked to end the first quarter, a play that lifted everyone's spirits after a disastrous first 11 minutes and 55 seconds. He did nearly the same thing at the end of the third quarter, as he stole the ball from James. The ball went to Barnes, who passed to a streaking Iguodala who evaded J.R. Smith and finished with another slam. Iguodala went 6-for-8 from the floor, even making a shot with one shoe off. But the offense (as Kerr has said before in these playoffs) is just gravy — the biscuits came in the form of his energy-sapping defense against James, in his first game after eating James Harden for breakfast.
Steve Kerr: "I thought he was fantastic. Andre is one of the smartest defenders I've ever seen."
Thompson: "Well, Andre, he's one of the best defenders in the league, and obviously LeBron had a great game. But he made it so tough on him that last quarter and a half. He's got long arms. He's very active. Some of the best hands I've ever seen, and he did it on both ends."
Iguodala: "I had a really good vet. I'll never forget the information my vets gave me. Aaron McKie, when I was a rookie, he was walking me through it, because I was starting and guarding a lot of those guys. He always said make it hard for them. NBA is about scoring. You've got a lot of talented players, guys are going to score the points. You've got to get stops. The thing to do is make it hard for them. Don't foul them. Make them take tough shots and the routes hard."
LeBron's shot chart with Iguodala on-court. pic.twitter.com/5RhwduJM8v

— Hardwood Paroxysm (@HPbasketball) June 5, 2015
James was 9-for-16 against everyone else the Warriors threw at him (mostly Harrison Barnes, with a little bit of Draymond Green, Thompson and even Stephen Curry mixed in). Iguodala took a lot of punishment, too. 
It was a great game for Iguodala, but as I wrote earlier, he was one of many Warriors who contributed mightily in the franchise's first Finals game in 40 years.