Many times in the entertainment world, an actor or singer is denied the opportunity to have one last hurrah. And in sports, oftentimes athletes suffer the same fate of never getting to have one final moment in the sun. In some cases they'll even resort to signing a farcical one-day contract in order to "retire" as a member of their former team. Rare are the cases of a Kareem Abdul-Jabbar, Derek Jeter or Mariano Rivera to have a retirement tour. For most pros, they simply just stop playing because teams discard them.
This spring, Barry Zito decided to try his hand at baseball one final time. After leaving the game upon the conclusion of the 2013 season, he had been working out after a year off and felt he was ready to join a big league rotation again. Fittingly, it was A's who gave Zito the chance to rekindle his baseball career. Zito was a first round pick of Oakland back in 1999, and had a very productive seven years at the Coliseum. He was one third of the "Big Three" along with fellow starters Tim Hudson and Mark Mulder, made multiple All-Star Game appearances, and won the American League Cy Young Award in 2002.
Zito almost became a Met … twice
Entering his final contract year in 2006, the question was weather Billy Beane would cash in on Zito and trade him or keep him for a playoff push. The big rumor at the time was the Mets wanted him and offered pitchers Aaron Heilman and John Maine. But Beane wanted New York's top prospect, outfielder Lastings Milledge. The Mets wouldn't budge on Milledge, so Zito remained in the Green and Gold. It seemed like the right call when Zito beat Johan Santana at Minnesota and the A's defeated the Twins in the first round of the playoffs. But Zito then was shelled in Game 1 of the ALCS vs. Detroit, in which the Tigers swept the A's.
That winter, rumors had Zito being reunited with his former pitching coach Rick Peterson at Shea Stadium with a free agent deal worth five years and $75 million. It looked like a done deal until the Giants came storming in with the richest deal for a pitcher in baseball history: seven years for $126 million. This was a deal which Giants owner Peter Magowan publicly admitted years later was "a big mistake." The pressure was on Zito to live up to his salary.
From hero to zero, back to hero again (briefly)
His initial season with the Giants was poor, as he had his first-ever losing record at 11-13, with a 4.53 ERA. But it got much worse in 2008, when Zito began the season with an April record of 0-6, 7.63. He finished the campaign at 10-17, 5.15. It was the second-most losses in San Francisco history. In 2009, he was 0-2 with an ERA of 10.00 after his first 2 starts. KNBR icon Ralph Barbieri asked Zito if he would return some of the money he had earned. He became Public Enemy No. 1 at his own ballpark and was booed relentlessly. He ended that season with a record of 10-13, 4.03. It was better than his previous year, but fans expected much more out of the $126 million dollar man.
Zito's 2010 season concluded with a mark of 9-14, 4.15, but the Giants had made the playoffs. The only problem was that young Madison Bumgarner was chosen to be fourth starter after Tim Lincecum, Matt Cain and Jonathan Sanchez. Zito was left off the playoff roster entirely, mostly because he went 2-12 with a 4.97 ERA down the stretch. Zito never complained and stayed healthy in case he was needed. He wasn't, and the Giants won their first World Series since moving west. Foot and ankle injuries curtailed his 2011 season, and he even made appearances out of the bullpen. But he ended that year with record of 3-4, 5.87.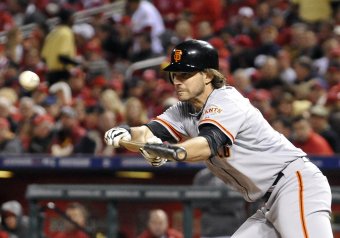 No one expected Barry Zito to be a big part of the Giants' plans in 2012. Who would have thought that he would be a playoff hero? A renaissance regular season record of 15-8, 4.15, meant that he would be on San Francisco's playoff roster this time around. After a remarkable performance against St. Louis in the NLCS, Zito was incredibly the Giants' Game 1 starter in the World Series vs. Detroit. Zeets outdueled Justin Verlander and even had an RBI-single in the 8-3 victory. They would win the series in a sweep.
Zito went back to being atrocious in 2013, going 5-11, 5.74. The Giants bought out his option year of 2014 for a tidy sum of $7 million, and it looked like Barry was finished with baseball. He bought a full-page ad in the Chronicle to thank the Giants for their support. Most Giants fans lustfully booed him and cheered him in his time at China Basin. In the end, they could thank him for his 2012 playoff starts.
The last chapter
Fast-forward to a full season spent in Pacific Coast League in 2015. Zito was playing against teams named Chihuahuas, River Cats and Zephyrs. He didn't need to come back to the minors. He had all the money in the world, along with a beautiful wife and fantastic home. But he missed the fellas, the banter, the camaraderie, the hijinks and the competition. And after being told just a week ago by Billy Beane that he would not be called up, he has been.
This was a bone thrown to the A's fans. In a season lost to questionable trades, something had to be compelling in these last two weeks of baseball. We would rather see Zito than Cody Martin any day. And Zito might even face off against Huddy when the A's play in Oakland next Saturday. He's come full circle, and he gets another chance to doff his cap and ride out into the sunset. Welcome back, albeit ever so briefly, Barry Zito.