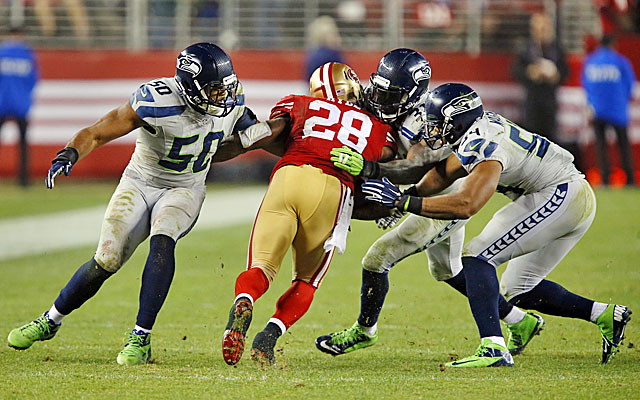 Due to a foot injury that has hampered Carlos Hyde for two full games and part of another, the 49ers' lead rusher was ruled OUT today for Sunday's game in St. Louis. Before the announcement, Jim Tomsula started today's press conference in his customary way, with a list of injured/absent players.
"Good morning. The injury report, [DT] Tony [Jerod-Eddie] is back today. Tony was excused for a family matter yesterday. [WR] Anquan Boldin, we're going to hold him out today. Obviously, he had the hamstring tighten up on him yesterday in practice. We will see where that is. And [RB Carlos] Hyde also, you'll see him working along the side with the guys like he does. That's just the way that will be all the time. It's been that way and will continue to be that way. So, that's all I've got coming out of there."
It's less strange that Hyde was ruled out — even after Tomsula made it seem like his status hadn't changed — than the fact that he played against Seattle at all.
Hyde appeared to sustain the injury against the Giants.
He went down in a heap before anyone made contact with him against the Ravens.
He told Tracy Wolfson of CBS that he suffered a stress fracture in his foot before facing the Seahawks.
When asked whether he had a stress fracture after rushing 11 times for 40 yards against the Seahawks, he said: "something like that."
The 49ers' two most valuable assets, the only young and relatively cheap players who've shown flashes of potentially becoming stars, are Hyde and Aaron Lynch. With the 49ers playing so poorly against good teams, and Hyde's production falling off since the injury, why on earth would they allow their top tailback to keep playing with an injury that will only get better with rest?
"Well, in terms of myself and even Carlos, with our medical staff we're not going to put somebody in danger. So, I have complete confidence in that. Our people don't put people on the field that are at risk to further injure themselves or things like that. So, I'm good."
That's what Tomsula said a day after the Seahawks game.

Not that it's Tomsula's decision or fault (as a head coach, he's going to do the most he can with the best available players), but his comments would seem to conflict with Matt Barrows' report a few days later:
UC Davis surgeon Eric Giza said stress fractures to the outside of the foot, or fifth metatarsal, are common among athletes, including football players. He said the usual process is to undergo surgery immediately, have a screw inserted, then rehabilitate and return to the field.

"I'm a little surprised they're not being more aggressive," said Giza, chief of the UC Davis orthopedics department's foot and ankle service and team physician for Republic FC. "But it could be another variant."

Another type of fracture can occur to one of the small bones in the midfoot. Dan Solomon, an orthopedic surgeon with Marin Orthopedics and Sports Medicine in Novato, said that kind of injury could come from a single impact, especially when the foot is bearing more weight that normal.

Solomon said a mid-foot fracture typically will heal on its own in young, healthy patients, especially if it is not displaced – Hyde's fracture almost certainly is not displaced – and if the patient rests the foot.

That's not the plan with Hyde, who continued to play against the Giants and started the next two games.
If this was a shoulder injury, it wouldn't be considered team malpractice. Running backs can last an entire season with a sore shoulder or even elbow, as long as their ability to protect the football isn't compromised. But running backs sort of need their feet. And a stress fracture occurs due to "stress" on the area. What's more stressful for a foot than planting and cutting as hard as possible 20 or more times, with 300-lb players either grabbing his feet or even landing on them?
Whether Hyde incurred a setback this week, or the 49ers decided to finally exercise caution with their only dependable running back because the Edward Jones Dome has an artificial playing surface … well, only the 49ers know for certain. And clearly their offense is rendered impotent without a healthy and effective Hyde. But that's the crazy thing about this — not only was Hyde not himself against the Ravens (2.6 yards per carry), they gave him 21 carries and threw to him twice! Then they played him against a physical run defense on a short week!
There's a disconnect with this team. OK, there are several disconnects. But it's completely illogical to do things like punt on 4th-and-3 in the fourth quarter down three scores — which signals that the most important priority for this team is to lose by a score that they don't believe is quite as embarrassing as they would if they did things by the book — while not protecting a player who should be in their future plans.
As for Hyde's replacement against the Rams, let's hope they see this as an opportunity to see what Jarryd Hayne can do. They never should've signed Reggie Bush. Mike Davis hasn't shown anything during the preseason or in his few regular season opportunities to indicate he can handle 15+ touches against the Rams' defensive front. Hayne is a total wild card. He could be awful and fumble on his first carry. He also had an eight-yard carry on 3rd-and-1 in the red zone against the Giants (he had a one-yard carry on the next play, and hasn't touched the ball on offense in the two-plus games since).
The 49ers aren't going to make the playoffs, and Bush shouldn't be in their future plans. The smart play would be to split carries between Hayne and Davis to see if they have anything with either of those players. However, after seeing how they handled Hyde's foot injury, it looks like the only thing keeping Bush off the field for the majority of snaps against the Rams is another calf injury.