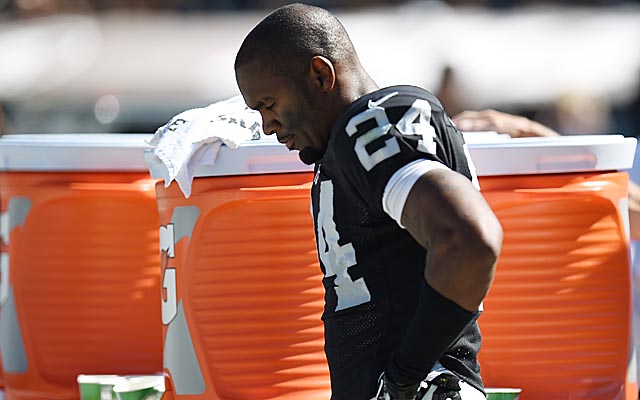 After the Oakland Raiders were taken to the woodshed by the Houston Texans, losing 30-14 in a game that was nowhere near as close as the score would indicate, veteran safety Charles Woodson didn't hold back:
"We suck. Collectively we look bad. It's frustrating because everything that other people say about you, we're making them right … I'm really embarrassed."
The Texans came out and dominated the game from the first snap until they decided to stop trying in the fourth quarter. By that time they had a 27-0 lead and only then were the Raiders able to find the end zone. The Raiders eventually scored two touchdowns and made the final score appear slightly more respectable, but anyone who watched the carnage knows there was no respect to be had for the Silver and Black.
You can't respect a defense that gives J.J. Watt his first touchdown by allowing the defensive stud to walk into the middle of the end zone for a wide open pass. You can't respect a team that gives up 151 yards on the ground in between the tackles. You can't respect a team that was out-gained 150-3 in total yardage at one point in the game. You can't respect a team that literally fumbles every opportunity away.
Woodson's assessment was correct. The Raiders have gone from bad to completely laughable. At no point in Sunday's game did the Raiders appear as though they would be able to compete with the Texans. Arian Foster was running the ball right through the gut of the Raiders defense. Once the Texans saw they could do that, there was no turning back. The Texans ran the ball 46 times on the Raiders on their way to 188 yards.
That left quarterback Ryan Fitzpatrick with the primary responsibility of converting on third downs and keeping the ball safe, which he did with the greatest of ease. Thanks to a cushy Raiders zone defense, Fitzpatrick was made to look brilliant as he went 14-of-19 for 139 yards and two touchdowns. He made plays when needed and kept out of the way the rest of the time.
Up next, the Raiders look forward to a fun two weeks of playing at New England before traveling to London and facing the Dolphins. Unless they miraculously turn things around, the team could easily be looking at hitting the bye week with a 0-4 record.