I woke up to news that Chris Culliver is no longer a 49er. He didn't just sign with Washington, either. He cashed out with Washington. Four years, $32 million, with $16 million guaranteed over the first two years.
Am I missing something? I know Culliver is big, physical, and has had some good games — most notably during the latter part of the 2014 season. But at first glance this seems like a massive overpay. But I am probably biased, since the top memories I have of Culliver are dominated by noteworthy moments that he probably wouldn't put on his resume.
1. The Jacoby Jones touchdown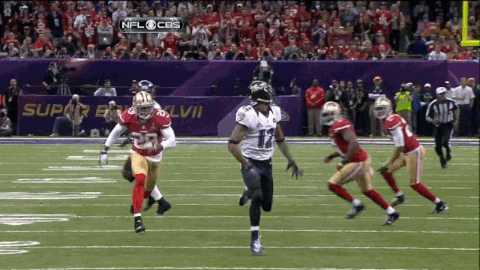 I sat two sections above this play, behind this very end zone. It's as baffling now as it was then. Joe Flacco simply heaved the ball into the air, like he was playing "Three Flies Up." That's because Culliver was beaten so badly that Jones had time to wait for the ball to come down, get up off the ground, and run around Culliver (who made some sad sort of leaping attempt at deflecting the pass long after it had already passed by — Will Ferrell wasn't as late on Jean Machi's fastball yesterday as Culliver was on that pass) for the touchdown.
2. "Who would you guard?"
Earlier that week, during one of the 49ers' media availability sessions, I walked up to a table shared by Culliver and Tarell Brown. At the time, Brown was the better corner and I'm sure he's still the better interview subject (by far), so I started asking the affable veteran corner some questions about the Ravens receivers. This didn't sit too well with the second-year cornerback out of South Carolina.
Culliver: Could you guard one of their receivers?
Me: Absolutely! (laughing)
Culliver: Who would you guard?
Me: Are we playing NBA 2K13?
Culliver: No, we're playing NFL football, in the Super Bowl.
Me: They'd be so far past me. It would be the snap, and then…
Culliver: I know, but it's just a question. Who would you guard?
Me: Uh, I'd probably say (Anquan) Boldin because he's the only one who isn't WAY faster than me. (Note: Boldin is WAY faster than I am, and if I attempted to cover him he'd probably rip me in half and eat my spleen.)
Culliver: Okay, what about Torrey Smith?
Me: WAY faster than me.
Culliver: So you wouldn't want to guard him?
Me: No chance.
Culliver: Okay.
I heard Culliver pulled the same stunt with two other reporters who came to his table to talk to Brown. One told me that he kept saying, "Cully in the house" to get the reporter's attention. What a weirdo.
3. Cully in the doghouse
After that little back-and-forth, I walked across town (New Orleans is the best place to hold a Super Bowl for this very reason — you don't need a car or even a cab in most cases). After stopping off for a po boy (the kind of dietary choice that shows why I'd never be able to guard an NFL receiver), I went to the room I was renting from some hipster couple via Airbnb and took a nap (New Orleans is also a tiring city, especially when you start the trip with a 6 am flight out of SFO).
When I woke up, someone on Twitter was calling me a 49ers homer because I hadn't written about what Culliver had said. "Wait, was my exchange with Cully caught on video?" I thought. Then I did a quick search and found out he said the following to Artie Lange:
"We ain't got no gay people on the team," Culliver told Lange. "They gotta get up out here if they do. Can't be with that sweet stuff. … Nah, can't be … in the locker room man."

When asked by Lange if a gay player should keep his sexual orientation a secret, Culliver stated that gay players should reveal their sexuality after retiring.

"Gotta come out 10 years after that," Culliver said.
Dozens of reporters and cameras crowded around Culliver's table the next morning. Tarell Brown got to sit somewhere else. Culliver came out, looking like he hadn't slept at all the night before, and apologized quietly about a half dozen times. Jim Harbaugh and several other players had to answer questions about Culliver's comments, and it clearly was one of those dreaded "distractions" Super Bowl teams would rather avoid. Was that a reason why the 49ers lost? Tough to say for sure, but Culliver played like a guy whose head wasn't in the game.
4. Hit-and-run and maybe brass knuckles, too
About a year ago, Culliver was arrested for felony hit-and-run and weapons possession.
KTVU reported that Culliver struck a bicyclist with his vehicle in San Jose. He fled the scene, and when an eyewitness attempted to block Culliver's vehicle, the 49ers cornerback threatened that person with a set of brass knuckles. Then, Culliver allegedly struck that person's vehicle as well.
This case is still dragging on, as far as I can tell. The last I saw, he was in court in February to set up a preliminary hearing. We all know he's a wealthy professional athlete, and as such he won't face any jail time or probably even a conviction, which is why Scot McCloughan gave him so much guaranteed money to play corner in DC.
5. Practice pee
During a training practice in 2013, Culliver jogged off the field, helmet in hand. I was wondering what was up, if he was dealing with some sort of injury or if he felt ill, because everyone else was still either scrimmaging or watching the action. Culliver fiddled with his belt for a bit, then he urinated on the green fence next to the practice field (which, luckily, Harbaugh didn't make electric to keep out intruders).
A few days later, he tore his ACL — not that the two incidents are related, that's just how I remember when he decided that jogging to the locker room to handle his business would've taken too long.
6. Culliver vs. Fallon
Culliver REALLY doesn't like getting teased, apparently.
Later, Cully. It's been real.