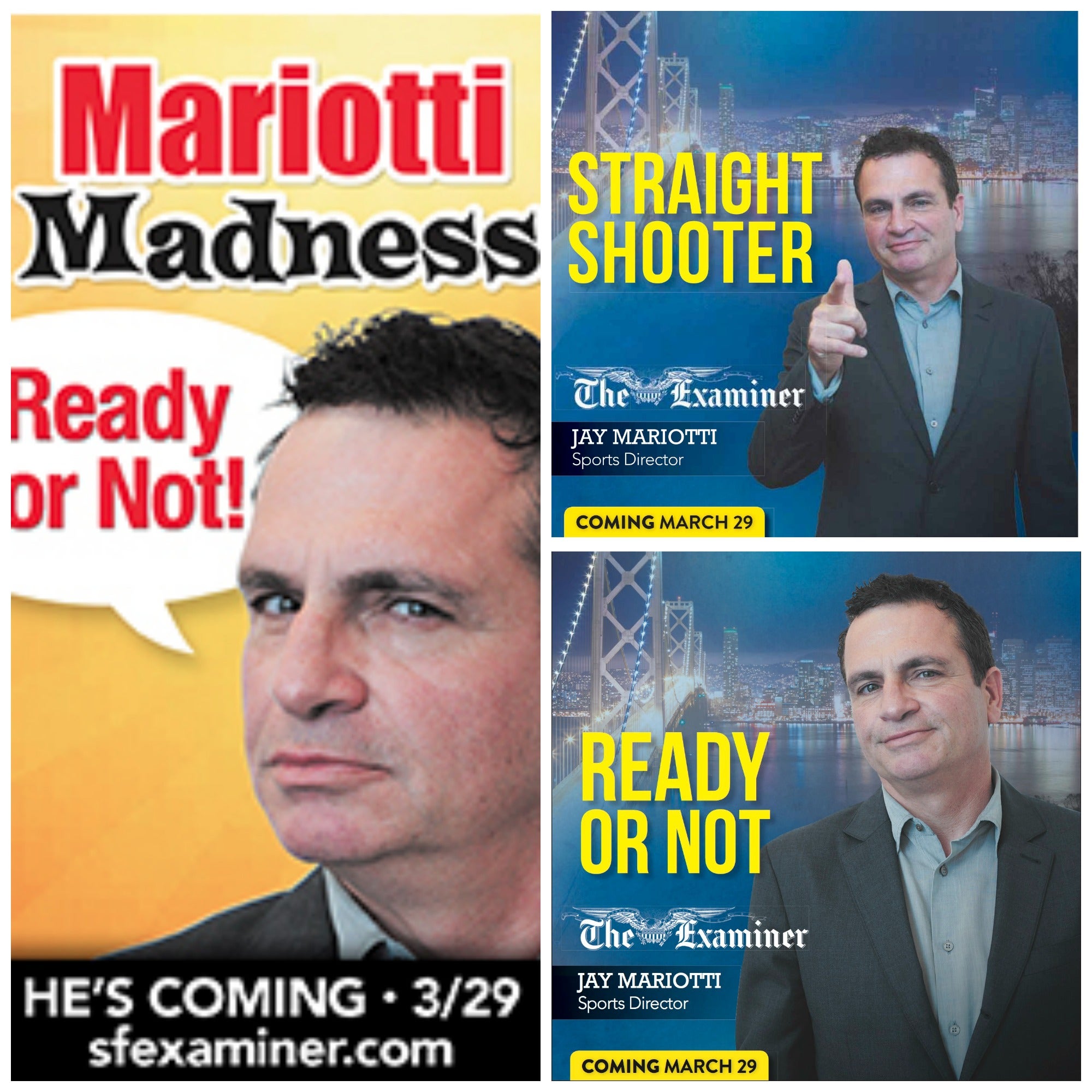 The San Francisco Examiner has been around for over 150 years. Throughout my childhood it was an afternoon paper that had an odd relationship with the San Francisco Chronicle. I assumed the two newspapers were fierce competitors, which wasn't necessarily the case, probably because my father could never stick with one newspaper subscription for very long. For a while he'd have the Chronicle delivered to our house in Eureka, then the Examiner, then the Press Democrat, then back to the Chronicle (I guess my father was against the Bay Area News Group before it was even formed). I devoured each newspaper that came along, because even as an elementary school student I knew the hometown Times-Standard was woefully inadequate.
In the 21st century, the Examiner changed from a traditional newspaper published in the afternoon to a morning newspaper. Somewhere along the line it went to a tabloid format — more in terms of layout and size than a San Francisco version of the New York Post. Maybe that's changing now.
For years, the Examiner was a place for mainstream sportswriters to get work who couldn't find it elsewhere. This is still the case, as Jay Mariotti — who was banished from ESPN after the first of two arrests for domestic violence — is coming aboard as the new sports director and lead sports columnist at the Examiner and SF Weekly, a digital media property owned by the same company.
Mariotti pleaded no contest in both cases — community service and counseling was the result of the first plea, community service and probation the result of the second — but continues to maintain his innocence while pointing to an e-book he wrote on the subject titled "The System" that explains how Mariotti is a victim of a corrupt and expensive L.A. legal system, as well as an unstable woman "who once punched me 22 straight times in the chest during a meaningless discussion—I am a heart attack survivor with a stent—and I counted each punch aloud."
But the editor of SF Weekly, Mark Segal Kemp, doesn't care much about Mariotti's life outside of sports — even though domestic violence, misogyny and sports intersect on a regular basis.
Here's the deal: Of course we know about Mariotti's troubled legal history. We know he was accused of domestic violence and that he pleaded "no contest" and got probation for it. But we didn't bring Mariotti here to write about domestic violence. We brought him here to write about sports. And he's a terrific sports writer.
It seems like a last-ditch effort to turn things around at a dying publication. That's why I resisted the urge to write anything about the Mariotti hire when Joe Garofoli of the Chronicle sent me a link to his story on Mariotti's impending arrival a few weeks ago. It's also why I read Kemp's reasoning for bringing him aboard ("He's a friggin' lightning rod") and Mariotti's debut column welcoming his very L.A. self to San Francisco and kept quiet for a while. OK, about 48 hours. But this is just too good. And by good I mean bad, of course, with a lot of sad unintentional humor mixed in.
I'm not talking about Mariotti's prose, which is OK. He gets a lot of flack for being a "bad writer" or a "hack," but I didn't read his columns at the Chicago Sun-Times and I found his presence on "Around the Horn" to be forgettable most afternoons. He's like a blue jay — loud enough to singe one's ear drums, but ultimately about as dangerous as a sparrow. Mariotti is all bluster, a sports personality whose goal is to inflame rather than inform (sort of like a certain local afternoon radio host).
Anyway, I've read many writers who are far worse. Yet guilt or innocence outside the world of sports columns is a different matter altogether. Mariotti may harp on the fact that his second case was expunged, but the two "no contest" pleas, mixed with an agitated, combative, anger-tinged style of speaking and writing about sports, doesn't provide many obvious reasons to give him the benefit of the doubt. That is, unless you're Kemp.
We know the takes Mariotti will serve piping hot. Jed York ruined the 49ers, the Giants accept mediocrity every odd-numbered year, the Warriors don't hold a candle to the 1990s Bulls, can you believe they sell $5 toast in this crazy town?!?! … MY COLUMN:
It's the kind of shock jock style of sports tantrum-throwing that hooks an audience with some wild premise that plays to our base instincts, mostly because it includes an inferred promise that the author/host will drag an undeserving fat cat down from his perch, hissing and spitting all the way.
I refuse to bite … starting after this post. There isn't much in the way of sports substance to question or mock from either Kemp or Mariotti — but the number of boasts in their "LOOK OUT, MARIOTTI'S GONNA TORCH THE SAN FRAN FRISCO SPORTS SCENE" announcements boggles the mind. There are ridiculous statements aplenty, as well. So let's spend the rest of this story going over those, with the boasts enumerated.
I've told this story before, so stop me if you've heard it.
How can we stop you? No, really. We'd love to know.
It was 1996 and I was sitting in my office at Rolling Stone. Hunter S. Thompson was in town celebrating the 25th anniversary of his wild and lysergic Fear and Loathing in Las Vegas. I was busy trying to wrap up the latest issue. He was partying with staffers and others in a nearby conference room. I opted out.
1. The Rolling Stone name drop. "Trust me, kiddos — I've worked at much fancier pubs than this one!"
2. Hunter S. Thompson was in the house.
3. "I opted out." = Extreme willpower
At some point, a loud pounding rattled the glass window of my office. I looked up. It was Thompson, plastic baseball bat in hand, yelling for me to come to the party.
4. Thompson wouldn't take no for an answer! It's a curse being this cool.
(Marrioti's) a friggin' lightning rod, hated by some, loved by others. He's become a pariah in some quarters, and a cause célèbre to those who think he's been treated unfairly.
Who thinks he's been treated unfairly besides Mariotti himself? Oh, right.
Beginning this week, Mariotti will be bringing his own special kind of sports gonzo to SF Weekly occasionally, and to our sister publication, the Examiner, more than occasionally.
If anyone on earth ever got high enough to one day come back from the dead, it's Thompson, so Kemp may want to lay off with the "sports gonzo" stuff. Thompson owned a lot of firearms, after all.
And if Mariotti's regular home will be the Examiner, that's one more reason to leave that rag on the sidewalk every two or three Sundays when someone comes along and carpet-bombs my neighborhood with hundreds of mediocre tabloid papers.
I have no idea what happened between Mariotti and his former girlfriend, and neither do you, unless you are him or her. No web story has given me any more insight on what happened than what court documents already say (although lots of stories have given me great insight on the writers of the stories). It's no secret that in the digital age we try and convict people online and not in the legal system. Mariotti says he's not guilty. He'll tell you why.
Actually, Mariotti was convicted in the legal system. "To adjudge an accused person guilty of a crime at the conclusion of a criminal prosecution, or after the entry of a plea of guilty or a plea of nolo contendere," is the definition of "convict," according to West's Encyclopedia of American Law, edition 2. "Nolo contendere" means "no contest." 
Is it bold to bring Mariotti to this company because he was accused of some shitty crimes? No, that's not what's bold about it. That was a decision higher-ups in the company made after lots of conversations with him, and they trusted what they heard. What's bold is that, in spite of this, we decided to bring to the Bay Area's sports scene an excellent writer with a voice that's singular in ways not unlike maverick voices from the past, such as Hunter S. Thompson's.
Oh, what a bunch of trail blazers. If only more outlets displayed the boldness it takes to hire someone who screwed up his TV gig by getting charged with "some shitty crimes" … twice!
JAY MARIOTTI
After a career intermission that had more to do with catching my breath — roughly 7,000 columns and 1,700 ESPN TV appearances, hundreds of radio shows, 14 Olympic Games, 24 Super Bowls, travel to five continents — than a recklessly reported legal case
jaymariotti.com: "He has covered every major sports event nationally and worldwide on numerous occasions, including 14 Olympic Games and 24 Super Bowls"
Q&A from 2012: "When I've written more than 6,000 columns, done 1,800 TV shows on ESPN and 1,000 radio shows, covered 14 Olympics and 24 Super Bowls and dozens of golf majors and seen the world – and made a very comfortable living doing so — what possibly is wrong with voluntarily taking some time off in a beautiful place?"
Q&A from 2014: "I've covered 14 Olympics, 24 Super Bowls, 20 World Series, 20 NBA Finals, numerous golf and tennis majors and just about every major sports event in the world."
Email to A.J. Daulerio (Deadspin): "Don't you get it? I covered 14 Olympics, 24 Super Bowls, every sports event imaginable many times over. I've been to every continent but one. I had more frequent-flyer miles than Clooney in the movie. I worked in a city with neurotic fans, corrupted media people and crooked publishers and editors. What's wrong with a break?"
(That's six boasts in one paragraph. Since we're still counting, the combined total is now 10 at this point.)
Last time I had the potential for this much fun, Snoop Dogg was staring me down before an "Around The Horn" taping, saying, "Who do you think you is?"
Who do I think I is?
I'm the Diddy by the Bay.
11. I think Mariotti is a middle-aged man who has somehow convinced himself that he's the sportswriting version of a rap impresario. Then again, Diddy is middle-aged, so maybe Mariotti shouldn't be judged too harshly for this one.
Here, the Warriors play the most exciting basketball on the planet, led by the incomparable Curry, whose swag and splash on the court are matched by his decorum and charity work off it (as His Barackness quickly figured out and glommed onto).
No boasts here, but … "His Barackness"? Yeesh.
At the Chicago Sun-Times, I was told to avoid certain Reinsdorf-related topics and rip the Cubs at will (they were owned then by the rival Tribune) when I wasn't being threatened in press boxes by wacko colleagues, forearm-shivered against a wall by an editor-in-chief, navigating through a cesspool where the paper's top two executives wound up in jail or dealing with a national firestorm after the White Sox manager, twice-since-fired Ozzie Guillen, called me a "(bleeping) fag."
Maybe "(bleeping homophobic slur)" would've been an option instead of selective censorship, but I'm not a sports director.
Know this: Just because someone is accused doesn't mean he is guilty, and just because one pleads no contest doesn't mean he is acknowledging guilt. I did not hit anyone. I did not stalk anyone. I do not hit or stalk people. No one abhors domestic violence more than I, as the father of two amazing grown daughters who never were exposed to it, and no one was more disgusted by the Ray Rice video last year — not only the sheer hideousness but the chilling reality that every public figure accused of this crime, whether that person is guilty or not, is bound to be associated with Rice. I've seen firsthand how sleazy it all is — traffic-obsessed media, sloppy and dishonest police work, headline-seeking prosecutors, predisposed judges, a rival lawyer who advised my lawyer not to represent me. I wrote about it three and a half years ago in my e-book, The System, and I've learned a mean lesson about watching my associations.
So he's not guilty, and if you want to know the REAL Jay Mariotti, just ask his daughters. ("Thanks for dragging us into this story we really wanted to delve into one more time, Dad.") He doesn't want to be lumped in with Ray Rice, and he was a victim of four evil groups and one rival lawyer. Throw in his complaints about ESPN and AOL, media colleagues, Ozzie Guillen and that abusive ex-girlfriend, and Mariotti might be the biggest victim in the United States who hasn't been stricken with cancer or been injured/killed in an accident he or she couldn't prevent.
It has been fun getting away from this psycho media swirl and discovering new peeps in California and elsewhere, while appreciating relationships with friends in and out of the business. Healthy and jacked, I'm ready to put out a cool sports section in a wonderful part of the world.
12. I hate the word "peeps" almost as much as the image of Mariotti sending shirtless selfies to women whose phone numbers he acquired from greasy L.A. bros with ponytails, along with the caption "Hey babe, wanna spend an evening with a jacked sportswriter who's been to 14 Olympics and 24 Super Bowls?"
Hopefully by "jacked" he means enthusiastic, otherwise … ew.
***
There's so much more, but I've spent far too much time on this already. As people tire of bringing up his legal troubles, Mariotti will be judged on his work, the people he hires, his columns and his reporting skills. But just because the guy is well-known (infamous, even) and controversial doesn't mean it's going to work.
It's a brash and crass move by this editor from New York to think that all he has to do to liven up the sports scene in San Francisco is bring in a screechy Chicago columnist by way of L.A. It's almost a guarantee that Kemp and Mariotti think this will be a breeze, that in this "soft" Bay Area market, Mariotti's brand of self-righteous finger-waving will put the Examiner back on the map. Like ESPN does with so many of the panelists they use on their talking head shows, Kemp and Mariotti hope underestimating the intelligence of this audience will line their pockets, boost their fame and give them more boast-worthy anecdotes to repeat in future columns. Unfortunately for them, they don't know their new audience very well. This is not a region easily impressed by bombast, arrogance and celebrity culture-fueled braggadocio, or titillated by the "bad boy" image that comes from expunged domestic violence convictions.