The San Francisco Giants selected Phil Bickford with the 18th overall pick in the first year player draft. Bickford was drafted 10th overall in 2013 by the Blue Jays, and after not signing with Toronto he went to NCAA baseball powerhouse Cal State Fullerton. After wrecking shop in the Cape Cod League to the point where he decided to transfer to Southern Nevada (where Bryce Harper spent some time), the Giants got him eight picks later than the Blue Jays did two years earlier.
"A dip in velocity since he was last drafted has caused some concern," writes Chris Cotillo.
The Giants don't seem worried, probably because he can reportedly touch 97 mph on his fastball and has a "plus slider." Even if he isn't throwing quite as hard as he did as a high school senior, he still has a "power arm" and prototypical size (6-foot-4, 205 pounds).
That last part, the fact that he's a larger-than-average human, makes him unlike Tim Lincecum. But there's a lot about him that is very Timmy-like.
More from Cotillo:
For the Giants, the addition of Bickford represents a project similar to that of Tim Lincecum, who Bickford has been compared to in the past. San Francisco currently has nine pitchers in their top ten prospects, so the addition of Bickford adds to a deep stable of young arms.
Well, that too. But I was referring more to this:
Bickford, whose long, blond hair spills out the back of his cap, also tested positive for marijuana in a predraft drug screen, according to a report in Baseball America. Barr declined to comment on the report but said area scout Chuck Fick filed positive reports about Bickford's makeup.
Lincecum didn't test positive for marijuana in a predraft drug screen, but we've all seen people selling some version of this t-shirt outside AT&T Park …
It's in that spirit that we bring you the best photos of Bickford that I found on Google Image Search.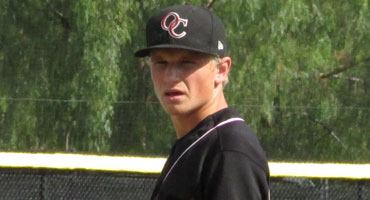 Let Phil (Philly?) sign with the Giants. Let Phil pitch. San Francisco demands it.