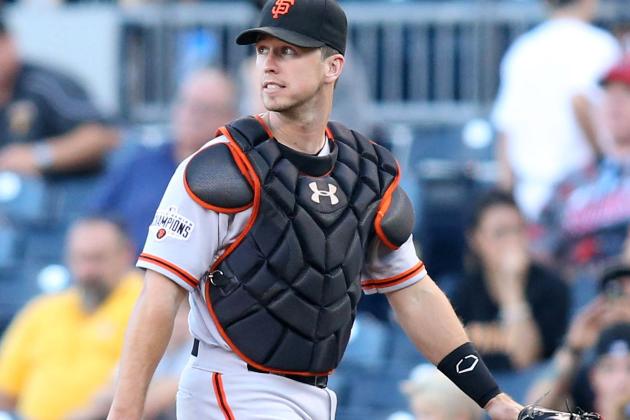 The Giants lost 5-2 to the Pirates on Sunday Night Baseball (do they ever win on ESPN?), punctuating their seven-game road trip with one last message for the NL Central from the NL West: "You're better than we are."
We can point to some fat pitches here and there from Giants hurlers over the last week, but let's not make things too complicated. The Giants scored 16 runs. Scoring 2.3 runs per game doesn't cut it against the crappy teams, and there are plenty in the National League. Against the Cardinals and Pirates? Good luck.
The Giants rolled through the first four months of this season with the best offense in the National League. It wasn't even debatable. Andrew Susac's injury was bad news for everyone affiliated with the Giants, besides the people who've campaigned for Buster Posey to become a full-time (or most-of-the-time) first baseman. Throw in Hunter Pence's absence and it's easy to determine why the Giants' offense is toothless.
No one on the team shined offensively on this latest road trip, save for one night of brilliance from Marlon Byrd and Madison Bumgarner, but Posey's slump was noticeable. He's 3-for-30 (all singles) with a walk in his last eight games. His average has dropped from .330 to .314, but that's no big deal. Posey was hitting .300 on July 6. What's most noticeable is his lack of power. Posey hasn't hit a home run since Aug. 3 and his recent swings remind us of the 2014 postseason, when he caught nearly every inning and didn't have one extra-base hit.
Bruce Bochy knows this, and he tried to give Posey a "rest" day by starting Susac behind the plate and playing Posey at first. In a perfect world, Bochy would've given Posey at least a half-dozen more actual days off by now.
Buster Posey's games played — 2014
Starter: 141 games
Sub: 6 games
Catcher: 110 games
First base: 33 games
DH: 2 games
PH: 6 games
Buster Posey's games played — 2015
Starter: 110 games
Sub: 5 games
Catcher: 84 games
First base: 27 games
DH: 3 games
PH: 5 games
It doesn't seem like a big deal. Posey had 15 full days off and six partial days in 2014. He's had nine full days off and five partial days in 2015. There's no way Bochy can sit Posey six entire games out of the last 38. In fact, Bochy usually gets Posey as much time off as possible in April and May (when Pence was on the DL this year), often upsetting the fans with Posey-free lineups, so he can start Posey every single day without guilt from mid-August on.
I don't have any solutions here, just problems. Pence's oblique injury was terrible news, and Posey didn't look like himself all week. If you saw the double play he grounded into in the eighth inning during Saturday's loss, you know — Posey's swing has been upper body only on too many occasions.
Posey and his teammates get a day off tomorrow, and he could snap out of this funk and go on the hot streak to end all hot streaks starting Tuesday. We've seen it before. But he looks like he's hurting right now. Since Blanco went 4-for-22 during the road trip, it wouldn't be all that surprising to see the Giants stick Byrd in center, Aoki in right and Belt in left, so Posey can get a few extra games at first base over the next couple of weeks.