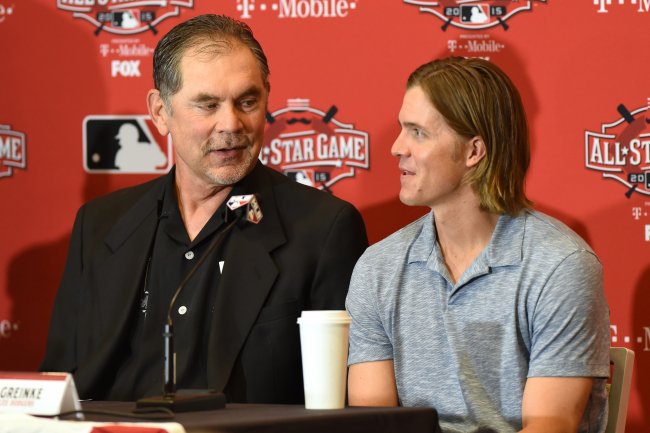 It happened pretty quickly this afternoon. Ken Rosenthal reported that the D-Backs were "pursuing Greinke," and within two hours Zack Greinke had agreed to a six-year contract with Arizona for "$206 million with deferrals." That would put Greinke above the average annual value of David Price's seven-year, $217 million deal, and with the low tax rate in Arizona he'll cash in to an even greater extent.
So where were the Giants and Dodgers in all of this?
so LA offer was about 31M per year for 5 yrs. never felt comfortable going 6 for 32-yr-old pitcher.

— Jon Heyman (@JonHeymanCBS) December 5, 2015
According to a Giants source, they also refused to go above five years. The Giants assumed it would take an offer in the neighborhood of $175 million to land Greinke with the five-year limit, although it's not clear if they ever offered a dollar figure that high or if they went above the Dodgers' offer.
It's moot now. Neither the Giants nor Dodgers will have Greinke next season, and now both teams will turn their respective attentions to a group of pitchers that includes Johnny Cueto, Jeff Samardzija, Ian Kennedy, Scott Kazmir and Mike Leake.
The favorites to garner the most attention from the Giants are Samardzija and Leake, although it wouldn't be shocking if they put in a hefty bid on Kenta Maeda, who will be posted by the Hiroshima Carp. Ben Badler expects the posting fee to be the maximum of $20 million. Other candidates who may come a little cheaper include Doug Fister, Mark Buehrle (who hasn't officially retired yet) and Bartolo Colon. Oh, and Tim Lincecum could be an option … but it's hard to believe the Giants would offer him a major league deal. Then again, no one thought Greinke would sign with the D-Backs.