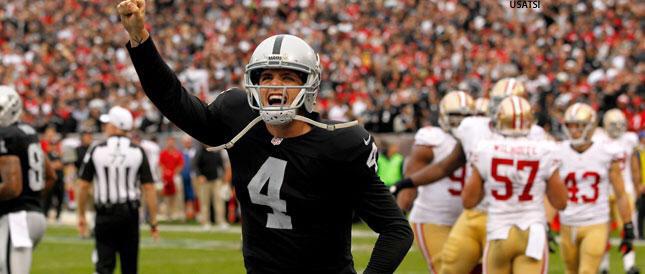 Derek Carr had probably the worst game of his career when he and the Oakland Raiders were drubbed by the St. Louis Rams 52-0. Carr and the Raiders offense was completely nonexistent in that game and many were talking about Carr's regression, questioning whether the Raiders needed to be concerned. One week later, Carr had one of his best performances as a professional against a quality defense in the San Francisco 49ers.
While the Niners may not have the powerhouse defense they had in years past, they still have a solid defensive line with strong pass rushers. What Carr was able to do, completing 22 of his 28 passes for 254 yards and three touchdowns, is just impressive. But it's also a product of how the 49ers chose to play on defense.
All season long the Raiders offense has looked pathetic. The only time it has looked threatening was when Latavius Murray had his huge game against the Kansas City Chiefs when he ran for 112 yards and two touchdowns on four touches. So it's no wonder then that the Niners defense focused on the run game, stacking the box more often than not. Unfortunately for them, with cornerback Chris Culliver getting injured early in the game, the secondary was not able to pick up the slack.
The Raiders offensive line held strong throughout. They allowed no sacks (the two sacks Carr took were of the "run into the backfield and slide" variety near the end of the game), along with just two quarterback hits and eight hurries, according to Pro Football Focus.
Carr played very well when he needed to and for their part, the Raiders coaching staff continued to run the ball with average success in order to keep the Niners defense focused on the backfield. Carr may not have had a boatload of yards, but his 140.2 quarterback rating was the best of his career, as he completed a season-high 78% of his passes. The impact of the run game does not take away from Carr's performance, it merely gives fans a glimpse of what the rookie is capable of when he is not asked to carry the entire offense by himself. The run game wasn't dominant by any means, but it didn't need to be. It kept the Raiders in manageable second and third down situations and put Carr in the position to succeed.