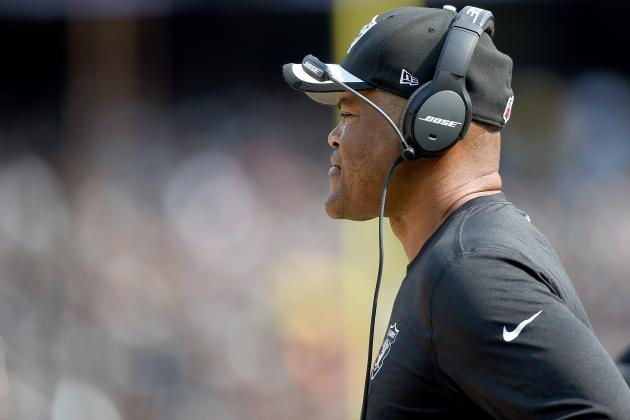 The Oakland Raiders have struggled massively rushing the passer this season. They've yet to log one sack and only come close to a sack once, when Khalil Mack whiffed while trying to take down Joe Flacco. In response, rather than finally running blitzes and stunts, defensive coordinator Ken Norton Jr. has fallen a little too in love with his version of the NASCAR package the New York Giants used to run.
In that package, the Giants would take their bigger defensive tackles out and move Justin Tuck inside so the defensive line would be full of pass rushers. Obviously, this was only used on clear passing downs. The problem is that Norton seems to have a different idea of what a clear passing down is. On Sunday, almost any time the Ravens sent three receivers into the game, Norton would match with a defensive line that included Justin Tuck at defensive tackle and did not include Dan Williams.
Often, this is what the Ravens did out of those three wide receiver sets:
stop treating justin tuck that way!!!! https://t.co/nG2Xct00dr

— Raider Ross (@RaiderSports365) September 21, 2015
The result was that one of the best defensive linemen early this season only played 28 snaps against the Ravens. Dan Williams is not a pass rushing specialist by any means — in fact, he is thought of as a blocker-eating run-stuffer. But he's no slouch as a pass rusher and certainly is not a liability on passing downs. Actually, through two games this season, Williams has the second-best pass rushing grade of any Raiders defender on Pro Football Focus with a +2.2, sitting 0.7 points behind Aldon Smith and 0.5 ahead of Khalil Mack.
Norton was out-coached by the Ravens on Sunday and it showed in a number of different ways. But none were as glaring as how they got him to sit one of his best players for the majority of the game. It was rather stunning to watch and one has to hope that Norton has learned from that and will play Williams a lot more from now on.