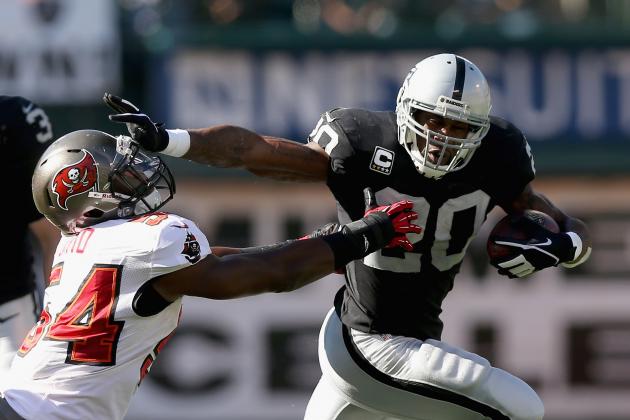 The Oakland Raiders decided to hedge their bets this offseason and stack the team with running backs. After re-signing injury prone Darren McFadden and seeing stud backup Rashad Jennings leave in free agency, the Raiders signed Maurice Jones-Drew in an attempt to solidify the position. Behind those two, the Raiders have 2013 sixth round pick Latavius Murray who coaches are very high on and former CFL Grey Cup MVP Kory Sheets.
Through the first week of camp, Jones-Drew has been described numerous times as looking explosive again. Sheets has also impressed coaches, both as a receiver and a rusher who can find holes and hit them hard. Murray has not drawn a ton of attention yet, but the coaches love his physical attributes and believe he could be a future starter in this league.
Questions still surround this unit and the preseason hasn't even started yet, but so far the running backs have looked fairly strong. Since the coaching staff is likely doing this already, we might as well start figuring out what their plans might be for each player. Running back by committee is clearly where this team is headed, but the Raiders need to figure out exactly how to split time between their top two backs — Jones-Drew and McFadden.
Based on prior performance, the smart move would appear to be making MJD the starter while using McFadden exclusively on third down. McFadden was never the starter at Arkansas; he always shared the backfield with Peyton Hillis and Felix Jones. It's also been proven that McFadden can't handle the rigors of being a starting running back at this level, but everyone knows how dangerous he can be if he gets out in space. Using McFadden as a third down back would both preserve his health and put him in a position to excel.
Less reps means less chance of injury and third down reps means he will get a chance to do what he does best, run with the ball in the open field. Third down backs are often targeted on screens or swing passes, both of which play to McFadden's strengths: size and good enough hands to allow the Raiders to get creative with him and line him up as a receiver.
Getting the most out of McFadden is key to the success of this unit. While he is incredibly frustrating and clearly not capable of carrying the ball 350 times in a season, there's value in what he brings if he's used correctly and judiciously.