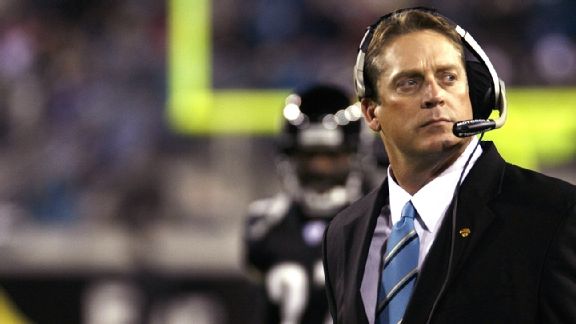 The Oakland Raiders roster in 2015 will be better than the one that Dennis Allen took over back in 2012. The Raiders believe they now have their franchise quarterback in Derek Carr, an elite pass rusher in Khalil Mack and key pieces on both sides of the ball in guys like Sio Moore, Gabe Jackson and Justin Ellis. But despite the infusion of young talent, the Raider only won three games in 2014 and still appear to be a long way from being relevant.
Unfortunately for Mark Davis and Reggie McKenzie, that also means they're a team that's not very desirable to most head coaching candidates.
The Raiders are lucky in a way, because this year there are far more head coaching options than there were when they hired Allen. But at the same time, there are also many more head coaching openings. With teams like the San Francisco 49ers, Buffalo Bills and Atlanta Falcons much closer to being competitive, the Raiders may have a difficult time landing a top candidate.
Guys like Todd Bowles and Rex Ryan, considered two of the best coaches available by many, are the Belles of the ball right now. Each one is considered a candidate for nearly every opening and will be able to choose from more than one option. It is rumored that the Raiders will interview Bowles this week but it may be more of a formality. Bowles has ties with Reggie McKenzie and may be giving an interview more out of respect than desire.
When things start to shake out, don't be surprised if all of the guys who are high on your head coaching wish list are gone by the time the Raiders make their selection. This, of course, may be why the Raiders have stuck more closely to a list of candidates that are less than inspiring: guys like Pat Shurmur, Eric Mangini, Pep Hamilton and Jack Del Rio. And yet that is the group where the Raiders are likely to find their next head coach. And of that group, Del Rio is easily the best option.
Del Rio was the head coach of the Jacksonville Jaguars for nine years, making the playoffs twice and finishing with a 68-71 record. Since then, he took a year off from coaching then came back as the defensive coordinator of the Denver Broncos. Del Rio brings a lot of head coaching experience and would also likely be able to put together a solid staff. There have already been rumors that former Atlanta Falcons head coach Mike Smith could be his defensive coordinator (the two worked together in Jacksonville).
For what it's worth, Del Rio seems almost like a poor man's Rex Ryan — a solid defensive mind who really needs a strong offensive coordinator and offensive coaching staff in order to be successful. The Raiders have a solid quarterback; if they can land a good offensive coordinator, Del Rio might be a guy who could win in Oakland. He isn't a top choice by anyone's standards, but he may just be the best the team can get at this point.