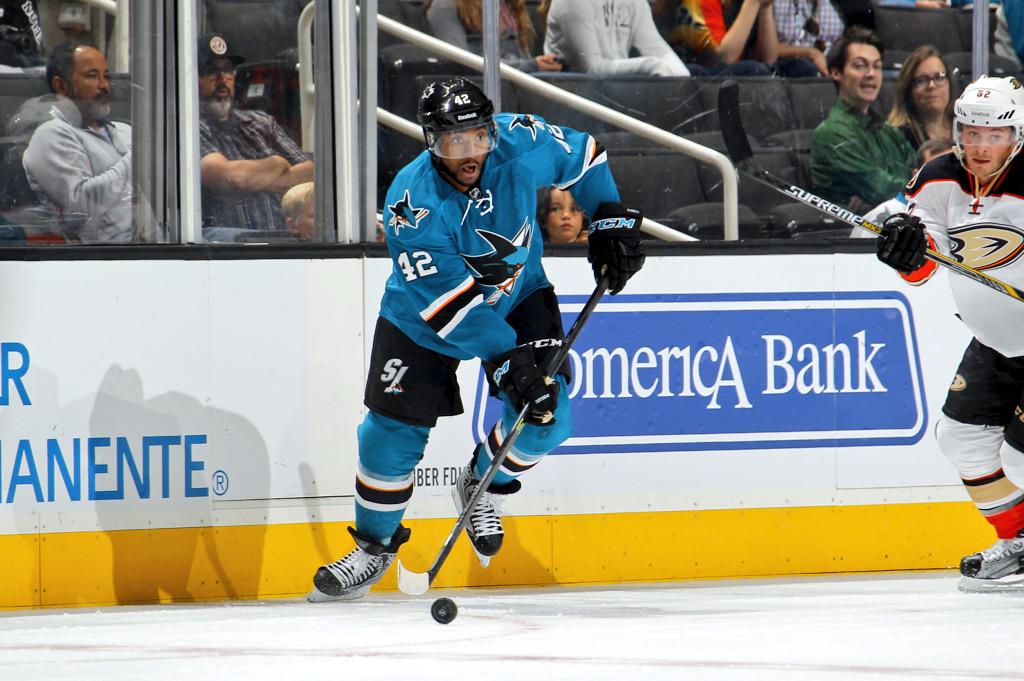 Despite the Sharks' early preseason success, coach Peter DeBoer hasn't gotten too carried away in the wins, insisting there is still work to be done. Some of those things became more evident in the latter part of San Jose's Saturday night tilt against the visiting Anaheim Ducks.
"I loved our first two periods," he said afterwards, commenting on the stretch in which the Sharks held onto a one goal lead.
But in that third period, Martin Jones' preseason shutout record was snapped by a Chris Wagner wrist shot and a couple bad bounces led to the Sharks' first loss this preseason, 2-1 to the Ducks.
It wasn't by any means the Sharks' worst effort, particularly with some of Anaheim's most notable players lined up against a Sharks team that DeBoer said is basically still in "split squad" mode. They established a forecheck and continued to have a dangerous penalty kill. There were just a few pieces missing.
"I thought we deserved to be up 1-0 at the end of two (periods)," DeBoer tried pinpointing what went wrong. "That was probably the difference in the game. You let a good team hang around like that, you get burned."
"We're working through it, it's still preseason," Jones said. "There's still lots of work to do, and we've still got three or four more games and we're going to get that work in."
After a mostly quiet first period, San Jose converted just after their second power play attempt expired. Ward tipped a shot by Paul Martin to elude Anton Khudobin and put the home team ahead 1-0.
Jones was nails in net through the first two frames, and had a nifty kick-save at the end of the second to keep the visitors from capitalizing. But even his best block wasn't quick enough to stop Wagner's wrister from knotting the game up 1-1.
Both teams got into penalty trouble late in the period. With the seconds winding down on a Joonas Donskoi penalty, Corey Perry's shot took an unlucky bounce off defenseman Dylan DeMelo's skate and past Jones' up-ended right leg, giving the Ducks the 2-1 victory.
"Just came up short tonight," Ward shrugged. "Luckily we have a few more games to work things out."
With those few preseason tilts left to make adjustments, the next step is to trim the roster down, DeBoer said. "Hopefully this week, we'll get more semblance of our group and guys get some guys in some slotted spots."
Shark Bites
— San Jose has scored four power play goals in four preseason games.
— With the loss, San Jose is now 4-1-2 in their last six preseason matchups against the Ducks.
— The Sharks blocked 19 shots to Anaheim's 16.
— Joel Ward netted his first goal of the preseason and was 4-for-4 in the face-off circle.
— Martin Jones has stopped 49 of the 51 shots he has faced this preseason.