NHL
Couture's return propels Sharks to "big win" over Flyers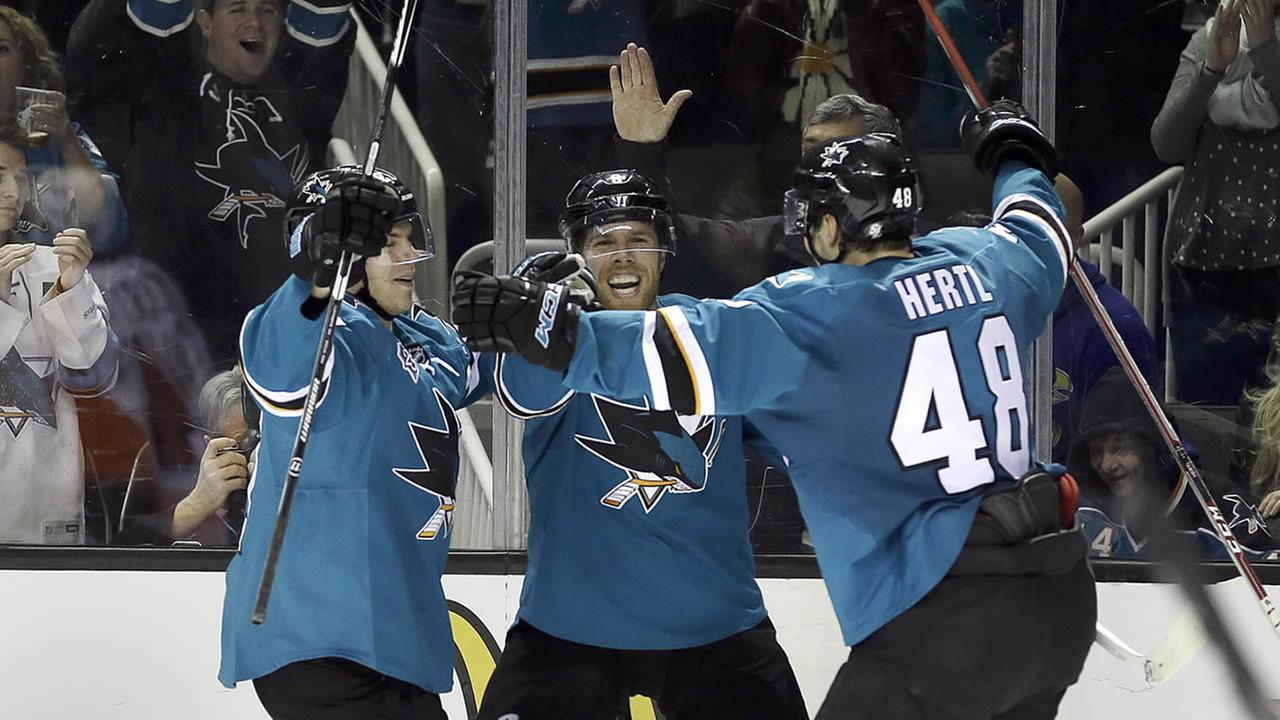 The ice was extra choppy and the vibe between the two teams wasn't much better.
Somehow, that set the table just right for the Sharks to break their home ice losing streak, battling through intensity to get a badly-needed 4-2 win.
"It was a fun game to play in, that's for sure," Joe Pavelski said. "In the last few games, a bounce … has buried us at times. And tonight we had that feeling on the bench that it wasn't going to hold us down."
The captain notched two third period goals to lead Team Teal to victory on Wednesday night over the Flyers. But battling back from a late 2-1 hole was no easy task.
"It was a hard-fought game," coach Peter DeBoer said. "They're a desperate team. (They) came in here and tried to be physical to the point of taking some bad penalties, and we made them pay for that."
"It feels good when you win," said Logan Couture. "We needed that. That was a big win for this team. At this rink. In front of a great crowd. We need to build on this."
Couture made quite the statement in his return to the ice, registering assists on both of the Sharks' power play goals. While No. 39 might not have felt 100%, it was clear his presence on the top power play unit had been sorely missed.
"We're just so familiar with him," Joe Thornton said of Couture's return on special teams. "That kind of power play unit has been together for so long, we kind of know where each other is on the ice … We just feel confident when us five guys are out there together."
Thornton had an eventful evening himself, becoming a big piece of the chippy nature of Wednesday's tilt. When asked about how riled up he had become in the first period, he smiled and shrugged.
"Enjoying the game. Just having fun. That's why you play the game."
No. 19 got the scoring started in the second frame — the contest was scoreless through the first 20 despite the mood becoming increasingly more hostile with every shift. While on the man advantage, Patrick Marleau fed the puck to Thornton who skipped it up over goaltender Steve Mason's block and put the home team on the board 1-0.
Martin Jones allowed the Flyers to tie it up on a freak goal when Claude Giroux's shot from the face-off circle hit him in the chest, then fell and trickled between his legs and into the net.
The tie carried into the third period, until Brent Burns took his foot off the gas and allowed Sean Couturier to skate up and deke the puck past Jones to give Philly the 2-1 lead. Burns got that goal back however on the Sharks' subsequent power play attempt, snagging a nice feed from Couture and sniping the puck right past Mason's mask to tie things back up.
With less than seven minutes left to play, Justin Braun passed the puck back to Pavelski, and the captain got down on one knee as he launched the one-timer into the back of the net, giving San Jose the 3-2 lead. He buried a backhander with 48-seconds left in regulation to solidify the win.
"It's one, we can build on it," DeBoer said of getting the victory. "I think we needed it, we got the job done."
"Now, that's the template we have to copy and play with," Pavelski summarized. "Can't get ahead of ourselves. We need to bring that energy again."
Final Shark Bites (sort of)
There are changes afoot for my covering the Sharks in 2016. No I'm not going anywhere, but my role on game nights is getting a bit of a facelift.
In October I was hired by YardBarker, and the good folks over there have expanded my role in writing for their site. Going forward I will be producing more content for them on game nights, focusing more on storylines outside of the actual game. (Like, oh I don't know, McLellan coming back to San Jose for the first time, for example.)
Will I still be at the Tank freezing my buns off and complaining about the horrid music they play during warmups? You bet. Just in a different role. And I'm not totally leaving BASG. I plan to write a piece every week discussing whatever shenanigans the Sharks are up to.
Really, I can't say enough good things about my time being part of the Bay Area Sports Guy family. This site gave me a job when I thought I would be out of one, and has given me a platform to gab about hockey in a market that largely pretends that hockey doesn't exist until the playoffs start. I joked to Steve that he's stuck with me at least until the end of the season — really, I think it's just too hard for me to walk away from a gig that's been so good to me.
Now, if the Sharks want to tally a couple more wins and give me happy copy to write, that would be fantastic. But you never know with this team. We'll just have to see how the 2016 portion of the season shakes out.