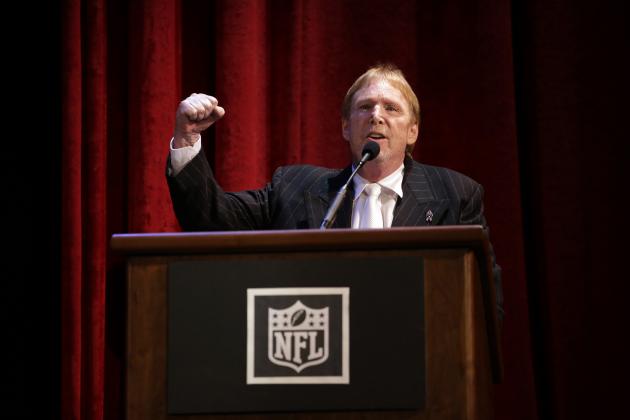 I want to believe that Oakland Raiders managing partner Mark Davis was at the NFL Town Hall meeting last night to seriously consider what Raiders fans had to say. I want to believe in the myth the NFL was selling when they came up with the idea of these Town Halls. But that's because I'm an Oakland Raiders fan who wants them to stay … not because it's the reality of the situation.
ESPN's Tim Keown wrote a profile piece on Mark Davis earlier this year and in it, Davis notes how much he enjoys doing business with people who underestimate him. As one speaker said at the Town Hall, Davis is a weird guy, but to think he is stupid and does not understand business is to make a mistake.
Is Davis a good football man? No. But he openly admits that and hands those duties over to the people who do know football. That's the sign of a smart business man. Stick to what you're good at and hire people who are good at the things you are not.
At the Oakland Town Hall, Davis won the night — not the hundreds of Raiders fans, not the NFL executives on stage — it was Davis' night.
He was the first owner to show up to one of these Town Halls and he received a standing ovation after giving a short, canned speech that really said nothing.
But that was not his only brilliant maneuver of the night. After stating that the Raiders would not be answering any questions, Davis took a seat in the front row, just feet away from his adoring fans. He sat and watched attentively as others watched him. He nodded in agreement, seemingly feeling the pain and frustration of Raiders fans. 100% sincere or not, it was brilliant.
And it didn't end there. At one point, Davis decided to get up and address one of the fans who had challenged him to stand up and take responsibility. Davis noted the multiple mega developers he has worked with to try and get something done in Oakland while simultaneously throwing Oakland city officials under the bus, essentially blaming them.
As he spoke, fans began yelling at him. Some in support, some in anger, some with more questions. Davis never backed down; he answered a few of the questions hurled, ignored the insults and graciously thanked fans again before sitting back down.
Fans in Oakland, more so than in St. Louis or San Diego, felt like their voices were heard. They felt like they were shown the respect they deserve by an owner who may take their team away from them.
He made himself one of the people among a group of fans that truly consider themselves different than other fans. "It's a way of life," one woman remarked. "This is a tradition that is now in it's sixth generation," noted another.
If nothing else, I am more convinced that if the Raiders leave Oakland, their fans will remain loyal. Because while nothing that was said last night will likely have an impact on what happens with the stadium, it still didn't feel like the comments fell on deaf ears.
No one really cared what Eric Grubman had to say — for the most part it was Raiders fans talking to the owner. Davis is going to do what he is going to do, but he gave up three hours and put himself in what was potentially a very uncomfortable situation knowing some fans are mad at him.
The result wasn't that Oakland fans saved the team, it's that Mark Davis saved their faith in the notion that being a Raiders fan means something more.