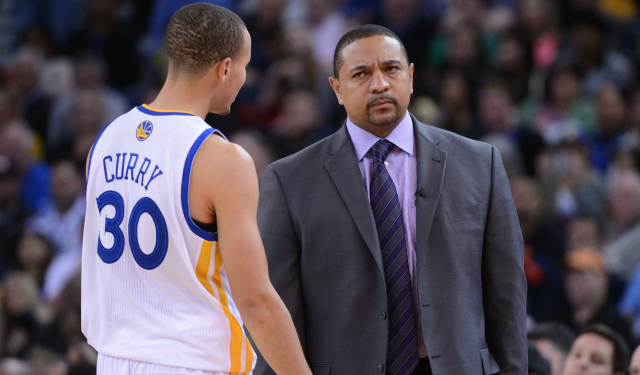 Stephen Curry supported for Mark Jackson at the end of last season, when just about everyone else knew that Jackson's time as head coach of the Golden State Warriors would be coming to an end rather quickly. Actually, that's an understatement — and not just because Curry would do Jackson's trademark "shimmy" celebration on occasion.
"I love coach more than anybody. For him to be in a situation where his job is under scrutiny and under question is totally unfair. It would definitely be a shock to me if anything like that were to happen. I'm going to voice my support for coach, you know, you've got anybody that asks me all summer. He deserves to be our coach next year and we're going to come back and build off the momentum we've gained in the last three years, and continue to grow as a team. And I want Coach Jackson to be the guy leading us."
Curry even called Joe Lacob's less-than-flattering recorded comments about Jackson to a group of venture capitalists "unfortunate" and a "distraction." Curry believed in Jackson. So it's interesting that Jackson told Dan Patrick today that he doesn't believe Curry — a 1/4 favorite to win the NBA MVP, according to Bovada — should take home the award.
Maybe Jackson, who turned 50 yesterday, doesn't think Curry did enough behind the scenes to convince the Warriors to keep him. Perhaps Jackson is bitter that Curry became a better and more celebrated player after Jackson was replaced by Steve Kerr, who brought in an assistant in Ron Adams who helped mold Curry into one of the league's better defenders at the point guard position. Or maybe Jackson simply thinks Harden is a better player, and there is no bias at play whatsoever. Let's take a look at Jackson's reasoning.
"It'd be awfully tough. I think there's four guys in the discussion in LeBron, Westbrook, Curry and Harden. If you twisted my arm today, I would probably vote for James Harden. And the reason why is because he singlehandedly has put that Houston Rockets team in position that they're in today.

"It'd be tough. I think Steph Curry, I'm totally fine with, obviously, he's my guy. I'm fine with selecting him. The season that he's had has been incredible. Westbrook with 10 triple-doubles and carrying that team, injury prone, into the playoffs. LeBron being the best player in the world. But I think right now I would go with James Harden for what he's done. And he's stepped up his game defensively. He's not a great defender, but he's competing on the defensive end."
If Jackson was still Curry's coach, undoubtedly he'd be singing a different tune (even if he thought Harden was better). While it's understandable that Jackson would be hesitant to give his former employer (and center) credit, Curry always had Jackson's back. We'll see if that remains the case after Jackson backed Harden for MVP.
***
Update:
Curry's thoughts on Mark Jackson's MVP take, this time with a typo fixed pic.twitter.com/cBAoUyeFK9

— Ethan Strauss (@SherwoodStrauss) April 3, 2015