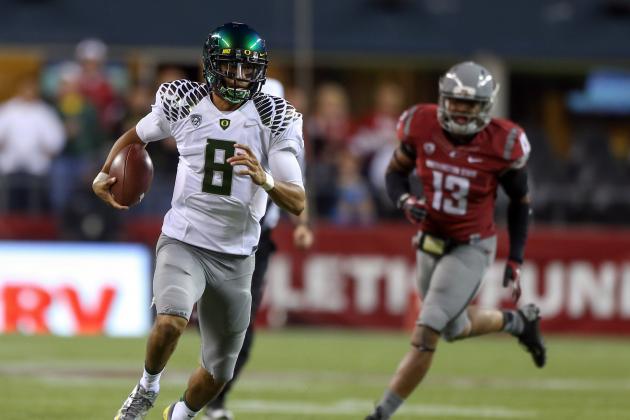 Four of the five ranked Pac-12 teams have the week off, in preparation for the conference to really kick into gear next week. #12 UCLA is at #15 Arizona State on Thursday, while next Saturday, #16 Stanford is at Washington, and #17 USC hosts Oregon State. As a result, mini-previews of all teams playing this weekend.
#2 Oregon (3-0) at Washington State (1-2), 7:30 pm PT, ESPN — (Oregon -23.5)
The conference opener for both. Last year in Eugene, Wazzu QB Connor Halliday set an NCAA record by attempting 89 passes in a 62-38 loss. This year, he has more than twice as many completions (119) than Oregon Heisman candidate Marcus Mariota has attempts (50). Halliday and the Cougs won't likely break into the win column against Oregon (seven straight in the series for the Ducks and counting), but it should be entertaining to watch — especially towards the end. I predicted that Halliday would break 100 attempts in a game sometime this year, it may very well happen Saturday.
Hawaii (1-2) at Colorado (1-2), 11 am PT, Pac-12 Network (Colorado -8)
Please get out of the house for a few minutes instead of watching this game.
Utah (2-0) at Michigan (2-1), 12:30 pm PT, ABC/ESPN2 (Michigan -3.5)
The speculators are speculating that Michigan man and current 49ers head coach Jim Harbaugh may be willing to jump back to college if it means going to his alma mater. Harbaugh is under contract through 2015, but many feel he'll leave after this season if he doesn't get a lucrative extension. Many also feel that he won't get that extension from Jed York without a Super Bowl win. If Michigan loses to Utah, expect the speculating to get more speculative, although their Big "10" schedule does not appear particularly daunting.
Georgia State (1-2) at Washington (3-0), 3 pm PT, Pac-12 Network (Washington -34.5)
The Panthers are in their second year of FBS football. They're giving up 40 points a game. And Washington is scoring 40 points a game. Sounds about right.
Cal (2-0) at Arizona (3-0), 7 pm PT, Pac-12 Network (Arizona -8)
Covered elsewhere on the site. Short version: I don't like Cal's two-quarterback platoon. Why pull the best player on the team off the field voluntarily? (In Cal's case, it's QB Jared Goff.) All you're doing is helping the defense by signaling "run play." Two young teams here looking to start the conference off right.
San Diego State (1-1) at Oregon State (2-0), 7:30 pm PT, FOX (Oregon State -10)
The Beavs have had closer games than they wanted against Portland State and Hawaii. In recent years, they have had some confusing pre-season losses, and last year needed a fourth quarter comeback to beat the Aztecs. Totally possible for SDSU to win this one.