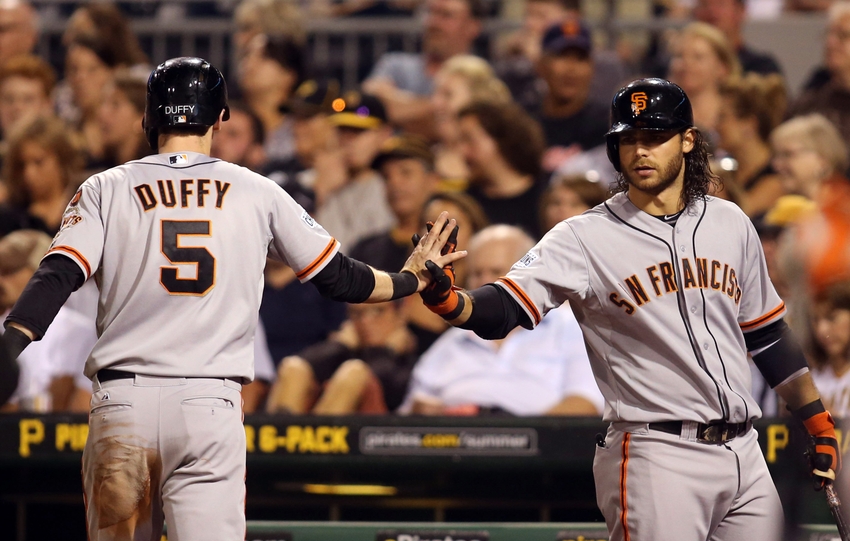 When the team falls short, individual recognition is all that's left. With the Dodgers still 7.5 games ahead in the NL West (Magic Number: 10) and the Cubs 8.5 games up in the Wild Card (Magic Number: 8), the Giants are knocking on death's door.
We know what it would take to make the postseason — lots of wins and a massive choke job by the Dodgers or Cubs. We don't know which players will earn the individual awards that are based on the regular season. The Giants should get a few nods here or there, but they'll probably be shut out of the big ones.
MVP
Giants candidate: Buster Posey
Favorite: Bryce Harper
The voting won't be close because none of the other candidates are on postseason teams, and Bryce Harper deserves every first place vote anyway. Since 2001, the only hitter in either league to finish with a higher OPS than Harper's current OPS of 1.136 was Barry Bonds, who did it in 2002/03/04.
Cy Young

Giants candidate: Madison Bumgarner
Favorite: Zack Greinke
If the Cy Young voters were instructed to "put a heavy emphasis on offensive numbers," Bumgarner would win in a heartbeat. Instead, another pitcher who hits pretty well (but not nearly as well as Bumgarner) should take this one fairly easily, with Bumgarner probably finishing anywhere from fourth (behind Greinke, Clayton Kershaw and Jake Arrieta) to sixth. Greinke will definitely finish the season with the lowest ERA, and he's ahead of everyone in WHIP as well. Throw in a tidy win-loss record of 17-3, which won't matter to most voters but will probably resonate with a few, and Greinke will probably take this award easily.
Rookie of the Year

Giants candidate: Matt Duffy
Favorite: Kris Bryant
Duffy had the statistical edge at the end of July, but Bryant went off in August and September (.333/.407/.605, 10 home runs, 23 extra-base hits in 43 games before today). Now Bryant has the edge over Duffy in Fangraphs WAR (5.7 to 4.1), Baseball-Reference WAR (4.7 to 4.6), home runs (24 to 10), OBP (.368 to .340) and SLG (.492 to .435). Bryant was hyped before he was even called up, and he stars for a team that'll play in at least one postseason game. This vote probably won't be close.
Gold Glove (shortstop)

Giants candidate: Brandon Crawford
Favorite: Brandon Crawford
Finally, he has the offensive numbers to trump Andrelton Simmons! Actually, SABR released their Defensive Index rankings ("derived from batted ball location-based data and those collected from play-by-play accounts") today. Crawford, who leads all National League shortstops in defensive runs saved, led the entire NL with a DI score of 16.8, ahead of Rockies third baseman Nolan Arenado (13.2) and the next-closest shortstops, Adeiny Hechavarria (11.6) and Simmons (10.1). Crawford's season looks like it'll end in a disappointing way (one home run short of 20, too), but he may pick up some hardware after it's over.
Gold Glove (first base)

Giants candidate: Brandon Belt
Favorite: Paul Goldschmidt
SABR has Belt ahead of all first baseman in their Defensive Index rankings, and he's the best defensive first baseman in the National League. However, each of the last two NL winners at first base — Adrian Gonzalez and Goldschmidt — are still around, they're still playing well defensively, and they're putting up better offensive numbers than Belt (although in the case of Gonzalez is pretty danged close).
Gold Glove (catcher)

Giants candidate: Buster Posey
Favorite: Yadier Molina
SABR has Posey as the leading catcher as well, slightly ahead of Wilson Ramos and a few points up on Molina, but Molina has won seven Gold Gloves in a row and has caught over 200 more innings than Posey. Even though Posey has five fewer errors and their caught-stealing numbers are almost identical, Molina will almost certainly take home his eighth Gold Glove this year. Posey may be the best at framing pitches, but Molina has that special "Gold Glove" mitt and chest protector, which serves as a nightly reminder to the voters.
Silver Slugger (shortstop)

Giants candidate: Brandon Crawford
Favorite: Jung Ho Kang
Kang has a significantly higher average (.287 to .255) and on-base percentage (.355 to .315), but Crawford holds the edge in home runs (19 to 15) and RBIs (77 to 58).
Silver Slugger (catcher)

Giants candidate: Buster Posey
Favorite: Buster Posey
This isn't a contest.
Silver Slugger (pitcher)
Giants candidate: Madison Bumgarner
Favorite: Madison Bumgarner
Ditto.