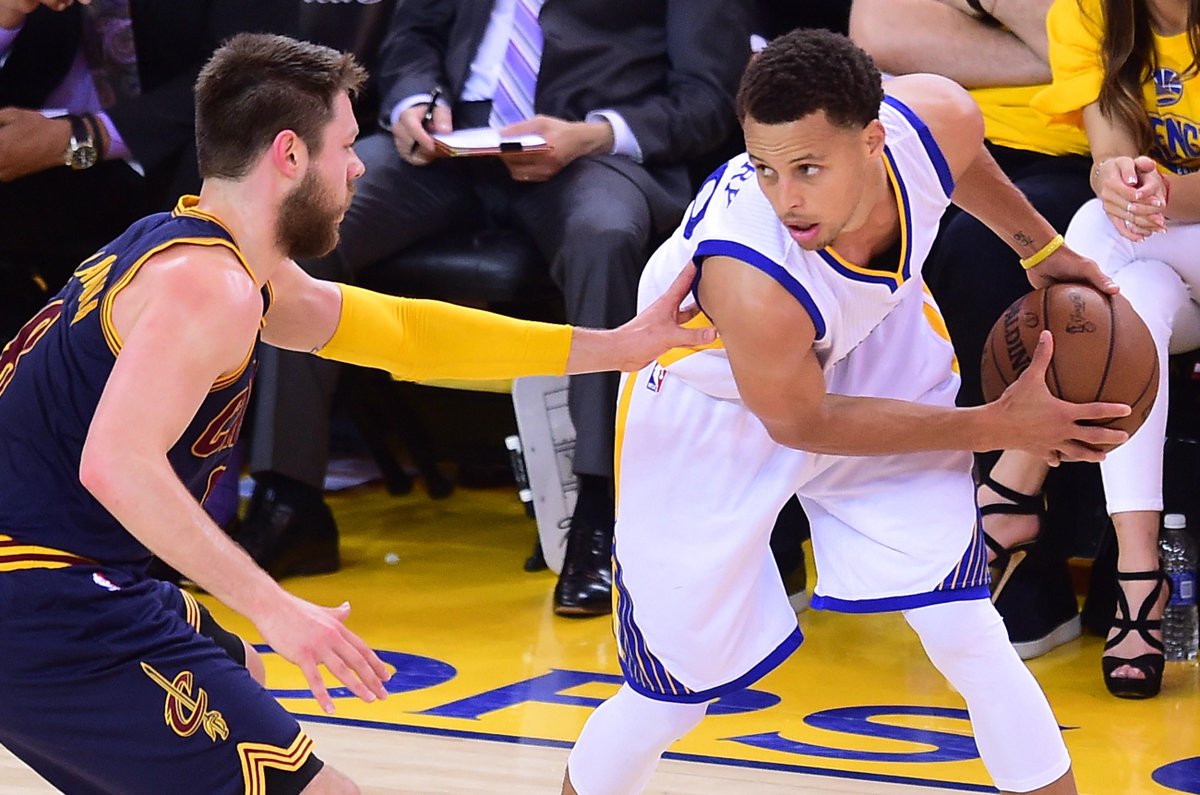 LeBron James out-scored, out-rebounded and out-assisted everyone else on the floor. Sure, he only made 31.4% of his shots, but he was positively brilliant compared to the NBA MVP in Game 2 of the NBA Finals.
Stephen Curry made 5-of-23 (21.7%).
He was 2-of-15 (13.3%) on threes.
He turned it over six times.
He couldn't corral a low pass from Andre Iguodala after Draymond Green blocked James' shot with 20 seconds left in overtime.
He airballed his last shot.
His final play was a pass stolen by Iman Shumpert to end the game, a 95-93 loss to a Cavaliers squad that got its last two points on free throws from Curry's newest nemesis: Matthew Dellavedova.
"Shots I normally make I knew as soon as they left my hand that they were off. That doesn't usually happen," said Curry.
On one hand, it's amazing that Golden State pushed this game to overtime and lost by only two. They were out-rebounded by Cleveland, 55-45, including 14-10 on the offensive glass. They committed 19 turnovers — not exactly an anomaly, but a number that looks much worse considering they only had 16 assists. They were down by 11 points with 3:13 remaining. Draymond Green provided nothing offensively until overtime. Mo Speights missed a dunk at the end of the third quarter when he was all alone.
I'm still shocked by that play, although it might've had something to do with Speights' injured calf that kept him out of the Western Conference Finals.
Nevertheless, we're in uncharted territory. We've never seen Curry look this off. We didn't know how the Cavaliers would respond after losing Kyrie Irving to a season-ending kneecap fracture. The Warriors blitzed them with incredible defense early on (Andrew Bogut has been a monster in the first quarter in a lot of these playoff games … afterward, not so much) and hot shooting from Klay Thompson, who finished with 34 points. The Warriors' defense was very good throughout, holding the Cavs to just 32.2% from the field, but Cleveland's defense was pretty stout as well.
James credited Irving's replacement in the starting lineup for Curry's off night: "It had everything to do with Delly. He just kept a body on Steph. He made Steph work. He was spectacular, man, defensively."
However, the Warriors were in more of a mood to blame themselves.
"Our offense was horrible. I think we did a really good job on the defensive end, but we were really, really bad offensively and it's hard to win if you can't score points, and we struggled to score tonight," said Green, who despite an uneven game still posted 10 points, 10 rebounds, five steals and four blocks.
Including this one:
— Beke (@BekeGSW) June 8, 2015
For all the talk about who makes the Warriors go, whether it has to do with getting offense from Iguodala or Harrison Barnes, or if Green is both the heartbeat and engine of this team, it has always been Curry. That's not a revelation; he's the league's Most Valuable Player for a reason. It's just that Curry's brilliance has been so consistent that it's easy to take it for granted.
Which begs the question: Is this a signal that the Cavs have figured out how to handle Curry, or is Curry nursing a hidden injury of some sort, or is this just a one-game nightmare for the Warriors?
"I doubt this will happen again, with the adjustments I'll make once I'll look at the film," Curry said. "One game is not going to make me stop shooting or alter my confidence at all."
Dub Steps
— "I know as a team we're not going to let one game alter our belief that we're going to win the series," Curry said.
— Curry wasn't quite defiant during his press conference, but he didn't seem like a beaten man. Conversely, Klay Thompson looked very glum during his podium session a few minutes later, despite playing a better overall game than anyone else on his team.
"I forgot to box (Dellavedova) out on that last possession where he got the foul, and I'm going to think about that for a long time. I shouldn't have tracked the ball. I should have found my man," said Thompson.
— The Warriors' bench was outscored 21-15. The non-Thompson starters went 12-for-41 from the floor, 2-for-20 on threes.
— David Blatt didn't explain why Timofey Mozgov didn't play the last 20 minutes of the game, other than his comment that "the lineup to finish the game is one that's been a winning lineup for us, and that's why we played it." Since Mozgov was having his way with the Warriors throughout the first three quarters, it was a decision that seemed curious even with the Warriors going small with Green at center.
— Green needs to stop throwing lobs, especially ones in the lane from close range.
— Lost in the shuffle: Tristan Thompson was awful.
— Not lost on anyone: J.R. Smith singlehandedly kept the Warriors in the game with a set of boneheaded fouls that boggled the mind.
— As bad as Curry played, he had seven points and an assist in the final three minutes of regulation during Golden State's game-tying run.
— I'm not sure if the Warriors let up in the first quarter, but this game had me fooled. With their defensive rotations looking nothing short of superb, and Leandro Barbosa (he was the first person off the bench, oddly enough) hitting that three to put the Warriors ahead 20-12, I thought this game could turn into a blowout.
"I don't know that we'll see any easy games in this series," Blatt said. After two overtime games, I'd tend to agree.
— This is probably the loudest I've ever heard Oracle:
James:
"And if I can leave my fans with something, these fans here are pretty loud, pretty good, really good. I'm looking forward to seeing our fans and I can't wait to see our fans. I've heard our fans pretty loud before. A couple instances my first postseason appearance was really loud, and me coming home against the Knicks at the start of the season was pretty good. But I know we can be much, much louder than any fan base in this league. I know they're getting ready, and I can't wait to see them."
Most of the Warriors' best games of the playoffs have come on the road — Game 4 in New Orleans, Games 4 (after the Warriors were in REALLY big trouble) and 6 in Memphis, Game 3 in Houston. If the Warriors can shrug this one off and play a complete game (something they've had a tough time doing at Oracle), one featuring the same defense with better ball-movement and shooting on offense, they can turn this series back around on Tuesday.
"There's a line (between being gunslingers and being aggressive) and I think we've done well with that all year. That's what makes us who we are," Green said. "So if those shots are falling, we'd win this game by 20 points. They didn't fall tonight, but they will."