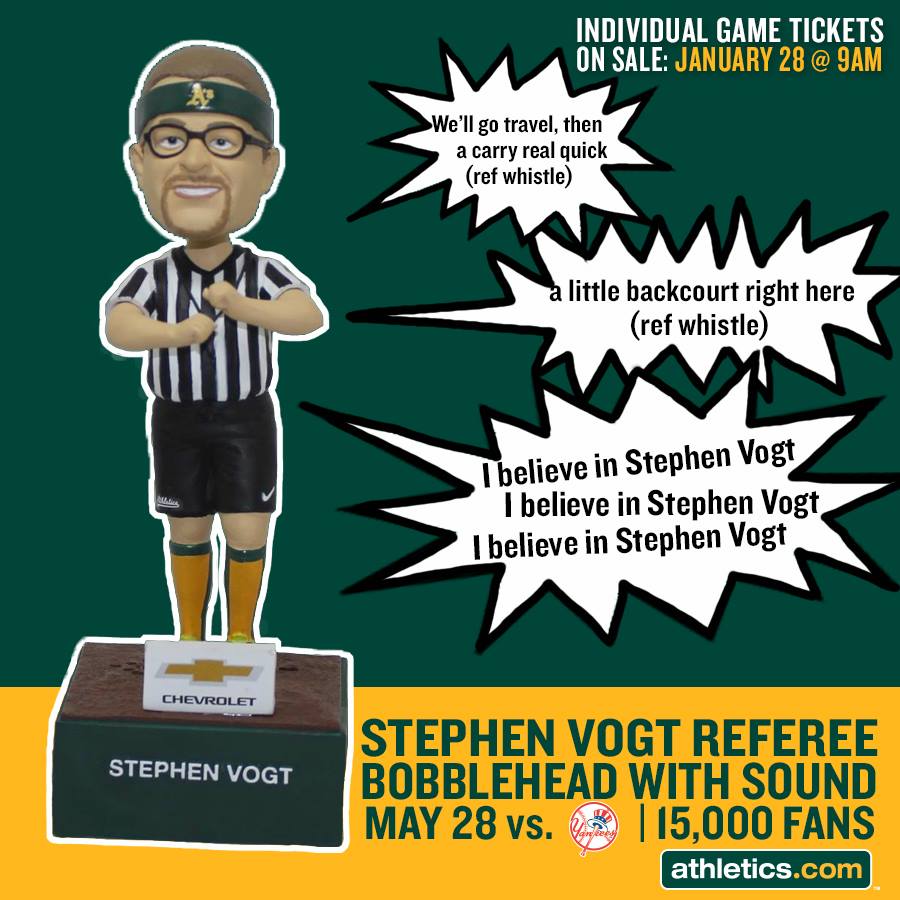 The A's recently revealed all the promotional items they'll be handing out this season for selected games at the Coliseum. It used to be pretty mild when it came to such perks, such as cap day, bat day, etc. But now we have entered into a new realm where some giveaways range from clever to absurd. I personally think the A's perform fairly well at such things. They have a very savvy staff in their front office which seems to leave no stone unturned when thinking of cool and bizarre products to throw at the first 15,000 fans on any given day or night. A good example of that would be the Chip and Chili Bowl last season.
Some of my favorites this year will be the A-Moji t-shirt (4/25), the Charlie-O Throwback t-shirt (6/27), and the Mike Gallego Wind-up Windmill Toy (8/2). When it comes to bobbleheads, they'll flog a Mark McGwire one to coincide with an appearance of his Dodgers, where he is the hitting coach (8/18), a Hello Kitty one (7/18), and a Steven Vogt Basketball Referee one, with sound (4/28). The latter stems from a hilarious appearance Vogt made with Jonny Gomes on MLB Network last season, where he dressed as a basketball ref and did a little comedy routine. If you haven't seen this video, the bobblehead will make absolutely zero sense to you.
There will also be, not one, but two knee-high socks nights (4/12 & 5/17).  As usual, many ethnicities will be recognized with their own Heritage Night, including Jewish (8/4), Italian (8/7), and Filipino (8/21).  Cinco de Mayo usually serves as Mexican Heritage Day and "Oaktoberfest" as an ersatz German Heritage Day.  If you want an Irish Heritage Night, the Giants do about three of them every year — seriously.
But why stop there?  If we're going to get nuts, then let's get nuts.  I have a few suggestions which may or may not be useable.
Eric Sew Guard, a thimble with glasses painted on it, by Majestic Jerseys.
Chris Bassitt Hound Beanie Baby on ARF Night.
Kendall Graveman Zombie Towel, by AMC's Walking Dead.
Evan Scribner Calligraphy Set, by Barnes & Noble.
Billy Burns BBQ Apron, by Kingsford.
A.J. "Griffon" bobblehead, by World of Warcraft.
Billy Butler Tea Set, by Lipton.
Josh Phegley Phlegm Spitter, by Copenhagen.
Breaking Abad T-Shirt Night, for release of Breaking Bad on DVD.
Knowland Zoo night with Sean Nolin.
Drew Pomeranz Anger Management Awareness Night, by Kaiser Permanente.
Mercedes Benz Cap Day, featuring Ben Z.
BoMel Ejection Fireworks Night, set to the music of Gwar.
Danish Heritage Night, with ham, aebelskivers, and the first pitch by Rick Tittle.
Have one of your own?  I'm sure you do!  Comment below.