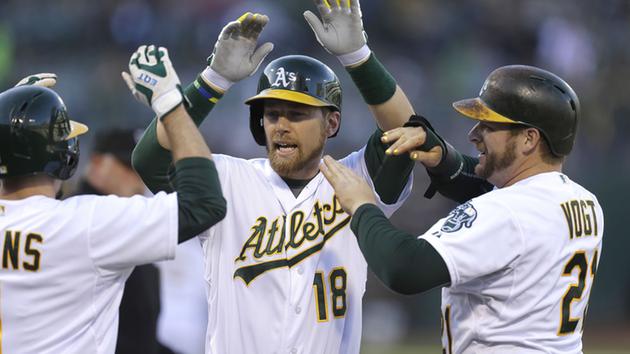 There have been very few moments this season when the A's have made overtures toward turning their awful season into something more palatable. But almost without fail, whenever it looked like Oakland was ready to make a push in the right direction, they usually took two steps backwards. But perhaps we might have some actual light at the end of the tunnel this time.
The A's are 18-11 since May 23. Their starting pitchers are a combined 15-7 with an ERA under 2.50 over the past 29 games. Leadoff hitter Billy Burns has a 13-game hitting streak and leads all American League rookies with 63 hits. Sonny Gray has the lowest ERA in the league at 1.95. Brett Lawrie, after a slow start, hit .295 in May and is presently hitting .343 in June. Ben Zobrist and Ike Davis are healthy again. Stephen Vogt leads the league in RBI with 51. Josh Reddick is still hitting, showing he was no Mr. April. And back-up catcher Josh Phegley, known for great defense and a light bat, has proven he is a two-way player, hitting .297.
This isn't to say everything is rosy in the 510. Coco Crisp and Sean Doolittle remain mired on the 60-day Disabled List. Pat Venditte came on with a splash but landed on the 15-day after only a handful of appearances. The bullpen is still a joke, with former members with names like Cook, Alvarez, Otero, Leon, Bassitt, and Castro now riding buses in Tennessee. And the defense is on course to be the most putrid in the history of baseball, surpassing even expansion teams in terms of futility.
Yet despite all these numbers (and I don't ever get into the nerdy WAR type of crap), there is only one number which matters in sports, and that's the record. Baseball is full of statistical aberrations concerning teams whose records belie their stats one way or another. Case in point happened a couple of years ago: the A's won their division despite setting an all-time AL record for striking out. The bottom line is truly the bottom line. Did you win or lose? Nothing else matters. There are no moral victories in professional sports.
But we're still a long way away from taking the 2015 A's seriously. They are nine games under at 32-41. Bob Melvin told me, upon taking over the A's in June of 2011, "You can't think about making the playoffs until you get over .500." But as Oakland fans discuss and read about rumors concerning their tradable commodities (which is everyone, with their reckless GM), we are left to ponder that there just may be some life left in this current squad. That maybe, just maybe, our summer will not be spent watching a bunch of guys simply playing out the string, trying to impress their future employers, whoever they may be.
As I've said before, I certainly do not want Billy Beane to scorch what's left of the farm system. But he just might want to wait until the July 31 non-waiver trade deadline before completing giving up on the season. Stranger things have happened around these parts the last few years. If you can pitch, which the A's starting rotation can certainly do, then you have a chance. At least, if you can pick up a ground ball and throw somebody out.