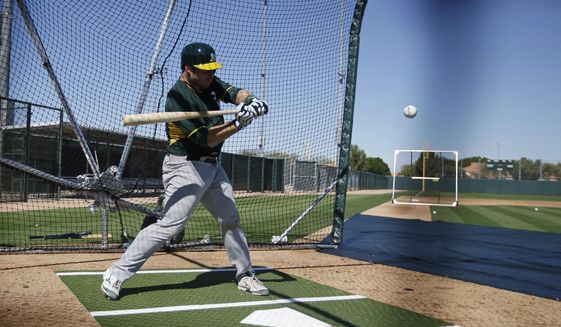 A's catcher Josh Phegley received a concussion after being struck in the head by a bat during batting practice before Oakland's game at Houston on Friday. It left the team scrambling for catchers, as Stephen Vogt had just returned from the DL after getting struck by a foul tip in his nether regions on Sept. 6. The attrition at the catcher position for Oakland left them with recent minor league call-up Carson Blair and journeyman Bryan Anderson to handle the heavy lifting. But once again, the batting cage has reared it's ugly head as one of the most dangerous places in all of sports.
It seems innocuous enough: have a coach stand behind a screen and pitch meatballs to players in order to get them loose. Pitchers and hitters waiting their turn can shag fly balls or take grounders to throw over to first base. But time and time again, the combination of 25 players (now as many as 40) and several coaches swinging bats and throwing baseballs leads to bodily harm. And Phegley getting hit in the head with a bat (ouch!) is just one of the various ways to find pain.
Carlos Beltran of the Yankees suffered a broken nose and two small facial fractures last July when he was hit by his own batted ball. The Bronx Bombers were earlier victimized in May of 2012 when all-time saves leader Mariano Rivera tore his ACL while shagging fly balls during BP at Kansas City. And speaking of relievers, Rangers pitchers Shawn Tolleson and Keone Kela had a nasty collision as they both went for the same lazy fly ball during batting practice this season. Heck, Giants fans in Scottsdale this spring held their breath when closer Santiago Casilla lay motionless for a while after Casey McGehee lined a shot off of his leg. It's a hard hat area, to be sure.
What can be done about all the injuries? Well, injuring yourself while swinging a bat can be unavoidable – it's an inherent risk of the game. You might break a hamate bone, pull your hamstring or create a back spasm, etc. If you can injure a part of your body, you can do it during BP while taking cuts. But the other people involved have limited protection. The small screen for the pitcher and the cage for those behind the plate are the only precautions given. For everyone else, it's just a matter of paying attention. It's the same thing if you're sitting in the stands, except heightened exponentially. Take your eye off of the ball at your peril.
But there will never be any additional safety measures taken when it comes to batting practice. Every mishap is treated as a fluke, and the players are much too macho to accept any changes which might make them look wimpy. All you have to do is look at the safety hat for pitchers which has already been approved by Major League Baseball. As an answer to pitchers being struck in the head, a special hat with plastic shields built into it was designed and manufactured…and not one big league hurler has doffed it. Why? Because it looks stupid and they might appear scared, which is a huge no-no.
So while there has been a lot of discussion this year about having foul pole to foul pole netting to combat the dangers of the maple bat, the players will always be in harm's way. And even though batting practice is as old as the hills, people will still find ways to hit each other in the head with bats and balls.