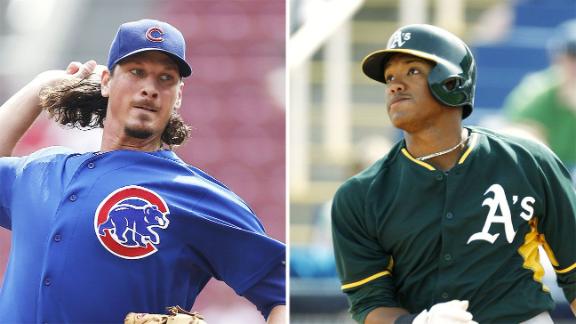 The rich get richer.
That's a typical reaction when the best team in baseball acquires two of the top pitchers in the National League, one of which was a top commodity on the trade market.
But the Oakland A's are no rich team. They are, to quote Billy Beane, "50 feet of crap" below poor teams. They are extremely frugal – they have to be, operating on a tight budget and using unconventional manners to find productive players.
That's why trading away three top prospects – Addison Russell, Billy McKinney, and Dan Straily – along with a player to be named later (minor league pitcher Raul Alcantara has been mentioned as a possible addition to this deal) to the Cubs for Jeff Samardzija and Jason Hammel, is a deal that will surely sound off fire alarms around the league.
The A's don't do this. They don't mortgage the future for the present. They are careful, rarely making blockbuster deals or taking excessive risks in recent years. They know that if they acquire a star player, they will likely lose that player to free agency or trade him for prospects before he hits the open market.
The last time the A's brought in a big name via trade, it was Matt Holliday back on November 10, 2008. They did mortgage the future, sending promising prospect Carlos Gonzalez and closer Huston Street to the Rockies for just half a season of Holliday, who was dealt before the trade deadline.
That was then, and this is now. In 2009, the A's were not a promising team, to say the least. In the midst of a string of mediocre seasons, Beane wanted a star like Holliday to make an impact, and in an uncharacteristic move, gave up some terrific young talent for him. But not even Holliday could save the hapless A's that season, when they finished last in the division. Their cleanup hitter was a past-his-prime Jason Giambi, who hit .193. Their DH and best power hitter was Jack Cust, who struck out 185 times that season. Their pitching was young, inexperienced, and ineffective. Their manager was Bob Geren, and their opening night starter was Dallas Braden. Suffice it to say, the 2009 A's were nowhere close to the 2014 A's.
The 2014 A's are loaded. Their offense leads all of baseball in runs scored, with players who buy into the platoon system. Their bullpen is deadly, with a stud closer in Sean Doolittle and several quality setup men in Dan Otero, Luke Gregerson and Fernando Abad. As a staff, the A's rank second in the majors with a 3.18 ERA.
So why make this deal? Why give away your shortstop of the future (Russell), your 2013 first round selection (McKinney) and your best Triple-A starter with big league experience (Straily) for Samardzija and Hammel, who will both command big money on the market relatively soon? (Hammel is a free agent at year's end; Samardzija after next season.)
Because for once, the A's are not thinking about the future. They aren't worried about re-signing Samardzija or Hammel. They aren't concerned about finances or other impediments that they've dealt with for so long.
For once, the A's are in win-now mode. With few glaring weaknesses to address on the roster, Beane and Co. decided to take the most apparent problem spot on the team – starting pitching – and turn it into a major strength.
The Tigers knocked the A's out of the playoffs in two consecutive years because they had the better pitching staff. With Justin Verlander no longer dominant, the A's can match the Tigers starter for starter. They can throw Sonny Gray, Samardzija, and Scott Kazmir out there for Games 1-3, then pick between Hammel, Jesse Chavez, Tommy Milone, or Drew Pomeranz for Game 4.
Add Jarrod Parker and A.J. Griffin – who are both recovering from Tommy John surgery – to the list above, and the A's (barring injury) will have eight solid MLB starters next season.
What can they do with that? Why, do what they're best at: wheel and deal. The A's need middle infield help. Eric Sogard, Alberto Callaspo, and Nick Punto have been sharing playing time at second, and Jed Lowrie, the starting shortstop, is a free agent come season's end. None of those four have shown much offensively, with Lowrie's numbers dropping precipitously from last year. It wouldn't be a shock if the A's dealt one or more of their pitchers for help on the infield before this year's trade deadline, particularly at second base.
Beane could've spent the Fourth of July relaxing in a luxury suite, watching his team grind out a walk-off win over the Blue Jays on a sunny afternoon at the Coliseum. Instead, he pulled off a deadline-type deal almost four weeks before July 31.
Despite all the accolades and acclaim, despite Moneyball, despite being played by Brad Pitt in a Hollywood blockbuster, Beane still hasn't won the last game of the year. Beane has built seven playoff rosters in 16 seasons, but only once has his team advanced to the ALCS. After signing a 10-year lease to remain in Oakland, Beane and the A's are no longer looking to the future. The 2014 A's were already primed for a postseason run. Yesterday's trade showed without a doubt that Beane is going for it all.