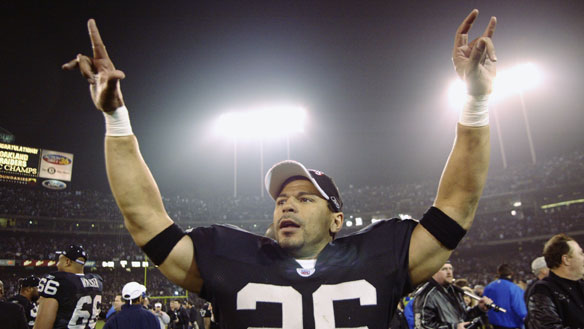 The Oakland Raiders announced their final coaching staff hires on Tuesday, adding 12 new coaches. In total, the staff includes six guys with a combined 25 years of NFL experience and six who'll be coaching in the NFL for the first time.
| | | | |
| --- | --- | --- | --- |
| Anno, Sam | Defensive Assistant | | |
| Eto, Darryl | Asst. Strength and Conditioning | | |
| Franklin, Jethro | Defensive Line | | |
| Gomes, Joe | Head Strength and Conditioning | | |
| Holt, Tim | Assistant Offensive Line | | |
| Holz, Nick | Quality Control – Offense | | |
| Kijowski, Kevin | Strength and Conditioning Asst. | | |
| Miller, Wesley | Strength and Conditioning Asst. | | |
| Peetz, Jake | Senior Offensive Assistant | | |
| Smith, Travis | Quality Control – Defense | | |
| Vieselmeyer, Brent | Assistant Linebackers | | |
| Woodson, Rod | Assistant Defensive Backs | | |
Two of those coaches have been with the team for a few years and were brought back after their contracts expired this offseason — Nick Holz and Travis Smith will be entering their fourth seasons with the team. They'll both be quality control coaches for the first time after spending three seasons as offensive/defensive assistants.
But there's another hire who also has experience with the Raiders both as a player and as a coach in Rod Woodson. The Hall of Fame safety had 10 interceptions over two seasons in Oakland (2003-04). He then joined the Raiders' coaching staff as a cornerbacks coach in 2011 with then-head coach Hue Jackson. He hasn't coached in the league since, although he did spend last offseason with the Denver Broncos as an assistant during their offseason workouts.
As some of you may recall, Woodson (along with Bill Romanowski) defended Mark Davis when Greg Papa called the Raiders owner's decision to interview Mike Shanahan "beyond disrespectful."
The most important hire, however, may be defensive line coach Jethro Franklin (and not just because of his first name). It's often said that winning football begins in the trenches. The Raiders hired a quality offensive line coach earlier in the offseason when they brought in Mike Tice from the Atlanta Falcons. Franklin, who has spent the past six years at the collegiate level, brings eight years of NFL coaching experience and 24 years of experience in college and the NFL combined. Franklin also has experience with new Raiders defensive coordinator Ken Norton Jr., as they spent two seasons together at USC.