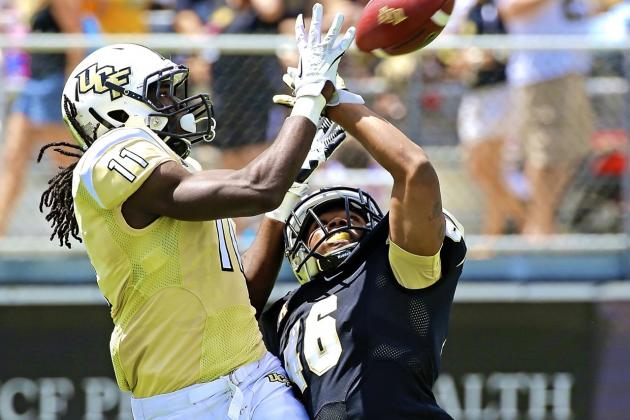 The Oakland Raiders have either worked out, met with, or hosted 12 draft prospects. The list is evenly split between offensive and defensive players.
OFFENSE
Breshad Perriman, WR, Central Florida
Matt Huffer, OL, South Dakota
Gabe Holmes, TE, Purdue
Mike Coccia, C, New Hampshire
Shane Wynn, WR, Indiana
Garrett Grayson, QB, Colorado State
DEFENSE
Marcus Rush, LB, Michigan State
Travis Lee, CB, Miles College
Tray Walker, CB, Texas Southern
Akeem King, S, San Jose State
David Irving, DE, Iowa State
The most prominent name of the group is Perriman, a wide receiver out of the University of Central Florida whose stock rose dramatically after he ran a 4.25 40-yard dash at his pro day. He is currently projected to go as high as the middle of the first round. With the Raiders clearly in need of a wide receiver, visiting with Perriman could be a sign that the team is planning on trading back out of the No. 4 spot and going after a wideout in the middle of the first.
The other notable visit was with Colorado State quarterback Garrett Grayson. After signing Christian Ponder this offseason, the Raiders now have three quarterbacks under the age of 28 in Ponder, Derek Carr and Matt McGloin. Grayson is slotted as a mid- to late-round prospect so it would be odd for the Raiders to draft a backup quarterback when they have two guys with NFL experience and a boatload of needs elsewhere (unless they are no longer interested in developing McGloin).
Besides those Perriman and Grayson, the other players on the visit list are projected to get chosen on the draft's third day or go undrafted. That, however, is not very surprising. The Raiders under Reggie McKenzie have operated the same way with every draft. They do not spend much time meeting with guys in the top few rounds — for those picks they've relied primarily on game tape, along with combine and/or pro day workouts. But McKenzie has also shown a knack for locating talented players who get passed over in the first four rounds (like Latavius Murray, Mychal Rivera and Travis Carrie) or don't get drafted at all (Rod Streater, Marquette King and McGloin), and part of that might be because he routinely meets with those late round type prospects rather than high prospects.