Former San Francisco 49ers offensive coordinator Mike Holmgren is highly interested in becoming the 49ers' next head coach, according to a source who spoke with Holmgren.
Whether or not that means anything remains to be seen. The job isn't open (yet). It's unknown whether Jed York and Trent Baalke would look toward Holmgren, who has 17 seasons of NFL head coaching experience but would be 67 years old at the start of next season. Rumors are swirling (they tend to have the same tendencies as the winds at Candlestick Park) that the 49ers could trade or fire Jim Harbaugh after this season. Holmgren isn't often named as a likely candidate to replace him, but maybe he should be mentioned alongside favorites like Jim Tomsula and Vic Fangio.
He's a "big name" who still resonates with many 49ers fans
Jed York is in for the kind of backlash he and his family have never before experienced once they finally pull the plug on Harbaugh, even if the 49ers lose out and finish 7-9. The only way to pacify some of those fans would be to fight star power with star power, i.e. by hiring a famous coach. Like Jon Gruden, Holmgren has one Super Bowl win but hasn't coached since 2008. In a lot of other markets he might be seen as a retread, but there were countless calls to radio shows between 2009 and Harbaugh's hiring in which dissatisfied fans called for the 49ers to hire Holmgren. He wouldn't satisfy everyone, but his name is one that would engender more patience than a lot of others.
It would mark a return to the 49ers' roots 
Holmgren played quarterback at Lincoln High in San Francisco, and after his playing days he served as an assistant at Lincoln, two other local high schools and San Francisco State before heading to BYU in 1982. He was the 49ers' quarterbacks coach from 1986-88. San Francisco led the NFL in points and yards in 1989, his first season as offensive coordinator. More than any other branch of the Bill Walsh coaching tree, Holmgren was seen as the one who got away.
Throughout the Yorks' stewardship, the 49ers have looked like an organization hoping to mimic other successful franchises. The 49ers revolutionized offensive football in the 1980s, but the 49ers of the 2000s have taken pages from defensive teams like the Baltimore Ravens (Mike Nolan, Mike Singletary), Chicago Bears (Singletary, Harbaugh) and New York Giants (Baalke is a disciple of Bill Parcells).
There's a nice museum at Levi's Stadium, but for a long time there's been a strange distance between the current 49ers and their iconic figures, like Joe Montana, Jerry Rice, Steve Young and several others. If the 49ers brought in Holmgren, and that led to a championship reunion of sorts with several beloved former players, the early stages of Harbaugh backlash would be quieted even more, and would dissipate completely if the 49ers started experiencing some 1989-esque success.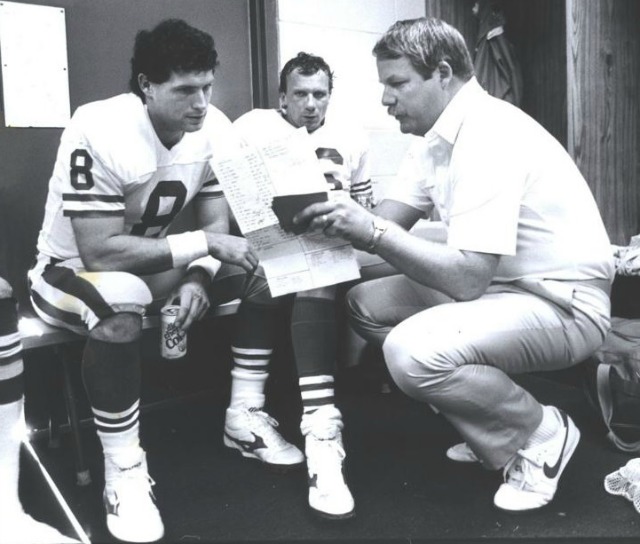 Holmgren is a quarterbacks coach
The 49ers are at a crossroads with Colin Kaepernick, and jettisoning Harbaugh would insert even more chaos into the situation. Trent Dilfer recently mentioned why Holmgren would be perfect.
"He needs a coach that will come in there, I wish Mike Holmgren was still in the NFL. He needs a Mike Holmgren that can come in and tell him how good he can be. And listen, kid, I got the tools to make you good again."
Laugh if you want, but Dilfer and Jed are bros. It could be a coincidence that he mentioned Holmgren's name on a radio show, but you never know with the Yorks. You just never know.
Holmgren will apparently do whatever it takes to coach again
The biggest question — other than money — when it comes to any coaching candidate, is how he'd get along with Baalke. Holmgren has years of executive experience, and if he wants the power to choose his own roster … York will probably say something that sounds like, "Don't call us, we'll call you." Or, "Why don't you take a tour of Levi's Stadium. It'll only cost you $25."
Holmgren's resume as a general manager is (hold on, I'm searching for a diplomatic way to put this …) spotty. Yep, it's spotty.
He was fired by the Seahawks in 2002 (but remained the team's head coach for several more years). His run in Cleveland (2010-12) was forgettable, and that's being very, very kind. But Holmgren wants to get back into coaching … badly. How badly?
Holmgren will coach the American Team in the NFLPA Collegiate Bowl, the players association announced Monday. Mike Martz, the former Rams coach, will head the National Team.

The game will be played Jan. 17 at StudHub Center on the California State University Dominguez Hills campus.
Coaching against Mike Martz in some college all-star game most of us have never heard of, at a facility that Seahawks.com couldn't even spell correctly, tells us all we need to know about Holmgren's hunger to wear a headset and patrol the sidelines.
***
Don't get this story confused with something like, "Holmgren Should Be The Next Coach Of The 49ers: My Column." Again, all I know is that Holmgren is interested in the gig. It doesn't mean the 49ers are into Holmgren, but his name could be one to follow if/when the team parts ways with Harbaugh.