If you feel bad about giving up on the Giants at around 2:30 pm on Saturday, don't.
The Phillies had a 5-1 lead in the fifth inning.
Tim Hudson was already out of the game.
The Giants somehow figured out ways to strand four base runners per inning.
They were on their way to getting swept by an awful Phillies team and going 1-4 in their mini-homestand.
Then the Giants were saved by a mixture of fortuitous bounces and uncaught bloopers. They came back and won that game, then pulled off the impossible and prevailed on Sunday afternoon, 5-2. Two wins in a row at home! What's next — eight shutout innings for Tim Lincecum in a road start where the temperature and humidity percentage are both over 90?
As much fun as it's been to mock the Giants' slide into mediocrity — and subsequent slide into dreadfulness — they'd travel to St. Louis for a playoff game if the season ended after Monday. Yeah, yeah … they're only a game up on Atlanta, two games ahead of Pittsburgh and 3.5 games in front of Miami(!?).
But here's a little secret: while the Giants have treaded water while clutching to a leaky inner tube with a prominently displayed "THIS IS NOT A FLOATION DEVICE" stamp, the Dodgers have had their own problems.
That's right. While you were underneath a second grader's desk, ducking and covering the back of your neck with your arms (and, let's be honest, chugging the kid's Capri Sun and noshing on his Lunchables and fruit snax), the Doyers never went on that 42-8 streak a lot of us figured was inevitable.
While the Giants have obsessed over injuries to Angel Pagan, Brandon Belt and Matt Cain, Dodgers have been dropping like pop flies between Ryan Howard and Chase Utley.
Josh Beckett: 15-day DL (8/4 — left hip impingement)
Hyun-Jin Ryu: 15-day DL (8/15 — strained right butt cheek)
Hanley Ramirez: 15-day DL (8/10 — strained right oblique)
Juan Uribe: 15-day DL (8/15 — strained right hamstring)
Paul Maholm: 15-day DL (8/2 — torn ACL, right knee)
Chris Perez: 15-day DL (8/4 — bone spurs, right ankle)
Paco Rodriguez: 15-day DL (8/5 — muscle strain, right shoulder)
Chris Withrow: 60-day DL (6/3 — Tommy John surgery)
Man. All those injuries, and not one that alleviated their logjam in the outfield or put Brian Wilson (who gave up three earned runs in his most recent outing to push his ERA to 5.26 and his WHIP to 1.70) out of his misery.
The Dodgers are in a state of flux, while the Giants lucked into a new starting second baseman. Throw in how the Giants (65-58) are only two games behind the Dodgers (70-56) in the loss column, and a well-timed run of good play from the Giants could bring an actual pennant race to this silly little division. Time to start printing those "2014 NL West Champions," Larry!
Ha. I'm probably taking this idea too far. It's a Tuesday afternoon and I don't feel like breaking down film of the 49ers' 34-0 preseason loss to the Broncos, but the holes in this overly optimistic theme are bigger than the ones in Joaquin Arias' swing.
1. We can't assume the Giants will win those three extra games (including the rain-suspended game in Colorado).
2. Joe Panik dislocated his pinkie — he's day-to-day, but ouch. (Nice tag placement, J-Roll.)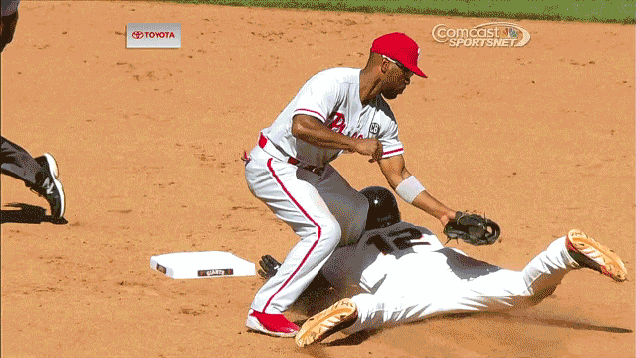 3. The Dodgers responded to the losses of Beckett (who's probably out for the season) and Hyun-Jin (and I meant "strained right gluteus" earlier … sorry for the NFL-like maturity slippage) with trades for Roberto Hernandez and Kevin Correia. In three six-inning starts (two by Hernandez) for the Dodgers, the new guys have combined to allow just four earned runs and 10 hits.
4. Adrian Gonzalez, Matt Kemp and Yasiel Puig are all above .900 in OPS since the All-Star Break.
5. Only Mike Morse (.898) and Buster Posey (.802) have come close during that span.
6. Clayton Kershaw.
7. The Giants are 23-37 in their last 60 games, whereas the Dodgers are 35-25.
The Giants are now in Chicago, where it's raining and hailing, and then they go to Washington, where they always seem to get smashed. So this post will probably be irrelevant in a week or so. However, against all odds, the San Francisco Giants still have a chance to win their division on August 19, 2014. As Posey once said, "Baseball's weird, John."