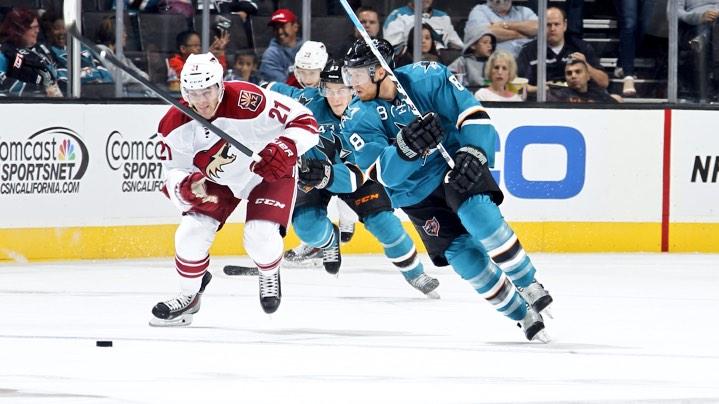 SAP Center — The Sharks lost 2-1 in a shootout to the Arizona "formerly known as Phoenix" Coyotes, and one thing was clear in this preseason game: With the young guns up with the big club from Worcester, there isn't a player, veteran or otherwise, whose job isn't on the line.
"We often think about just keeping one," head coach Todd McLellan said of a few of the prospects still in camp. "But maybe two of them, or three of them, could push some veterans out. And if we have to make those changes we will."
Outside of vets Brent Burns and Joe Pavelski, who contributed the Sharks lone goal Friday night, it was roster hopefuls Chris Tierny, Taylor Fedun and 2014 draftee Nikolay Goldobin who stole attention while on the ice. "It's not just about filling in the one or two holes. It's about some being pushed. And it's going to be a fight to keep your job now. And that will be a good message to some of the players who have been here for a while."
The concept isn't lost on the veteran players either. Pavelski admitted that he knows these preseason games are something of an "audition" to make the big league roster: "As a young guy, looking back, it's exciting to play in these games. And you never know how long your time will be, whether it's one game, two games … There are some good players out there."
But that's what preseason is for, right? Plugging players into different roles and see where they fit? "We'll have some decisions to make," McLellan said definitively.
San Jose found themselves trailing 1-0 in the opening frame after having burned through two attempts on the man advantage unsuccessfully, despite leading the shot clock — they would eventually outshoot Arizona 45-18. Starter Antti Niemi had allowed Arizona to score on their first shot-on-goal, while opposing netminder Devan Dubnyk wasn't letting any of Team Teal's shots by him.
Arizona scored the opening goal in the first stanza after Sharks prospect Tye McGinn went to the box for high-sticking. Not nine seconds in Justin Hodgman skated up in front of the crease and lined the puck past Niemi to put the visitors the 1-0 lead. San Jose had two opportunities on the power play before the first 20 minutes expired, but couldn't produce a goal.
They finally made good on the man advantage with Coyote Jordan Martinook in the bin for hooking. Brent Burns made a shot up close that Pavelski deflected past Dubnyk to tie the game up 1-1 at 7:16 in the second frame. "It felt dangerous," Pavelski said about the power play postgame, but acknowledged that there is room for improvement. "We expect to have good power play in this group. So far it has moved around pretty good."
Burns then kept the Desert Dogs from breaking the tie just a minute later when he kneeled in front of a shot that Niemi might have missed. San Jose couldn't break the tie themselves however, as the game dragged into overtime, and into the shootout. Hodgman and Lucas Lessio's shots beating Niemi, and Goldobin getting the single shot past Dubnyk.
Preseason play continues at the Tank tomorrow against the Anaheim Ducks. Puck drop for that game is scheduled for 5:00 pm.