NHL
Sharks' home woes continue with penalty-laden loss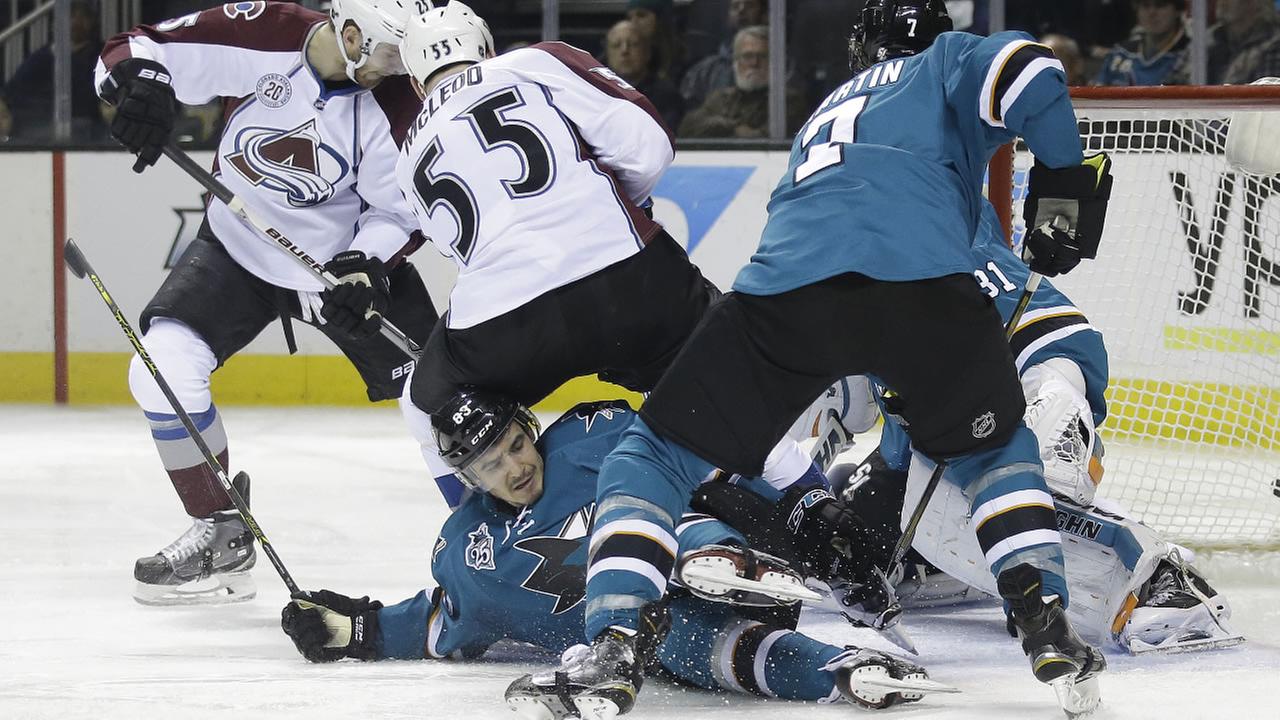 It's an understatement to say that the Sharks are tired of talking about how they have so much trouble winning games at home.
The team is tired of being asked questions about it. Fans are probably tired of hearing about it. Heck, I'm tired of writing about it.
But, the Sharks tallied another loss at home on Monday night, this time to the Colorado Avalanche. And here we are again, wondering why the heck these guys have so much trouble in their own building.
"A lot's being made of it, and should," Tommy Wingels said of the mysterious losing streak. "There's no reason why you shouldn't be dominant at home. You're familiar with everything. Your schedule is always the same, and there are certainly no excuses. We've tried some things to change it up. But ultimately it's a mindset of getting it done."
This time around, it wasn't a slow start or a lack of energy that plagued the home team. It was notching six penalties that resulted in a whopping four power play goals by the opposition. It's hard to win games giving up four power play goals in a single tilt.
"You're playing with fire any time you take that many penalties," coach Peter DeBoer said deadpan. "They had four power play goals. That was the difference in the game."
It really was the difference, as Team Teal didn't play an all-around bad game. After Colorado's Nathan MacKinnon opened up the scoring in the first period, San Jose tied the game up 1-1 thanks to a Patrick Marleau goal. They continued to push, putting pressure on Colorado netminder Calvin Pickard.
"Every time they went up that one goal, we got it back right away," Joe Pavelski said. "Then again, it was the penalties that just kept doing us in there, and we didn't have an answer for it tonight."
"I think our penalty kill lacked an attention to detail tonight," Wingels said. "Our penalty kill is a better unit than that."
"I liked our start, we had the first six or seven shots, then the penalties took us out of the game," DeBoer said. "Our penalty kill arguably (has been) the best in the league over the last two months. It wasn't good tonight, they were making plays through us."
San Jose racked up four minor penalties within the first period alone, putting them on their heels and helping Colorado score two power play goals in the opening frame. Conversely, when the Avalanche did the mambo to the sin bin multiple times, the Sharks couldn't convert on the power play — the puck entered the blue paint but didn't get past Pickard's block.
Give San Jose credit for trying to turn the game around. When down 3-2 entering the third frame, the Sharks took the ice with all of the momentum. But a bad holding penalty by Brent Burns took the wind out of San Jose's sails and ended up in the back of their net, putting them down 4-2. Even with Tomas Hertl answering back almost immediately to cut the lead down, Wingels was sent to the penalty box — for hooking, fancy that — and MacKinnon scored his second goal on the evening.
MacKinnon's empty-netter with under two minutes to play sealed the Sharks' fate. It brings their home record to a staggering 4-10-0, and has us asking yet again: When are they going to turn things around at home?
"If we knew what was wrong, we'd fix it," Marc-Edouard Vlasic said. "And we're still trying to find that out. Better do it soon, before we drop down even lower."