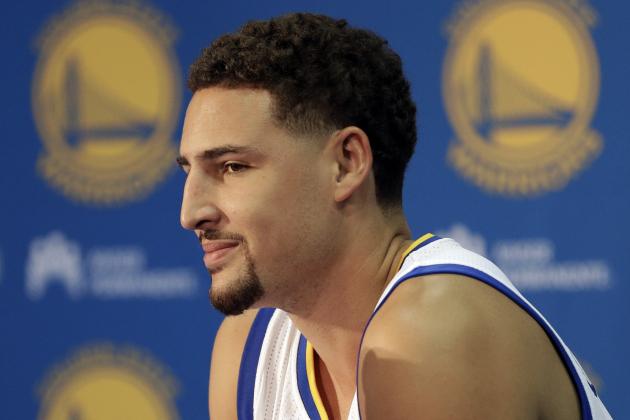 If at any point you find yourself startled by the way the Warriors attack the 2015-16 season — namely, why they keep blowing out teams after finishing last season with an historically high point-differential — just refer back to this list of quotes about Golden State's title run from title contenders this past offseason.
It's like these teams want the Warriors to shrug off anything approaching complacency after their 67-win season and first championship in 40 years. If that's the goal, mission accomplished!
Sour grapes quote
Kyrie Irving: "I'm always going to be a straight shooter with everyone and give them my honest opinion. Obviously we had a great thing in Cleveland, we dealt with everything together. I felt like we would've definitely won an NBA championship if we had everyone healthy."
Irving did follow up by saying "almost doesn't count," but the attention-grabbing part of that quote was the oft-mentioned idea that the Cavs would've won the title with a healthy Irving and Kevin Love (even though neither player can be considered an NBA ironman — Irving has missed 56 regular season games and Love has sat out 85 in the past four seasons).
Warriors response
Draymond Green: "If I was six-foot-eleven, I think I'd be like Anthony Davis. But I'm not. And I'm not like Anthony Davis. We all got our ifs in life. If this would've happened, I'd be doing this. If that would've happened, I'd be doing that. If 'if' was a fifth, we'd all be drunk right now."
This was effectively the last word from Green on the whole "lucky" narrative teams are trying to apply to the Warriors. He didn't want to get into it when a certain team from Southern California doubled down on what Irving said (more on that later), perhaps because he's already rattled their cages enough over the past year.

Sour grapes quote
James Harden: "But that award means most valuable to your team. We finished second in the West, which nobody thought we were going to do at the beginning of the year even when everybody was healthy. We were near the top in having the most injuries. We won our division in a division where every single team made the playoffs.
"There's so many factors. I led the league in total points scored, minutes played. Like I said, I'm not taking anything away from Steph, but I felt I deserved the Most Valuable Player. That stays with me."
Give Harden credit — at least he isn't taking anything away from Steph … well, except Curry's 2014-15 NBA MVP award (in Harden's mind, anyway).
Warriors response
Stephen Curry: "It doesn't change what happened last year. I don't know. Different guys find different ways of motivating themselves. I've never been one to just … I'm obviously confident in what I do, and I know he's confident in what he does. It might come out in a different way."
This is as close as Curry will ever come to saying "child please." It's really too bad these guys almost never guard each other, although Curry had a hand (literally) in Harden fumbling away a chance at winning Game 2 of the Western Conference Finals.

Sour grapes quotes
Doc Rivers: "You need luck in the West. Look at Golden State. They didn't have to play us or the Spurs."
J.J. Redick: "The more I tried to process it, the angrier I got. I'm not saying we definitely would have beaten Golden State, but if you make the conference finals, you have a chance. I've given up trying to explain what happened.
"The championship window in the West is so narrow. Ours might only be open another couple of years. But you need some breaks. Golden State was the best team in the league, but they also had everything go right for them. They didn't have one bad break. I don't have any doubt about the DNA of our team."
Only in Clipperland is "losing Game 6 at home after leading by 19 points in the third quarter" considered a "bad break."
Warriors responses
Klay Thompson (1): "That sounds pretty bitter to me."
Klay Thompson (2): "If we got lucky, look at our record against them last year. I'm pretty sure we smacked them."
Klay Thompson (3): "Didn't they lose to the Rockets? So that just makes me laugh. That's funny. Weren't they up 3-1, too? Tell them I said that, too."
Klay Thompson (4): "I wanted to play the Clippers last year, but they couldn't handle their business."
We're finally getting to see Thompson's personality. This is THE highlight of the preseason, and it isn't even close.
Andrew Bogut (1): "I've actually got my ring fitted for my middle finger."
Andrew Bogut (2): "We respect all previous champs. We'll respect future champs. They don't want to respect us, so be it … It's one thing taking it from a team that's won a championship, taking those kind of criticisms."
In other words: "We don't respect the Clippers. Oh, and has anyone else noticed that the only contending team that isn't calling us lucky or questioning Curry's MVP credentials happens to be the Spurs?"
The only thing that's missing in all of this is a blisteringly sarcastic quip from Steve Kerr. I'm assuming we'll hear one soon enough.