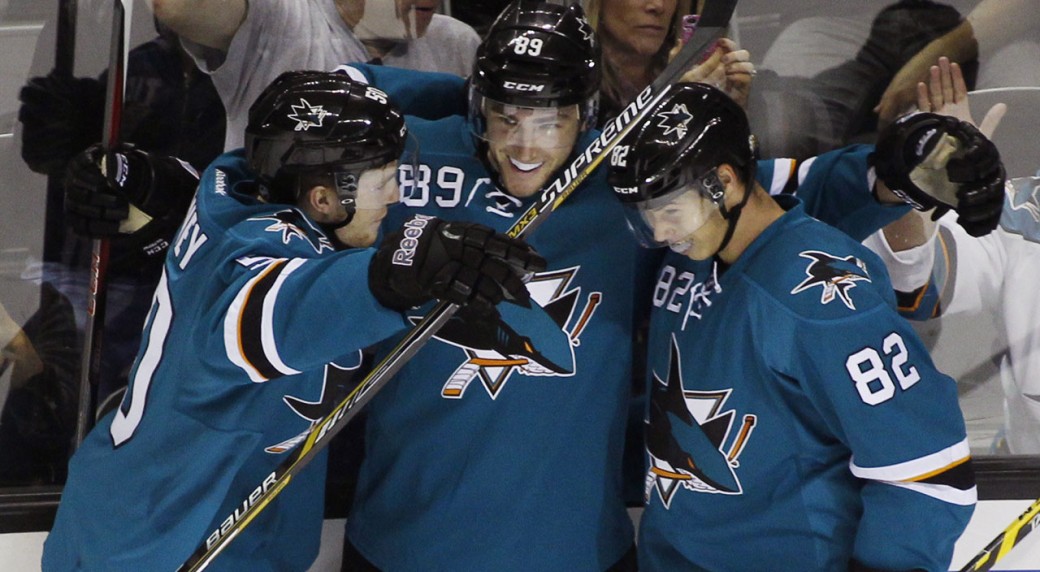 During post game media scrums Saturday night, Sharks prospect Chris Tierney was asked if there had been discussion with his linemates Barclay Goodrow and Nikolay Goldobin about making it up the NHL level together.
"Probably not right now, a little too early for that," the 20-year-old forward answered with a laugh. "We're hungry, we're here to make the team, and no one wants to get sent down. We want to stay up here as long as we can."
Sure, the concept of all three of them advancing together is a bit far-fetched, but they'll at least get to play together for a few more preseason games, as the trio just survived San Jose's most significant roster cuts of the preseason.
The Sharks trimmed their roster down to 30 players after cutting four on Sunday and a whopping eight on Monday. But it's not so much the number of prospects that were reassigned to AHL camp in Worcester. It's that more seasoned roster hopefuls, such as forward Freddie Hamilton and defenseman Matt Tennyson, were sent down to Worcester while the Goldy-Tierney-Goody combo gets another shot at a regular season roster.
When head coach Todd McLellan said after Friday's tilt with the Arizona Coyotes that the young guys had the opportunity to muscle out the vets, he wasn't joking. "We have some decisions to make, but maybe two or three of them can push some veterans out."
The Sharks are, indeed, rewarding the young players who have stepped up on the ice during the team's first four preseason battles.
Other roster hopefuls still with San Jose include defensemen Mirco Mueller and Taylor Fedun, who also received high praise over the weekend. "I thought Taylor and Mirco both did some really good things on the rink. They heightened our awareness, both of them, and improved their status among the club."
Big guy Taylor Doherty — who dropped his gloves on Saturday — also escaped Monday's reassignments.
With a smaller roster to work with, it will now be interesting to see how the remaining prospects will perform on Tuesday when the Sharks host the Kings. While the Coyotes and Ducks didn't necessarily bring their top players into town to play over the weekend, it's fair to assume that LA will put their big guns out on the ice, which is what McLellan believes will be the biggest test of camp yet. "Hopefully when LA comes, the Kopitars and those types of players — the Carters, are coming, and we get tested. But if not, then we have to make decisions."
Interesting still is how much pressure the prospects' success is going to put on current SJ roster members who perhaps haven't played as well. The shortened roster will give us a better idea of who can give the top line players a run for their money, and who will be sent to Worcester before the regular season opens next week.
The full list of this week's roster cuts includes: Forwards Hamilton, Ryan Carpenter, Petter Emanuelson, Rylan Schwartz, Travis Oleksuk, Daniil Tarasov and Melker Karlsson; defensemen Tennyson, Konrad Albelthauser and Dylan DeMelo; goaltenders Troy Grosenik and J.P. Anderson.