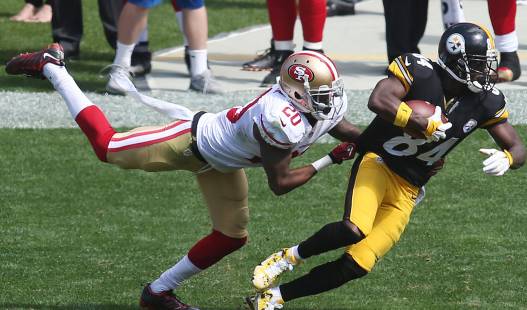 We knew the 49ers couldn't protect their quarterback or get to opposing teams' quarterbacks (in convential ways) going into this season. That's why it was remarkable to see how the Vikings reacted when the 49ers rode Carlos Hyde and several exotic blitz packages to a 20-3 win at Levi's Stadium.
Offensively, the 49ers ran a lot of zone read stuff against Minnesota, while putting Colin Kaepernick on the move thanks in part to several boot plays. Basically, the 49ers offense did everything it didn't want to show the league during the preseason, and the plan worked to perfection (in the last 35 minutes of that game, anyway). Eric Mangini did Eric Mangini things, sending an assortment of middle linebackers and defensive backs at a flustered Teddy Bridgewater, to make up for the team's below average set of outside linebackers.
No excuses
Yes, the 49ers were at a disadvantage from a scheduling perspective on Sunday. Pittsburgh hadn't played since the opening Thursday night game of the season, and the 49ers flew across the country on a short week to play a team that spent the previous nine days fuming over their loss to the Patriots (along with the headset problems at Foxboro).
However, the physical angle is probably overblown here …
It's the beginning of the season.
The 49ers were without Reggie Bush and Bruce Ellington, but they were hardly decimated by Week 1 injuries.
Jim Tomsula has gotten a TON of credit for keeping the players fresh throughout training camp, and it's doubtful that he overworked his team in the week leading up to Sunday's game.
Jim Harbaugh is now considered a brutish maniac with the offensive mind of a 1970s neanderthal by some around here, but his record of 11-1 on the East Coast proved it's not impossible to win this kind of game. And the losses of Bush and Ellington pale in comparison to the Steelers playing without Le'Veon Bell and Martavis Bryant. Pittsburgh's offense is good, but the 49ers are supposed to have the kind of defense that keeps them in every game. Instead, the Steelers moved the ball at will and completed deep passes with a frequency that would be difficult to match while playing Madden at Rookie level.
The Denny Green game
The 49ers' weaknesses seemed so glaring to everyone around here, which made the Vikings' coaching performance last Monday seem all the more curious. They can't pass protect all that well, and they need to get tricky to get any sort of pass rush because (1) Ahmad Brooks is distracted and over the hill, (2) Aaron Lynch was out of shape throughout the offseason, (3) Eli Harold is a normal rookie (as opposed to a dominant rookie, like Aldon Smith in 2011), and (4) Corey Lemonier probably wouldn't be on the team if Trent Baalke didn't draft him in the third round two years ago.
The Steelers were the worst kind of team for the 49ers to face, regardless of location or the number of days between games, and they showed that the 49ers are who we thought they were. Ben Roethlisberger doesn't flinch in the face of a blitz and they have the best receiver in the game, plus two speedy receivers other than the suspended Bryant (which doesn't seem fair). Their tight end isn't bad either, and they probably have one of the best backup running backs in the league.
Pittsburgh's defense showed numerous deficiencies against the pass in their first game — Rob Gronkowski was virtually left alone to roam, like a bison in his very own meadow. However, the Steelers allowed only 3.3 yards per carry to the Patriots. Perhaps if the 49ers didn't keep force-feeding Carlos Hyde in the game's early stages, they would've finished with more than three points at halftime. Then again, Kaepernick was sacked three times for minus-28 yards in the first half. If they went with a pass-heavy attack to start the game and finished with the same three points in the first two quarters, people would've screamed, "Why didn't you give the ball to the dude who rushed for 168 yards a week ago?!?!"
Free agents bringing mixed results
The 49ers used the second half as a glorified practice session for Kaepernick and Torrey Smith, who showed glimpses in the first half and broke through with a 75-yard touchdown reception that was everything the 49ers dreamed when they signed him to that huge deal.
Let's hold our nose and take a look at every free agent signing.
OL Ben Gottschalk signs 2-year deal (waived/injured)
OL Justin Renfrow signs 2-year deal (cut)
LB Phillip Wheeler signs 1-year deal (cut)
LB Nick Bellore signs 2-year deal (no defensive snaps or special teams tackles)
RB Reggie Bush signs 1-year deal (injured calf)
OL Erik Pears signs 2-year deal (three penalties; ranked 63rd out of 70 OTs – PFF)
CB Shareece Wright signs 1-year deal (inactive twice)
WR Torrey Smith signs 5-year deal (120 yards and TD on Sunday)
WR Jerome Simpson signs 2-year deal (suspended six games)
DT Darnell Dockett signs 2-year deal (cut)
RB/Returner Jarryd Hayne signs 3-year deal (30 all-purpose yards)
Bush's injury stings, because the 49ers were counting on him as a receiving outlet for Kaepernick. And when Hyde got dinged up — something tells me that's going to be a common theme this season, as players like Mike Mitchell shamelessly target the 49ers' best weapon (I can only imagine what the Cardinals have in store this weekend) — the 49ers didn't have anyone to run the ball when they approached the goal-line.
Here's the problem, and it's obvious: Bush can't be expected to stay healthy this year. They might get a few games here or there, but he's a speed guy with a history of ankle and now calf injuries. Not good.
However, the Wright signing is worse than the Dockett signing, because Dockett only cost money and the 49ers' young defensive linemen need experience. The Wright signing is much worse than the Pears signing, because at least Pears plays.
Wright was signed with the expectation that he'd be the one covering Antonio Brown, not Kenneth Acker. Acker is a good young cornerback, but only if you include the word "young." Telling him to cover the most complete receiver in the game with Roethlisberger throwing darts isn't optimal for a guy in his second career NFL game, especially with Eric Reid and Antoine Bethea (Reid in particular) making several coverage mistakes of their own.
Letting Acker guard Brown was a good learning experience, much like letting Arik Armstead bullrush his way through the line, only to see Williams run past him on multiple occasions. Maybe that's what this season is all about for the 49ers — letting the young guys take their lumps to get them ready for next season and future years. And if that's the case, maybe we're looking at a situation in the coming weeks where Harold has replaced Brooks at right outside linebacker, Jaquiski Tartt has replaced Bethea as the strong safety, Mike Purcell and Tank Carradine are getting all of Dorsey's snaps, and the Jordan Devey/Erik Pears right-side combo is replaced by Brandon Thomas/Trent Brown.
The bright side heading into Arizona
This was the year that Kaepernick — a former high school pitcher, as you may have heard 100 times — needed to show that he could place the ball in the correct spot more often than not. So far, he's done that. The stats he accumulated in Pittsburgh came against a defense that didn't mind the 49ers going on time-consuming drives in the second half, but his passing is far more precise than we saw last year. He's much calmer in the pocket, even when it's collapsing. He's diving forward on his scrambles in a way that minimizes contact and picks up extra yards.
It's to the point now where I'd be shocked if they didn't give Kaepernick another season after this one, provided he doesn't get killed behind this offensive line.
The Cardinals are giving up 290 passing yards per game so far, on 7.5 yards per attempt. However, they're 2-0 for a reason. They've given up just two passing touchdowns while intercepting three passes. And worst of all for the 49ers, they're allowing just 3.4 yards per carry.
Meanwhile, Carson Palmer hasn't been sacked once, Larry Fitzgerald is back to being Larry Fitzgerald again (199 yards and three touchdowns), John Brown is a handful, and Michael Floyd is making his way back (one catch for 18 yards on Sunday vs. New Orleans) after an ugly hand injury suffered in August. And now Bruce Arians knows what game plan to avoid (Minnesota's) and which one to emulate (Pittsburgh's). It's a division rivalry game, and overconfidence won't be an issue for the 49ers after the 43-18 thrashing they received on Sunday, so it should be a relatively close game. But the result for the 49ers should be closer to the one we saw on the East Coast than the one we saw in Santa Clara.