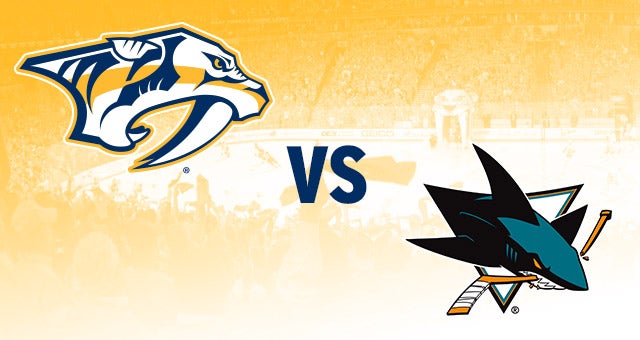 You don't have to like the result of Wednesday night's Sharks' game against the Predators. But there is no denying how good of a hockey game it shaped up to be.
"I thought we pushed back after the first 10 minutes from the start and it was a good hockey game," coach Peter DeBoer said after the 2-1 loss to the visiting Preds. "We had our chances, they had their chances. Good goaltending on both ends. It was a hard-fought game."
"I thought we played them pretty hard," Tommy Wingels agreed. "They are a good team."
There is plenty that the Sharks can take out of the rumble with the tough Central Division club as they prepare for back-to-back road games this weekend — both good and bad. Here's what we learned from the mid-week matchup.
A slow start, and giving up that first goal
Nashville is a speedy team, no question. They tilted the ice in their favor early in the first frame and capitalized within the first 10 minutes of play when a nasty slap shot by Eric Nystrom just missed Martin Jones' block to put the visitors up 1-0.
"I didn't like our start," DeBoer said. "Giving up the first goal is critical in a game like that."
"Early in the game, you just need a save," Jones said, shouldering the blame. "That's tough to come back from against a tough defensive team with a good goalie."
Jones really didn't have a bad game, and was a solid match with Pekka Rinne in vintage for on the other side of the ice. He didn't crumble after the Nystrom goal, and made a stellar pad save just a couple shifts later to keep Filip Forsberg from giving Nashville an 2-0 advantage. (Although Jones was insistent when asked about the save that "good saves don't make up for bad goals.")
For San Jose, a key going forward will be to rally quickly to prevent getting into an early hole.
"I think we fought ourselves a little bit to get going," Paul Martin admitted. "I think we adjusted as the game went on."
Missed opportunities and the power play drought
While San Jose created more scoring chances in the latter 40 minutes of play, keeping the puck in Predators' territory continued to be a challenge. Even when the Sharks had the benefit of a couple power play opportunities.
"Power plays, we've got to start putting one in," Joe Pavelski said. "It has done some good things, but now it's time to put it across that line."
The Sharks are now 3-for-27 on the man advantage this season. It isn't lost on them that this area is in desperate need of improvement.
"We were all over the ice and had some opportunities to win the special teams game," Wingels said. "We didn't do that and that is something we are going to have to improve on if we are going to string some wins together."
There is some good news
The Sharks' ability to adjust to the Predators' game and pick up the pace as the first period gave way to the second was a positive. "I think in the second period, we got away from what we had done (in the first)," Martin said. " In the first period we didn't manage the puck as well. Some turnovers, spent a little more time in our zone than we liked."
The Sharks built up pressure throughout the second stanza and finally found the back of the net in the third period. With a chaos of skaters in front of Rinne, Pavelski was able to knock a Matt Nieto rebound into the back of the net to knot the game at 1-1.
Unfortunately, the excitement of the goal was shot when Calle Jarnkrok got a jump on the Sharks' defense to put the puck past Jones for the game-winner at 8:52.
Next up…
The Sharks will have to bundle up everything from the hard-knock battle with the Preds and apply it to getting a road win on Saturday against a red-hot Dallas Stars team.
"We had some chances there at the end, and that's what you want," Wingels concluded. "But our offense needs to come around, and we'll work on that and try to get a few more on the board."
Shark Bites
— Joe Pavelski with his 12th goal in 31 games vs. Nashville. It is his first in SJ vs NSH since March 2, 2013, and his sixth goal in 18 games vs. Pekka Rinne.
— Calle Jarnkrok had his second career game-winning goal. The first: January 10, 2015 against at Minnesota.
(Game notes courtesy of @SharksStats)