There was a moment in the 1st inning when it seemed pretty clear that the San Francisco Giants were in good hands. With Matt Carpenter on first base, two outs and Allen Craig at the plate with a 1-2 count, Ryan Vogelsong stared into Buster Posey. Vogelsong was chewing furiously on a piece of gum, and a closeup on Vogelsong showed him almost smirking. I'm not sure what you'd call his facial expression (pictured here), other than supremely confident.
Look at this guy. Even if I was a professional baseball player with amazing reflexes and world class hand-eye coordination, I wouldn't want to face him on Sunday night.
Vogelsong chewed the hell out of that Double Bubble — I'm assuming he chews the brand that the Giants keep in buckets for the players in the clubhouse and dugout — and he chewed up the Cardinals and spit them out for the second time in the 2012 NLCS.
Game 7, here we come. Are you ready? After a 6-1 win that looked a lot like the Giants' 7-1 win in Game 2 (only without any dirty slides into second base this time), it looks like the Giants are.
Vogelsong and flukes
Something clicked for Vogelsong over his last three starts of the regular season, but nothing that prepared anyone for what we've seen from him over his three starts during the postseason.
19 innings; 2-0 record; 1.42 ERA; 3 runs allowed (3 ER); 11 hits; 6 walks; 18 strikeouts; 0.89 WHIP
Actually, maybe we should've been prepared. In Vogelsong's last three regular season starts his stats were eerily similar:
17 innings; 2-0 record; 0.53 ERA; 3 runs allowed (1 ER); 12 hits; 3 walks; 15 strikeouts; 1.00 WHIP
It's clearly a different deal, facing the Padres and the lifeless Dodgers at the end of a regular season that had become meaningless for both teams. But it's becoming impossible to question Vogelsong's status as a very, very good Major League pitcher. A pitcher who is a legitimate All-Star. A pitcher whose troubles from Aug. 13 to Sept. 16 (7 starts; 32.2 IP; 9.37 ERA; 48 hits; 11 walks; 38 strikeouts; 1.81 WHIP) were the fluke, not his successful 2011 or leading the National League in ERA until those mid-August struggles commenced.
How Vogelsong was dealing – by the PitchFX numbers
Vogelsong told someone after the game that he felt like he had better stuff in Game 2. I'll take Vogelsong's word for it over anyone else's, but according to the Brooks Baseball PitchFX Tool he was just as good in Game 6 … if not better.
The reason why Vogelsong struck out a career high nine on Sunday night was evident when looking at the "whiffs." Barry Zito said after his season-saving performance on Friday that he had all five pitches working. So did Vogelsong, who got at least one swing-and-miss on each type of pitch in Game 6. In looking at both tables, Vogelsong's numbers look almost identical for Games 2 and 6 except for in the whiffs category.
Long story short: Vogey's a beast. All season he told the media how he had a lot to prove; this postseason he has proved more than anyone could've possibly hoped.
Stolen BASGs
— On the night the Giants clinched the NL West, I talked to Vogelsong in the clubhouse after most of the champagne had been sprayed (video here). There were two things he said that stuck with me — especially considering the Giants' current circumstances.
"It's how you battle adversity. Every team goes through adversity during the season … We lose Melky, and the team just kind of came together at that point."
"Hopefully this isn't the last time we're popping champagne."
They popped champagne one more time in Cincinnati, thanks in large part to Vogelsong's performance in Game 3 of the NLDS. If they spray the bubbly around the home clubhouse on Monday night, Vogelsong will have played an even bigger role.
— Marco Scutaro's hit totals in each of the six NLCS games: 2, 2, 2, 2, 1, 2. As I said on Twitter after Scutaro's 2nd inning double, "No wonder Matt Holliday tried to break Marco Scutaro."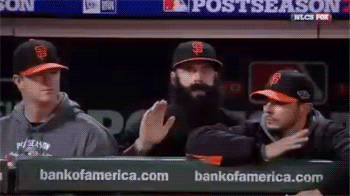 — It's a less popular stance now than it was two years ago, but I still really like Brian Wilson. (.GIF via @gidget)
— I'm at the point where I expect Joe Buck to pound the desk and cry, "Oh no…" when the Cardinals make errors, just like the late, great Ron Santo used to.
— It wasn't that Tim McCarver "jinxed" Vogelsong's no-hitter. He's a national announcer who has no responsibility to protect any achievement for either team, nor has he the power to "jinx" anything. It was the gleeful way he pseudo-apologized for "jinxing" Vogelsong's no-hitter. It was your quintessential "sorry not sorry."
— I'm not sure who looked worse: Buster Posey going 0-for-4, or Hunter Pence going 1-for-4 with three strikeouts. Wait, I'm starting to have repeated visions of Pence's strikeout in the 8th, which led Grant Brisbee to tweet this:
Yep, Pence looked worse. If you combine their batting averages you get a .266 hitter in the NLCS, so you know they're both having a rough go, but Pence's plate appearances are especially putrid.
— On the other end of the struggling hitter spectrum, Brandon Belt went 2-for-4 with a laser triple and scored two runs.
— How many times has Sergio Romo got the last out of the game on a flyball to Angel Pagan? Here is how he celebrated the latest one:
How will Game 7 end? None of us have any idea, and that is what's so great. It took eight months to get to this point, and now it comes down to one game. Can't wait.