Al Guido, who had never been quoted on football matters before Jay Feely sideline reported about him on Sunday, let the football world know how the 49ers feel about Jim Tomsula. As the team readies itself for two more meaningless games, a process hopefully has started in which the 49ers take a long, hard look at every piece of their organizational structure.
Oh, who are we kidding? In the Jed York bubble, this franchise is perfectly run. Lean and mean. Streamlined. Facebook and Apple combined, with a football twist. And there's a good chance they made their biggest change already when they reassigned Paraag Marathe, which I called a PR-based move at the time to stop the fans from whining and crowd-funding anti-Jed airplane banners.
The Yorks are about money. That … is … all. A Super Bowl win in New Orleans would've made them a lot of money, but they lost, then they suffered another crushing playoff defeat a year later. So, bye-bye Harbaugh and his expensive staff. Marathe was a prized employee, and if he was in charge of leaking less-than-complimentary tidbits about Harbaugh or Colin Kaepernick, it was only because he had reason to believe the Yorks would appreciate his texts to Jay Glazer, Adam Schefter, Ian Rapoport or whomever.

Once Marathe, who mostly operated in silence, started getting some attention, he was on the clock. When far fewer than 68,000 fans showed up to watch the 49ers lose to the Cardinals (after a plane flew around the stadium with an anti-Jed banner, which probably didn't help matters for anyone within spitting distance of Jed), stuff got real.

…

A few fans still think Baalke is a great GM. A few fans think Tomsula could be a great head coach, once he gets his shot after this team gets rebuilt after so many key departures. Not a single fan cared one way or another about Marathe, until he became a target on the dart board when everything went to hell. The Yorks might still want him in the building to save some money on contracts. However, it's remarkable that after 15 years of rising through the ranks, only a couple weeks after Marathe became a liability in terms of ticket sales and fan morale, the 49ers let the world know that he would no longer be their team president.
Last week I wrote 10 reasons I think Tomsula will stay, and Guido's comments to Feely cemented my belief. Tomsula signed a four-year contract paying about $3.5 million annually; does anyone really think Denise Debartolo-York — who loves Tomsula — would give him $10 million this winter to walk away (assuming Tomsula's deal is fully guaranteed, which in most cases would be a certainty but not necessarily with the Yorks), and then pay a new coach $3.5 million per year or more?
So when Jason La Canfora broke down "Who's likely out, who's next for 14 flopping franchises," I found myself nodding in agreement when I got to the 49ers.
They just did their big move a year ago by pushing Jim Harbaugh out and they surprised many around the league by limiting the role of influential front office exec Paraag Marathe recently. That's probably the extent of the moves. Marathe is exceedingly close to owner Jed York and the implication here seems to be that getting him out of football operations in anything but a cap/money capacity was throwing the fans a bone during a season in which they can only dream of the heights they achieved under Harbaugh. Coach Jim Tomsula and GM Trent Baalke are very highly thought of by the Yorks and they have been loyal warriors for them and despite the course of this season I'd wager they stand pat.
Again, none of this should be a surprise to anyone who's followed the Yorks over the last 15 years. Keeping the main power players around and making a few tweaks (like ditching one or more from this list: offensive coordinator Geep Chryst, offensive line coach Chris Foerster, wide receivers coaches Ronald Curry and Adam Henry, special teams coordinator Thomas McGaughey) is the solution that protects the Yorks from having to hire outsiders to important positions (ew, gross) and, most importantly, costs the least amount of money.
Clues from Ted and Tim: the 49ers like a certain assistant
Whether or not you agree with their assessments, it's almost worth listening to Ted Robinson and Tim Ryan during their weekly segments on KNBR just to gauge what the front office is thinking. Ryan was questioning Colin Kaepernick as early as the end of last season, and both broadcasters were crushing Kaepernick on a near-daily basis before the switch to Blaine Gabbert was finally made.
Their tone on Sunday and Monday could give a sliver of hope to fans who want Tomsula gone. Robinson spent much of the fourth quarter questioning Tomsula's decision not to go for two late in the third quarter against the Bengals, and Ryan didn't mention "Jimmy-Tom" at all in his segment yesterday with Kevin Lynch and Ray Ratto.
However, Ryan didn't blame the coaches for how this season has gone, either.
"The bottom line is guys have not made plays in key situations," Ryan said.
"You see a lot of flashes and you see opportunities. The bottom line is when you're not very good, and you're super young, you can't make mistakes."
It's obvious where this is trending, and this falls directly in line with Jed's five talking points we'll almost certainly hear on the Monday or Tuesday after the regular season finale.
The "defections" put this team in an incredible bind, pushing the roster past any reasonable limit.
This led to young players taking on important roles before they were ready.
The entire process was further broken by established vets who either got hurt or underperformed.
So it's unfair to judge the coaches or the players who we really like (more on that in a bit) because the overall talent was decimated by factors beyond the team's control.
Both Robinson and Ryan praised Eric Mangini for how the defense performed against Cincinnati. The Bengals were without their starting quarterback and 12-touchdown tight end, and A.J. Green hurt his back on Saturday and only played 59% of the snaps, but that didn't matter. Ryan was impressed with Mangini's "schematic adjustments," in particular.
Think for a second: who is the most obvious replacement for Tomsula? Yes, it's Mangini. Mangini will one day coach this team in all probability, perhaps even as soon as Week 1 next season (but only if Tomsula makes more boneheaded in-game decisions and the team plays with little to no effort against the Lions and Rams). More likely: Mangini will get the call midway through the 2016 season or to start the 2017 campaign. There's always a chance the 49ers could go for an offense-minded guy instead. But Mangini already has experience coaching tight ends, so he's got it all covered. Mangenius is nothing if not a dual-threat.
***
SIDE NOTE: Tim Kawakami's entertaining and wide-ranging post about potential Tomsula replacements gave me a chuckle, which he probably won't like because he expressly forbid us from laughing. Sorry, Tim!
* San Diego Chargers linebacker coach MIKE NOLAN. Don't laugh: He remains a favorite of 49ers management.

The Yorks love nothing more than familiarity and yes they're very familiar with–and fond of–Nolan from his three-plus seasons coaching the 49ers. (Before Mike Singletary who was before Harbaugh who was before Tomsula.)

OK, those weren't very good 49ers years, but the Yorks enjoy grading on a curve, and at this point, after 4-10 with Tomsula, Nolan's rebuild (alongside McCloughan) seems like a positively uplifting experience.
Nolan is 56, rarin' for another head coaching job, and I know Jed York still thinks wistfully of the image-conscious, babbling, PR-driven Nolan era.

Problem: Nolan is wholly 100% only defense, as he proved during his 49ers stint. He is clueless about the QB.

But Nolan has good NFL connections–his first 49ers OC was Mike McCarthy, his second one was Norv Turner. It's possible Nolan could hook up with another strong OC and sell himself to the Yorks again.
I can say this: The more York wearied of Harbaugh, the more he pined for the Nolan days, and that's what led to Tomsula the last search. Also remember: York reportedly cried when he had to fire Nolan in 2008.
A few things here.
Jed cried when he fired Nolan? Why isn't there video of this so we could have Crying Jed memes plastered all over the internet? Life is so unfair.
Re-hiring Nolan would be a PR disaster. Giving the job to Sourdough Sam would go over less poorly. However, the Yorks don't care what the fans think, so that's not a reason to dismiss the possibility of Nolan 2.0.
The absolute best would be if they hired Nolan, reinstalled Tomsula as the defensive line coach, fired Nolan in the middle of 2017, and replaced him with Tomsula. Nolan/Tomsula/Nolan/Tomsula would be a great way for the 49ers to model themselves after the United States and its Bush/Clinton/Bush/Clinton fixation.
***
A tale of two quarterbacks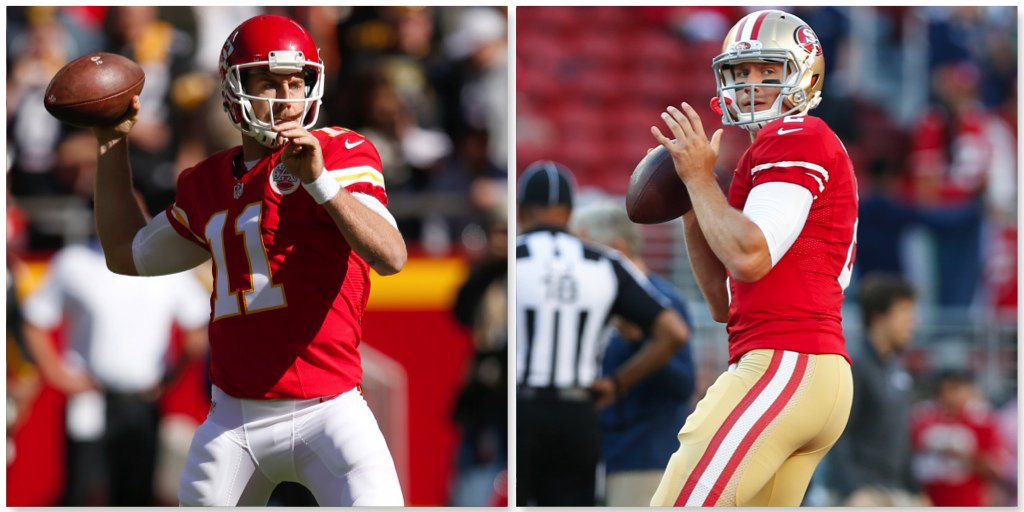 I was driving through the rain yesterday afternoon, and it was striking to hear the different takes on Gabbert. First, Greg Cosell talked to Lynch and Ratto.
"That's one of those subtleties of playing quarterback — when you see guys move, how they move within the confines of an area that's the size of a boxing ring or smaller. Gabbert's never really been good at that. And what's happening now is he's perceiving pressure and moving when he doesn't need to. And that's been an issue essentially his whole career. So over the last three games or so, and it probably even started before the win in Chicago, he's been moving in that direction. He's unfortunately been trending in that direction.

"I think ultimately this is probably who he is. Just because he had a few good moments probably doesn't change what he's been his whole career. He was like this way at Missouri as well. You had to search, I had to watch a lot of tape on Blaine Gabbert in Missouri because he played in that spread, almost one step and throw offense, so you didn't see that a lot. But if you kept digging and digging, and I probably watched eight or nine games of his at Missouri because I wanted to see the situations in which there was some semblance of pressure. Some semblance of people around him. And he showed this in college. Now, he flashes once in a while — when the read and the throw is clearly defined early in the down, when he can hit his back foot and the ball can come out and it's clean. Unfortunately, the NFL is not like that on a consistent basis."
That's as close as Cosell — as diplomatic as they come — will ever get to saying "he's not a starting-caliber NFL quarterback, and he probably never will be."
But less than an hour later, Ryan spoke of Gabbert as one of the offense's lone bright spots. He didn't call Gabbert a future star, but he and Lynch agreed that Gabbert is much more "talented" (and in this case I think they meant athletically gifted) than Alex Smith. Ryan brought up how Gabbert was standing under the goalpost before a recent game and got his elbow over the crossbar with a standstill vertical jump.
Maybe Gabbert should start utilizing the good-ol' Jeff Garcia jump pass…
Anyway, out of curiosity I went back and checked Robinson's conversation earlier that day, during KNBR's morning show. And Robinson spelled out exactly why the 49ers will give Gabbert every chance to become the starter next year and into the future.
There were comparisons to another high draft pick who redeemed himself after a rocky start to his career.
"There is some thought that Blaine Gabbert can be the next round of Alex Smith here. To be a really sound, solid NFL quarterback. No one is sitting there and going to stand up or proclaim he'll be the next Brady, Manning, Roethlisberger. That's not the case here. But that he can come back like Alex did, and be a very solid quarterback. Right now that's hard to judge. Because you don't have a running game, your offensive line is patched and the receivers that are supposed to help really have not."
There were excuses for Gabbert's lack of impressive statistics (they're sinking fairly close to the numbers he put up in his second season with the Jags).
"You've had three times in the last two games where Gabbert has thrown a slant pass and the receiver has not run the slant route. Jerome Simpson did it once last week and Torrey Smith twice yesterday. I don't why that happens. Last week I was told Simpson was supposed to run a slant and he stopped the route. And yesterday happened twice with Torrey Smith … Those are two incompletions that go on Gabbert's line that aren't him."
The Alex/Blaine comparisons are nothing new. In fact, Chryst brought up their similarities when Gabbert was promoted in early-November. But with Robinson going on and on about Gabbert's personality (the anti-Kap, in other words), we can deduce that the 49ers are rooting for Gabbert in an emotional way — never a great idea for professional sports franchises, but that's how the 49ers do things.
Ultimately, it's like giving Gabbert a chance would be a move the 49ers dedicated to Smith's memory. Sorry we wronged you when Harbaugh and Kaepernick stole your job, Alex, but we've learned our lesson!
"I think Gabbert has handled this transition incredibly well, incredibly poised. And the way he conducts his business has done two things. One is it has earned a tremendous amount of respect from the guys in the locker room. And the second thing is, it does bring back a little bit of a memory of Alex. And how well Alex handled all of the ups and downs he had here. Including the very last down, when he had his job taken from him and ended up being a backup quarterback in the Super Bowl and handled it incredibly well. There's a lot that people here see of that kind of person and quarterback in Blaine Gabbert."
Based on all of this, here's how I feel like the next year-plus will play out:
Tomsula will keep his job … for at least part of the 2016 season, anyway.
Trent Baalke will draft an offensive lineman in the first round, an edge rusher in the second, and a quarterback in the third round. Maybe. They might need another safety.
The 49ers will make a big deal out of whatever free agent running back and wide receiver they sign, as well as the new offense built around the running backs, Gabbert, and Blake Bell (get ready for A TON of Belldozer hype this offseason).
The team will continue to lose more games than it wins, and Mangini will eventually replace, or switch places with, Tomsula.
After Mangini fails to rally the troops, York will go after David Shaw and end up with someone who doesn't excite the fans at all (a guy like Nolan, in other words).
Wash, rinse, repeat.