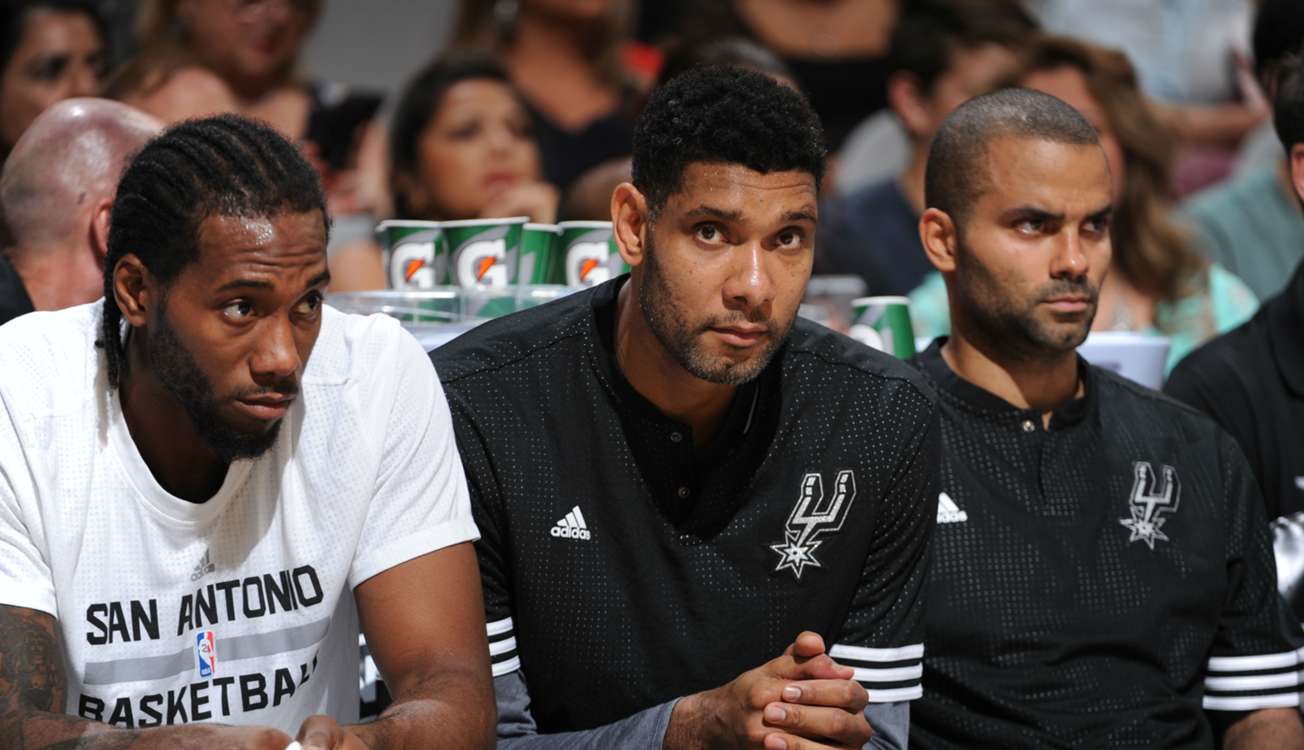 The Warriors rested only one player last night who otherwise could've been active. It wasn't Steph Curry, Klay Thompson, Draymond Green or even Andrew Bogut. It was veteran backup point guard Shaun Livingston who got a night off, and the rest of the healthy Warriors beat the 76ers by 12.
This came one night after the Spurs rested their top five players. Maybe Gregg Popovich would've played Tim Duncan, LaMarcus Aldridge, Tony Parker or Manu Ginobili had Kawhi Leonard not been dealing with a quad contusion, but it was no surprise when the short-handed Spurs lost 111-92 in Oklahoma City. Leonard, Duncan, Parker and Ginobili will all sit out tonight's game in Memphis as well.
The Warriors and Spurs (as well as the Thunder, Clippers and Grizzlies, for that matter) are pretty well locked into their respective playoff seeds. As such, there's really no reason for any of these teams to push their top players too hard as the playoffs draw near. Well, that's not exactly true for one of these teams.
The Warriors are resting guard Shaun Livingston versus Sixers. Steve Kerr doesn't plan on sitting anyone in Tuesday or Wednesday's games.

— Marc J. Spears (@MarcJSpearsESPN) March 27, 2016
Popovich may not care about pissing off the NBA or his players (who may appreciate his approach), but he's never had to balance rest with regular season history.
"It's the players who are setting a record," Kerr said Wednesday before the Warriors took on the Los Angeles Clippers. "It's not the organization. It's the players who are doing it. So they will absolutely have some say in matters down the stretch in terms of how we approach everything. But again, we could lose the next couple games, and all that's thrown out the window.

"I know they want to get it. So we'll act accordingly. If the players want to go and they're fine physically, we'll probably play them."
Kerr also mentioned before yesterday's game that it's difficult to rest his top players when they're already without two rotation guys in Andre Iguodala and Festus Ezeli. Still, that's a grand total of three bench players (four, if you include Kevon Looney) who missed a home game against the worst team in the Association, compared to Popovich resting his best two players and three Hall-of-Famers against one of the top-five teams in the NBA.
***
The Spurs punted on the No. 1 seed over the weekend, and their logic is easy to spot. And if the Spurs can advance to the NBA Finals, and the Warriors look like a fatigued version of themselves in the process, everyone is going to look at the last few weeks of this season as a reason — perhaps the main reason — why Popovich's team was able to upset the defending champs.
Granted, there are a few differences here. The Warriors' three best players are all under 29 — Leonard was the only rested Spur who could say that on Saturday night. Bogut missed a couple games a week ago, and that may have been enough time off his feet to keep him energized.
But this decision to chase 73-9 places a little more pressure on Kerr, and his team, then they already face as the defending champs. Maybe that's the point. Kerr could fear complacency if they try to preserve their players just for the sake of preserving them, and his team seems to thrive on pressure (that's why they're the best group when it comes to finishing close games that I can remember). Maybe Kerr looks at his young core — who undoubtedly would scream and throw a major fit if they were asked to sit with the regular season wins record very much on the table (we know Draymond Green would go into tantrum mode, anyway) — and realizes they're too young and healthy to rest.
Kerr knows they want to play. He also knows they've spent a year mining motivational tactics and challenges from words spoken by players, coaches and analysts, and numbers like three-point records and the 1995-96 Bulls' regular season win total. Keeping them in a mode where they must win now could help avoid a slow start to the first round against a team that will most likely finish the season under .500.
***
I see the rationale for playing the stars until the record has been achieved. But it's a striking way to go about things, since today's NBA is so focused on energy efficiency. The players wear tracking devices during practices, travel has been augmented compared to years past to maximize the number of productive sleep hours, and stars don't play nearly as many minutes now as they did 20 years ago. James Harden leads the NBA with 37.9 minutes per game. In 1995-96, 17 players averaged at least 38.0 mpg (interestingly enough, none of those players were Chicago Bulls — Michael Jordan finished 19th at 37.7 mpg).
Green is the top Warrior at 34.5 mpg, which puts him in 28th place — behind players like Marcus Morris, Rajon Rondo, Danilo Gallinari and George Hill. Leonard plays 32.8 mpg to lead the Spurs; he ranks 50th.
Neither team runs their players ragged, and both teams have their reasons for keeping players from playing three full quarters per game.
They win a lot of blowout games, which allows Kerr and Popovich to rest their starters.
The Spurs are the oldest team in the NBA (average age: 31.6).
However, the Spurs will probably take resting guys to an extreme throughout the rest of this season. They'll probably do all they can within reason to finish 41-0 at home, but five of their remaining games are on the road so you can expect more mass rest days (including the Spurs' second trip to Oracle).
The Warriors don't like to rest players at home, and six of their final nine games take place in Oakland. They won't rest any of their healthy players during the second game of a back-to-back on Wednesday in Utah, which leaves the road back-to-back against the Grizzlies and Spurs on April 9-10. Perhaps their plan is to win their next seven games, rest in San Antonio, and summon up the energy to win their last home game of the season on April 13 against Memphis. If they can pull that off, they'll finish 74-8. Obviously that would be an incredible mark, but it would seem hollow a couple months later if the Spurs won the title and proved that rest is always best.