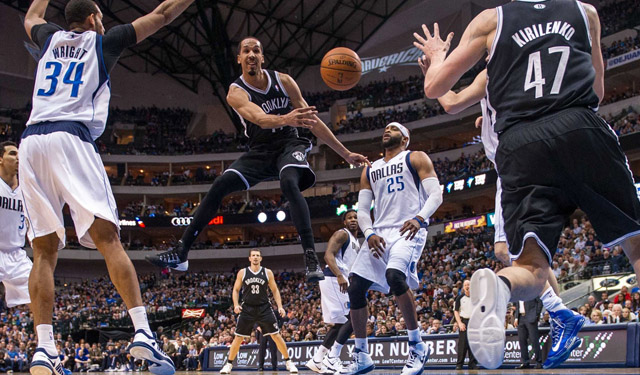 It was a huge upset that Shaun Livingston's career continued after one of the most gruesome knee injuries in the history of televised sports back in 2007. That was back when he was a Los Angeles Clipper and one of the more promising young point guards in the game.
On that note, CSN Bay Area, we're begging … PLEASE don't feel like you have to show replays of this injury to introduce Shaun Livingston to Warriors fans. Show what he did last year in a Brooklyn Nets uniform, when he played 76 games (including 54 starts), took minutes away from Deron Williams and averaged 8.3 ppg, 3.2 apg and 3.2 rpg.
Livingston's deal with Warriors will be for three years, with a partial guarantee in final season, league source tells Yahoo.

— Adrian Wojnarowski (@WojYahooNBA) July 2, 2014
The Warriors reportedly used their entire mid-level exception (which would mean three years, $15.9 million) on Livingston, who will presumably back up both guard spots. Livingston isn't a guy who'll vie for the role of third "Splash Brother," as he went 1-for-6 on threes last season.
Here's what he will bring:
Defense
Size (6′ 7″ with a wingspan of 6′ 11″)
A reserve who can pass, dribble and rebound
I wrote about that last point yesterday in my column/post/whatever about why they probably shouldn't/wouldn't sign Pau Gasol (where I mentioned Livingston as an obvious candidate for the Warriors' then-vacant backup guard spot). One of the keys to success next year — especially if Steve Kerr makes good on his promise to get this team RUNNING — is to keep Stephen Curry and Klay Thompson from maxing out in terms of minutes and responsibilities. In Curry's case, the latter part means running the offense at all times. In Thompson's case, that means chasing around the best offensive backcourt player they face, night after night.
Is the Warriors' offseason over?
The Kevin Love trade is still in play, although it appears less likely by the day that they'll part with Klay Thompson. But that's just judging from the tone of the reports, not anything concrete. If the Warriors want to add players in other ways, they can use their traded-player exception … but that expires on July 10.
With the Livingston signing, it appears highly unlikely that the Warriors will use the TPE to bring Jeremy Lin back to Oakland. That is a very, very good thing, because Lin plays no defense and isn't much of a facilitator.
But will the Warriors even use the TPE? Bob Myers said after the draft that they don't need to use all $9.8 million, although they could if they wanted. A lot depends on what other teams want to do — if another squad thinks they can make a run at a guy like LeBron James or Carmelo Anthony, the Warriors might be able to land a decent player without having to give up much. They have about $6 million or so until they hit the luxury tax threshold, a hit Myers said they'd be more willing to absorb for a player who had one year left on his deal, as they'd like to maintain financial flexibility next summer when guys like Thompson and Draymond Green become eligible for raises.
The salary cap is boring and convoluted, I know.
For now, Warriors fans can enjoy the fact that they have a much better backup point guard than they did yesterday. And based on how quickly they acted (free agency started last night), and what they gave Livingston, this was a case where Golden State knew what and who they wanted, then went out and got him.