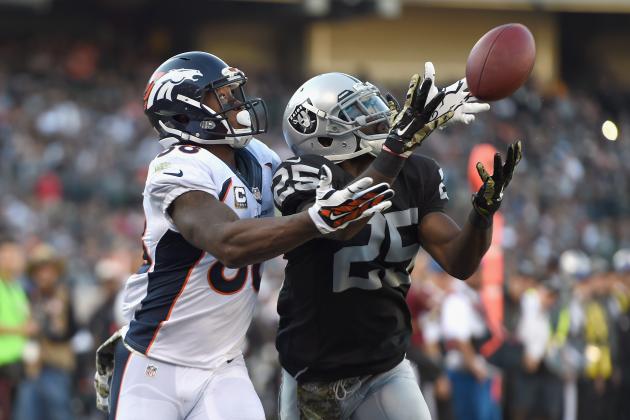 The Oakland Raiders are scary-thin at the corner position. Currently, the Raiders have Jansen Watson, Neiko Thorpe, D.J. Hayden, T.J. Carrie and Keith McGill. Watson is a practice squad guy and Thorpe is a guy who has to be worried about his job when the team makes final cuts. Carrie, Hayden and McGill are the only three who are guaranteed to make the team and are expected to be the primary cover guys this season.
All three have shown potential, but none have proven anything. That's mostly due to the fact that it's still super early in all of their careers — any one of the three could turn into a very good player. Hayden has shown impressive speed along with great footwork and hips, but he just can't stay healthy and has issues locating the ball. Carrie played much better than what would be expected from a seventh round pick, but he's inconsistent and has allowed some big plays. McGill has barely seen the field since being drafted, but he didn't look out of place when given rare chances.
Even taking all of that into account … no, the Raiders should not take a corner in the draft. The team has three young cornerbacks, and all of them have shown promise. After quarterback, corner very well may be the position with the most pressure coming into the NFL out of college. It's incredibly important, and much like we see with quarterbacks, there just aren't enough people able to play it well as are needed for all 32 teams in the NFL. Grabbing another corner who will need to come in and learn is not what this team needs.
After the draft is over, there will be other veteran corners available. Teams will make cuts as young corners show up and prove themselves, allowing the the Raiders to add a veteran presence. The Raiders need more corners, that's for sure. If one of the top three guys gets hurt (looking at you, Hayden) the team doesn't want to rely on Thorpe or Watson. And ideally they wouldn't have to rely on a rookie corner who isn't ready. Adding a vet rather than a rookie — a "cap casualty" type who can still play, obviously — will be better for depth and also might help the young corners develop if the vet is a decent teacher.
The Raiders passed on the chance to make a significant upgrade to the corner position in free agency so they are going to have to roll with the trio of unproven guys in Hayden Carrie and McGill. Their focus now is depth rather than potential starters, and they're better served filling the depth out with veterans instead of more unproven young guys.