MLB
2016 Giants could resemble one of their great teams from the past
Spring Training is finally, mercifully over. For a team like the Giants, who had very few roster questions and included no one on the Opening Day roster who didn't start the exhibition season already on the 40-man, the phrase of Spring was "slow play." And unlike a year ago, they didn't lose a key player to injury. In fact, Matt Cain will start the year in the rotation, something that didn't seem at all likely just a few weeks ago.
This is a team that most agree is the most "set" of any recent vintage Giants squad. There have been several accomplished groups over the last few decades, but the three World Series winners weren't expected to do all that much before their respective seasons began. The expectations are high, as anyone who's placed a futures bet on the 2016 Giants can confirm.
So, which team is the best comparison to this roster? Granted, it's an impossible question to answer until we see this team play more than one game, but preseason predictions are ubiquitous and often look silly months later. If I'm going to look silly, the least I can do is try to be sort of original.
Taking a look at the 2016 roster
To keep things simple, let's throw out a few generalizations.
The lineup is strong.
Every infielder/catcher is in his 20s.
The outfielders are in their 30s.
We can reasonably expect two of these three pitchers to pitch extremely well: Madison Bumgarner, Johnny Cueto, Jeff Samardzija
The back of the rotation = ??????
The bullpen shouldn't cause any problems.
2010s? Nah, keep looking …

The 2010 Giants were led by a dominant young rotation. Tim Lincecum was still elite, and they had one of the best No. 2 starters in the league in Cain. Jonathan Sanchez even struck out over 200 batters. They hit pretty well, but that team was mostly led by guys who came up in other systems: Aubrey Huff, Andres Torres, Juan Uribe, Edgar Renteria, Pat Burrell. Of the top 11 Giants in plate appearances that year, eight of them were at least 31 years old.
The 2012 Giants finished last in the league in home runs with 103. The 2016 Giants should surpass that total at some point in late July or early August.
This year's team literally resembles the 2014 team — many members of the roster are still around. But that team started the season with a massive hole at second base (with Joaquin Arias, Brandon Hicks and Ehire Adrianza taking turns). And besides Madison Bumgarner, the rotation was a collection of No. 4 and 5 starters hoping to exceed expectations.
Experts didn't think much of those championship teams before their respective seasons (or postseasons, even). That's not the case with this year's club. The Cubs are the favorites to win the World Series according to Bovada, who has them at +500. The Giants are the next-closest at +800, followed by the Blue Jays (+1000), Mets and Dodgers (both at +1200). The over/under on Giants regular season wins ranges from 88.5 to 90, depending on where you look.
Early 2000s? Nah, keep looking …

The Giants averaged 204 homers per year from 2000-04, with a parade of aging sluggers like Ellis Burks, Reggie Sanders and Andres Gallaraga supporting Barry Bonds, Jeff Kent, Rich Aurilia and J.T. Snow. This was a completely different era, one in which it didn't seem weird when 42-year-olds were hitting home runs over the bleachers. Hmmm … let's just move on.
Which brings us to …
The most glorious, heartbreaking season of all (for any Giants fan who's both old enough to remember and somehow wiped 2002 from his or her memory).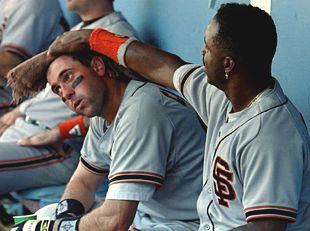 The 1993 team had momentum from an exciting offseason. They didn't add two expensive pitchers and an outfielder, but they signed the best player in the world in Bonds after Peter Magowan's group saved the team from moving to St. Pete.
Will Clark, Bonds and Matt Williams formed one of the best 3/4/5 combinations in franchise history, and they were all in their late-20s. There were some vets — Robby Thompson was 31, Willie McGee was 34, and Bud Black was 36 in 1993 — but the team's core was in its collective prime.
The rotation was led by Bill Swift and John Burkett, the last 20-game winners the franchise has had (and perhaps will ever have). Both pitchers were control artists who kept the ball on the ground, which served to their advantage given the set of infielders behind them. The rest of their rotation was cobbled together with duct tape and twine, led mostly by four starters: Trevor Wilson (18 starts), Black (16 starts), Brian Hickerson (15 starts) and Jeff Brantley (12 starts! I certainly did not remember this.). Eleven pitchers made starts in all, including … ahem … 21-year-old Salomon Torres.
They scored 808 runs and allowed 636 (just to compare, the 2015 club scored 696 while surrendering 627). But other than a stacked lineup, two aces, and tragically falling short at the end of the season, this team should be remembered for being one of the best defensive groups they've ever assembled. The Giants had four Gold Glove defenders that year: Kirt Manwaring, Thompson, Williams and Bonds. It's not like the others were slouches, either. Center fielder Darren Lewis didn't make an error in 131 games. McGee wasn't as athletic as he was as a Cardinal, but he made nine outfield assists and was better than serviceable in right. Royce Clayton was still on the raw side, but his range was ridiculous and he formed an outstanding double play combination with Thompson.
***
(Note: Check out this 1993 San Francisco Giants retrospective by photographer Brad Mangin, who took the above photo of Bonds, Williams and Dusty Baker. It's well worth your time.)
***
This isn't to say the 1993 and 2016 Giants are even close to identical. If 11 different pitchers start games for the current team, they are in big trouble. One can make comparisons between the respective infields and bullpens, but the 1993 outfield trumps the 2016 edition due to Bonds' presence alone.
The 2016 Giants probably won't win 100 games, either — let alone 103. The win totals may have been helped by the fact that 1993 was an expansion year (the Braves famously went 13-0 against the Rockies). The good news for Bruce Bochy's team is it likely won't take 100 victories to win the NL West.
I wouldn't blame anyone for wondering if this story is an overreaction to yesterday's 12-run outburst in Milwaukee. I swear I started this story yesterday morning, about an hour before that game began. I had to stop midway through, however, due to my wife having to go to the dentist for a round of oral surgery and everything else that entailed throughout the day (trips to the pharmacy, childcare, etc.). Let's just say that I went into yesterday thinking about that 1993 team, and nothing that occurred on Opening Day 2016 changed my view. Nothing is guaranteed, but with a lineup like this that also plays defense, and some ace potential at the top of the rotation, this year's team could be one of the few that create memories that last for decades.