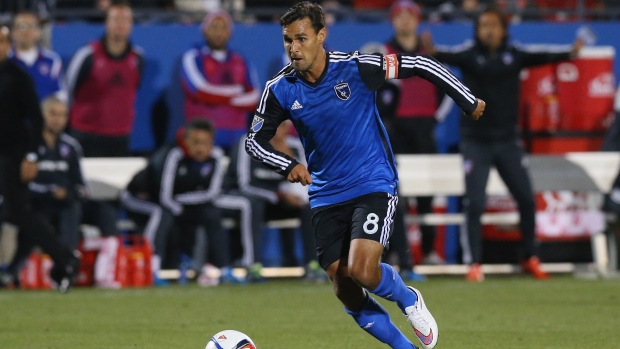 It had been 35 days since the Earthquakes last played at Avaya Stadium. They picked up right where they left off. David Bingham earned his third shutout of the season (the second of back-to-back home shutouts) while Chris Wondolowski and Shea Salinas both scored to give the Quakes a 2-0 victory.
Back from a four-game road trip that saw the Earthquakes go 1-1-2 over that span, the boys in blue were looking to eclipse the one-goal mark for the first time since March 22 against Chicago. That task was aided when Columbus midfielder Mohammed Saeid was sent off in the 33rd minute due to his second yellow of the match. Saeid was booked for grabbing Matias Perez Garcia in the 14th minute before recklessly tackling Shea Salinas in the 33rd for the sendoff. What was a wide open match at that point turned into a one-sided match, possession-wise, for San Jose. Ironically enough, it was both Perez Garcia and Salinas who were instrumental in controlling the tempo of play for the Quakes.
Perez Garcia might have played his best game as an Earthquake. He was often the creator of the San Jose attack and was drawing fouls like it was his job (coming into the game, Perez Garcia ranked third in fouls suffered with 30 on the season).
"Even at 11, 11-on-11, I thought (Garcia) very good," said Earthquakes coach Dominic Kinnear. "He was getting fouled a lot. He wants the ball. He rarely makes a bad decision on the ball. And when there's good movement and we're passing the ball well, obviously, he plays better too."
When Columbus went down to 10 men with a little under an hour left in the game, Garcia seemed to take over.
"I think, in the second half especially, there was more space for me," said the Argentinian midfielder. "I got to get the ball a lot more, that's very important for me. I can get on the ball, give more clarity to the attack. Obviously, it's important to get goals, it relaxes you a little bit and you feel more comfortable."
If Garcia were playing hockey, he'd receive a secondary assist on the Wondo goal. After receiving a pass from Sanna Nyassi, Garcia held the ball just long enough to freeze the defender and allow Jordan Stewart to creep down the end-line and deliver a cross into the six-yard box. Wondolowski put his head on it and drove it into the back of the net. Although the play might be known for being Wondo's 99th career goal (more on that later), it was the calm yet confident play of Garcia that earned praise from Kinnear.
"He's a smart player and I thought tonight he was very effective for us. His patience to play the right pass at the right time, for the first goal, was key."
A couple of minutes later, Salinas almost put the Quakes up 2-0 with a left footed shot that sailed just over the bar. Luckily for Salinas, however, he would get another chance.
Adam Jahn settled a long and high cross from Marvell Wynne for Salinas at the top of the box. Once Salinas was able to gain control of the ball, he and Garcia worked a nifty give-and-go right next to the penalty spot where Salinas was able to bury his first goal of the season. Salinas, who is starting in place of the injured Innocent Emeghara, is beginning to pile up strong performances for the Earthquakes and Coach Kinnear, "he was finding himself in good spots. In the open field Shea is a good player, we know that. He can run at guys on the inside or the outside. It was a good play too. It was a good play overall for the goal. So it's nice to see a guy get rewarded with a goal for his hard work and his good play."
Salinas even earned praise from Captain Wondolowski for his deft footwork: "It was nice to get that second. Especially since I thought it was a pretty nice goal. A great combination play. Shea had great control and played Matias, then my one-two in the box and a great finish. I thought it was a pretty special goal."
From then on, it seemed as though San Jose had resigned to winning the possession game — which is a good thing for those who have been following the Quakes on this road trip. Not once did San Jose win the possession battle on their five-week trip. Against Columbus, San Jose held a 5% point advantage. Sure, the red card in the 33' was a big reason, but if San Jose can start to build on their solid team play as of late, good things will follow.
"We played well. I don't think a lot of things broke our way. I think we deserved it and we earned it. I mean, the red card is the red card. You have to just take advantage of the man-up," said Kinnear.
———
Wondo hits 99
Only eight players have scored 100 goals in MLS history, including newly retired and former San Jose Earthquake Dwayne De Rosario.
"I've studied this league. I'm very proud to be a part of it, so I know who's up there (on the 100 goals list)," said the Danville native. "It's crazy to think that (I'm) a special part of it. It's a number, but it's a number where some of the best that have played in this league have reached. I'm not there yet, but I'm hoping to be there and be synonymous with those names. It's pretty unreal to be honest."
Landon Donovan leads the pack with 144 goals, followed by Jeff Cunningham (134), Jaime Moreno (133), Ante Razov (114), Jason Kreis (108), Dwayne De Rosario (104), Taylor Twellman (101) and Edson Buddle (100). The only player to score more goals than Chris Wondolowski in a lesser amount of games is Taylor Twellman, who scored 101 goals in 174 games (Wondo has scored 99 in 209).
While Coach Kinnear won't tailor his game-plan to appease those wanting to see Wondo's 100th, he did recognize the significance.
"99 goals for Chris Wondolowski, it's an incredible achievement. To see where he's come from—Chico State to reserve player to a guy maybe not getting a ton of chances. I don't know what his goals is the last four years, it's quite remarkable. Let's be honest, he found himself more than one chance tonight. So possibly, with a little bit of luck, he could've finished with more. I've said it all along, even from my (days) in Houston, all the credit goes to him for the work he puts in everyday and he never misses a chance to try to improve his game."