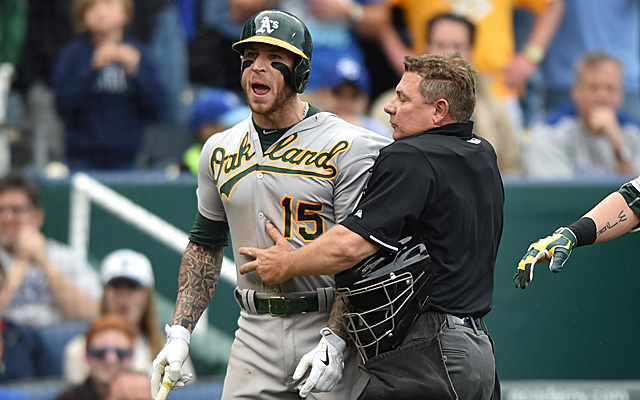 Before this weekend's A's/Royals series in Kansas City, you'd be hard pressed in finding ways to describe the meeting of these two teams as a rivalry. It wasn't that long ago that they both resided in the AL West, but the Royals were shipped out along with the Twins and White Sox when divisions were expanded. You could also point a finger back to the 1981 postseason, when MLB had an extra round of playoffs because of the strike. This meant the "first half" winners faced the "second half" winners and in the West it matched up Oakland and KC. The A's swept the Royals but were then swept themselves in the ALCS by New York. (The A's were a joke in the previous few years, and in June of '81 made ASU's Donnie Hill the number one overall pick of the draft. But Billy Ball had arrived and electrified Oakland with an exciting brand of never-say-die baseball, all too briefly.)
Fast-forward to last year's Wildcard Game on September 31. Oakland traveled to "The K" and had numerous opportunities to win, but two blown saves later, the Royals prevailed in 12 innings (and they went on to have the tying run at third base in the bottom of the ninth of Game 7 of the World Series only to come up short). This meant the A's became the only playoff team not to play in October, making those "Forever October" hoodies look rather superfluous. It was a shot to the solar plexus for the A's and their fans. But you could hardly point to this matchup as any kind of blood feud … until yesterday.
It all began on Friday night. With Brett Lawrie aboard first base, Josh Reddick hit a comebacker which caromed off the heel of pitcher Kelvin Herrera and over to shortstop Alcides Escobar. Due to the deflection, there was zero possibility of Kansas City turning two but Lawrie made sure of that by plowing into Escobar and twisting his knee.
It could have been a severe injury and things looked bleak when Escobar was carried off the field, but luckily he suffered only a strain and contusion. Lawrie got a chewing out from a few Royals infielders, but there were no additional fireworks in the contest, which Kansas City won, 6-4.
Beware the snake in the grass. The Royals demanded satisfaction and got it on Saturday when Yordano Ventura nailed Lawrie in the elbow with a 99 mph heater. Lawrie was fortunate that the ball found purchase on his plastic elbow guard, and he calmly walked to first base amongst a throng of potential hazards. But it looked like even-steven, tit-for-tat, baseball vengeance which would be acceptable to both sides.
Things changed, however, when A's pitcher Scott Kazmir, a man with All-Star control, hit Royals outfielder Lorenzo Cain on the left foot in the first inning on Sunday. This incident lit a powder keg for the rest of the game. Warnings were issued to both dugouts by the umpires, which threw KC skipper Ned Yost into a tizzy and then a quick ejection. More ejections were to follow when Herrera fired a fastball by Lawrie's head in the eighth.
As Herrera was being escorted to an early shower, he pointed at his head and suggested that he would hurt Lawrie the next time the two teams met. I would expect the Commissioner's office to look into possible punishment for Herrera for doing something so threatening.
"He needs to pay for that," said Lawrie. "That ain't OK. This is a game. This isn't going out there trying to hurt people. This guy doesn't throw 85 miles per hour. He throws 100."
Nowadays smack-talking and subsequent retorts are made by athletes to each other on Twitter, which is now in effect with this issue, although I can think of fewer things more emasculating. And it's funny, because I always tell people that the Royals are one of my favorite teams to visit with when they come to the Coliseum. Guys like Eric Hosmer, Mike Moustakas, and others have always been very friendly and accommodating to me. All it takes is one rough slide, and a rivalry is born.
You know what? I like it. For years it seemed like the A's would get hit by pitches and never respond. I remember I once tried to incite a riot after Yoenis Cespedes was continually being plunked by Seattle pitching in 2012. I went to starting pitcher Brandon McCarthy and manager Bob Melvin after the game and asked, "Why are you letting this happen?" I'm sure they didn't appreciate the input, but I was sick of seeing the A's being pin cushions. Well, I think this team has a bit more fight in it than those in the previous few seasons. And mark your calendars for June 26, when Kansas City comes to Oakland to begin a weekend series. An elephant never forgets.