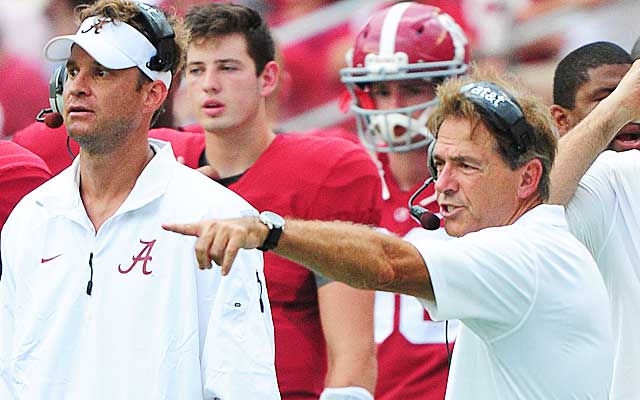 As the football world trolls 49ers fans on a near-daily basis (how about that Seattle comeback from 16-0 today, something I predicted to my wife after Marshawn Lynch's first touchdown), the York/Baalke 49ers are more than happy to twist the knife.
Alabama OC Lane Kiffin is a front-runner for 49ers OC job. Colts special assistant to HC Rob Chudzinski also under consideration.

— Adam Schefter (@AdamSchefter) January 18, 2015
I can hear it now from fans who love blond-haired coaches (ex: Gruden, Jon): "Coach Kiff may be a bit of a jerk. Perhaps even a douche. But he's such a great offensive mind!"
Oh, can it. This would be the equivalent of hiring Pete Carroll's snotty little brother to lead the 49ers' offense, with a near guarantee that he'd spend the next year or two whispering in Jed's ear, until York gave in to equal parts instinct and man-crush and made Lane Kiffin the 20th head coach of the 49ers.
Kiffin may be good with quarterbacks. He may look oh-so-good in a visor while wearing mirrored sunglasses. But this guy is pure poison. Just ask the ghost of Al Davis. Or any Tennessee Volunteers fan.
This may be a smokescreen from Kiffin or his agent, or a negotiating ploy by the 49ers. Maybe "Chud" is the No. 1 choice, and they're just waiting for the Colts to lose either in the AFC Championship or the Super Bowl. But it's not like we shouldn't have seen this coming (and yes, writing about Kiffin brings out the double negatives).
Via the Bay Area News Group's Cam Inman (1/16/15):
Coach Jim Tomsula's search for the 49ers' next offensive coordinator could include surprising options: former NFL coaches Lane Kiffin and Mike Shanahan.

Kiffin, a league source indicated, might consider returning to the NFL, having coached the Raiders in 2007 before getting fired four games into 2008. He served this season as the University of Alabama's offensive coordinator, and he was the head coach at Tennessee in 2009 and USC in 2010-13.

Kiffin, 39, went 4-12 his first season with the Raiders and got replaced by Tom Cable after a 1-3 start in 2008. After Kiffin's stops at Tennessee and USC, he rehabilitated his image as an offensive savant during this season's stint with Alabama, which suffered a Sugar Bowl loss to eventual national champion Ohio State.
And another 49ers beat guy floated this idea over two weeks ago on KNBR.
Wow, I think @klynch49 just said the 49ers should consider adding Lane Kiffin to their coaching staff to groom Kap

— Bay Area Sports Guy (@BASportsGuy) December 30, 2014
Stay tuned, as this week the 49ers will probably look at hiring Antonio Freeman (or Alvin Harper) as their wide receivers coach, Leonard Marshall as their d-line coach, and Jim Schwartz as their defensive coordinator.