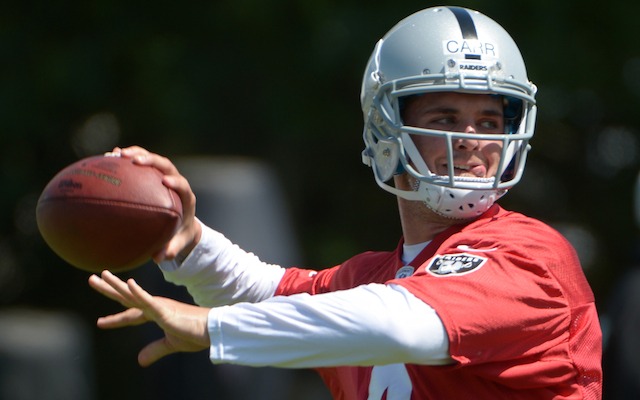 If you ask Dennis Allen, there is no question about who the starting quarterback will be in Oakland come Week 1. The Raiders traded for Matt Schaub to be their starting quarterback. Ever since then, Allen has sworn up and down that nothing has changed. Allen has even gone so far as to say that he does not believe there is anything wrong with Schaub's arm strength, something even his most ardent supporters have to know is an issue.
And yet, you cannot help but feel that Derek Carr has a real opportunity to snatch the starting job out from under Schaub's nose on Thursday night when the Raiders take on the Seahawks.
If this scenario seems familiar, that's because it is. Last season, Allen swore up and down that Matt Flynn was going to be the starting quarterback in Oakland at the beginning of the season. Then, after Flynn was horrible in the preseason, he magically came down with some elbow soreness that kept him out of the Raiders' opening week matchup with the Indianapolis Colts. Terrelle Pryor took over the starting duties, and aside from one spot start for Flynn due to an injury to Pryor, Flynn never got another chance.
Schaub hasn't looked good this preseason, but he hasn't looked as inept as Flynn a year ago. Another difference: unlike Pryor, who was exciting but far from a good quarterback, Derek Carr can potentially become an NFL-caliber starter. So rather than it being a case where the Raiders feel they MUST find another option for the starting gig like they must have in 2013, this year is more about a rookie who is performing well enough to force people to take notice.
Missing the third preseason game hurt Carr's chances of winning the starting role, but Schaub's absence in tonight's game will give Carr one last chance. If he is outstanding against a very good Seattle defense (even their second unit is solid), the coaching staff will be forced to consider starting him. Or Schaub's elbow issues could suddenly get much worse and Carr would simply be forced to start regardless — then we'd start talking about how he could keep the job with a strong performance against the Jets.