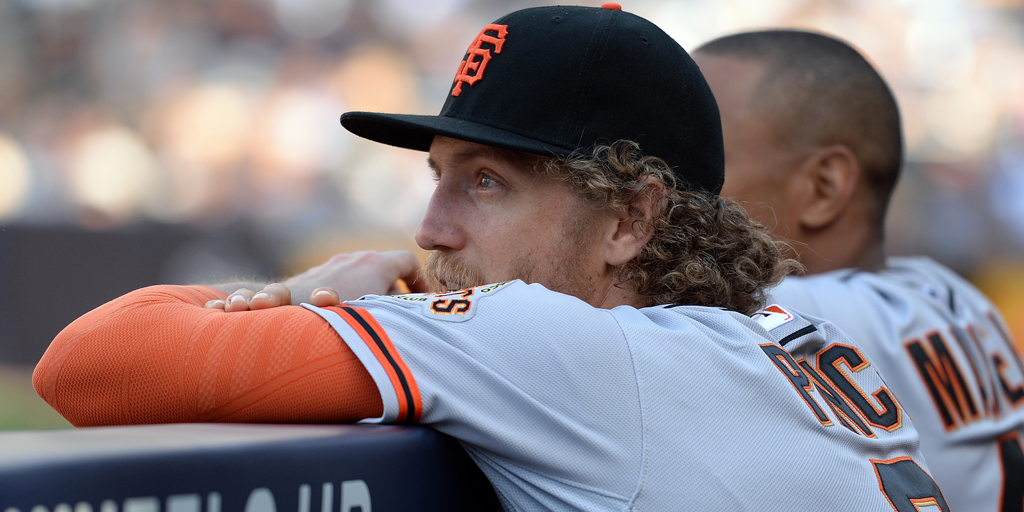 The good news just keeps on coming for the San Francisco Giants. What's good today? Casey McGehee is out of this morning's lineup after grounding into his 12th double play last night in the Giants' 11-2 throttling of the Reds.
Sorry, I kid poor Casey, who I think will come out of this awful stretch to start the season and contribute. Why do I have such illogical faith, when our eyes and his resume show us that it's quite possible that he'll be a bad player for all 162? (The guy ended up in Japan for a reason.) Well, he's riding a FOUR-GAME hitting streak, matching Pablo Sandoval's longest all season. Boom. Alright, I don't really think McGehee should play ahead of Matt Duffy, but I'm conditioned to assume that the Giants have a reason whenever they give a veteran the benefit of the doubt.
Things just seem to fall into place for this bunch, which came into Hunter Pence's 2015 debut at 18-18. Really, that's about as well as anyone could've expected. The season carried nothing but the promise of odd-year disappointment when Pence was joined on the disabled list by Matt Cain and Jake Peavy in April. Now they're in the thick of the playoff picture, and with the Mets falling on hard times, it's possible that all they'll have to do to claim a Wild Card spot is to beat out the Padres, who are a half-game behind the Giants at 19-19.
How did the Giants keep from fading into D-Backs/Rockies territory?
1. Brandon Crawford is the team's MVP, with an OPS of .876 and 24 25 runs batted in (he picked up another in the second inning of today's game), which means he's on pace for 107 on the season. I know no one is supposed to care about RBI's anymore, but that's pretty impressive for a guy who's been hitting either seventh or eighth in the lineup — on a team that's 29th the majors in runs per game — for most of the season.
2. Buster Posey has been an ironman, relatively speaking. Not only has he hit well (.292/.367/.446 with six homers, which puts him in a tie for the team lead with Crawford), but including today he's started 35 of the team's 38 games, and came into games late as a pinch-hitter twice. Posey will almost certainly get more than one full day off over the next 38 games, but his ability to stay in the lineup (and play through a neck injury) while Pence was out shouldn't be ignored.
3.  Brandon Belt hit his first home run of the season on Friday, then hit another yesterday. It's funny to think that someone who's hitting .306/.375/.463 is just getting started, but Belt could hit 10 home runs over the next month.
4. Imagine if the Giants said "no thanks" to Justin Maxwell and went with a guy like Juan Perez, or signed Cody Ross after he was released by Arizona (Ross was released by the A's a couple weeks ago, so his career is probably over). Maxwell looked unstoppable at the plate for a while, but after he cooled off he remained a valuable defensive outfielder
5. Joe Panik and Matt Duffy are bonafide major leaguers.
6. Angel Pagan isn't walking very much, but he's hitting .324 so the Giants don't mind.
7. Either Norichika Aoki or Gregor Blanco should be hitting well on any given day, which means left field shouldn't be a concern this season.
8. Chris Heston is probably going to get jinxed since I'm writing this on a day that he's starting, but he's been fantastic.
9. The demise of Ryan Vogelsong was greatly exaggerated. After a disastrous April, when he gave up eight home runs, had an ERA of 9.31 and an opponents' batting average of .333, he turned things around in May. His ERA this month is 1.37, he's only allowed one homer, and opponents are batting .181.
10. The Giants still probably can't trust Tim Lincecum to stay focused in those road games when his hair looks drenched midway through the first inning, but he's been great in the places where he's comfortable: at home and in San Diego.
11. The bullpen's ERA is 3.06 and they're doing a good job keeping the ball in the park (0.5 HR/9).
12. The 2014 postseason didn't break Madison Bumgarner.
A dozen bits of optimism is probably plenty. Maybe the sight of Pence's healthy left arm covered in an orange compression sleeve, along with 21 runs (15.4% of their total this season) over the Giants' last two games, makes the overall picture look better than it actually is. The upcoming series against the Dodgers will do a lot to affect how everyone feels about the team, but things could be a lot worse than heading into Tuesday with a record of 19-19 (if they lose today), 20-18 (if they win), or 19-18 (if it keeps raining in Cincinnati and the game gets postponed).