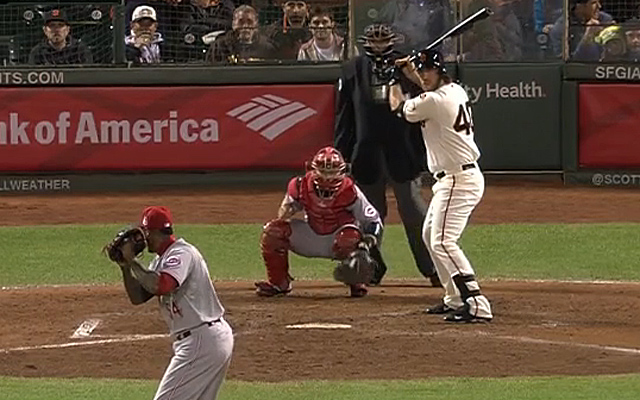 It was lunacy. It was also something the Giants supposedly weren't going to do anymore, since the collective audience oohed and ahhed, then gasped and tsk-tsked, after seeing the team's ace hit in the ninth inning, down one, against hard-throwing Cardinals reliever Trevor Rosenthal four weeks earlier.
But there he was last night, his throwing arm exposed while facing an even harder-throwing reliever. Madison Bumgarner vs. Aroldis Chapman was fantastic theater for two teams that aren't heading to the playoffs, but for the team that clung to postseason hopes and watched the scoreboard last night, this was an embarrassment of sorts.
Chide Bruce Bochy for using Bumgarner as a pinch-hitter in that situation if you must, but his job is to get the team to the postseason. The Giants went into the night 7.5 games behind the Dodgers, who were in a battle they'd eventually lose in 15 innings to the Rockies. Bochy's team was behind 8-5 with two on base and two out. Chapman would've been the guy they'd face in the ninth, and the heart of the order had already hit before Jeremy Affeldt's spot was due. Going for the three-run home run was the only play. Bochy looked at his bench, which included a minor league catcher who can't hit (Jackson Williams) and a minor league infielder who can't hit (Nick Noonan).
C Trevor Brown and OF Mac Williamson contracts purchased from AAA. #SFGiants

— San Francisco Giants (@SFGiants) September 16, 2015
Joe Panik placed on the 60 day DL and OF Daniel Carbonnel recalled and designated for assignment opening two 40 man roster spots. #SFGiants

— San Francisco Giants (@SFGiants) September 16, 2015
The Giants didn't lose last night's game because they didn't have Mac Williamson on the active roster. Not only did they tie the game with two runs in the ninth, but Bumgarner worked a walk after falling behind 0-2 against a guy who regularly hits 102. Noonan pinch-ran for Bumgarner, and Ehire Adrianza was plunked with the bases loaded to bring the Giants one run closer.
That's right, Adrianza was hit by Chapman, who struck Brandon Belt out but couldn't find the command to put away a starting pitcher. Granted, Bumgarner is a better hitter than most major league shortstops this season, but that's not the point. Bumgarner could've been badly hurt, which was why the at-bat against Rosenthal was so frightening.
Mike Leake was sent in as a pinch-hitter in the 10th last night, when the Giants were down by a run. Wouldn't Williamson — who had 13 home runs this year after a return from Tommy John surgery — have come in handy then, too? Leake struck out to start the 10th, then Adrianza did the same. It would've been nice to avoid another Adrianza plate appearance when the Giants needed a run to stay in a must-win game, but injuries took care of that.
Injuries — along with several other things — took care of the Giants this year. Next year, as the Giants construct their roster (and bench, specifically), they'll need to figure out a way to keep Bochy from sending Bumgarner up to face elite closers. That's the general manager's job, not the manager's. Bumgarner's talent at the plate is truly awesome, and his power is breathtaking at times, but he also came within a Melvin Upton single of a perfect game last weekend. That's a little more important.
It's best to limit Bumgarner's plate appearances to every five days, against starters and middle relievers, if at all possible. But in this case, simply taking advantage of the expanded rosters and calling up the most promising power hitter in the minor league system (Williamson had 25 home runs for the San Jose Giants in 2013) would've helped them avoid a Bumgarner-vs.-flamethrower redux. It's surprising that they found themselves in that situation last night, and not all that surprising that they reacted with the moves they made today.
Daniel Carbonell left one or two of his five tools in Cuba
Talk about an experiment that landed with a thud. The Giants gave Carbonell $3.5 million guaranteed a little over a year ago. He was OK but certainly not great in San Jose this year (after dominating Single-A pitching for 20 games a year ago), but he was awful in Double-A. At Richmond, the Cuban outfielder hit .146/.173/.194 in 56 games. He had 30 hits, one home run, and four walks in 2014 plate appearances.
"Things don't come easily to him, except for running," said one scout. "He doesn't handle the bat that well. The swing is very mechanical. There's not a lot of looseness to that swing."
That was the report when the Giants signed him, and it seems like that's how things played out over the last year-plus.
The good news? The Giants may have realized that paying inflated prices on under-the-radar international talent is probably a waste of resources. Maybe it's completely unrelated, but their failure with Carbonell and desire to hit on an international prospect could've led them to give him a $6 million bonus to Lucious Fox. That signing forced the Giants to pay significant penalties for going over their available signing pool capacity. Fox, an 18-year-old shortstop from the Bahamas, was listed as the No. 3 available international prospect available in July by Jesse Sanchez of MLB.com.