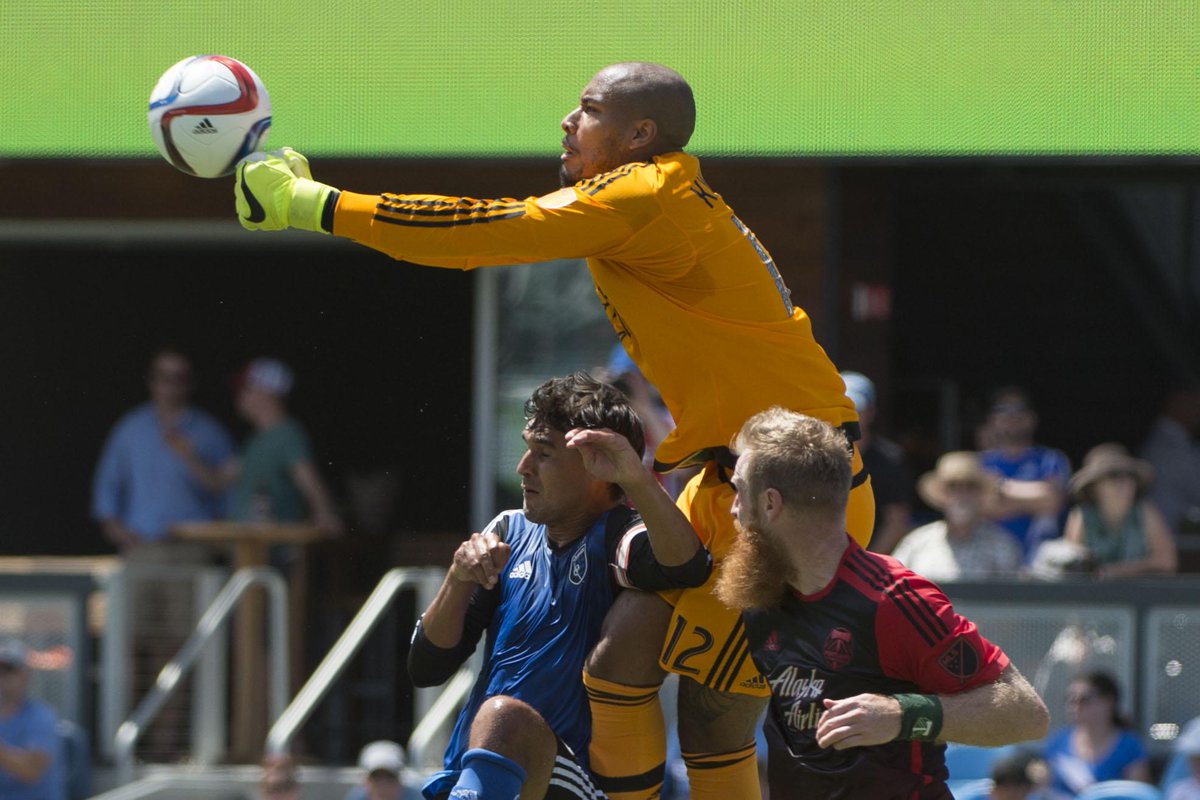 The Earthquakes went into Sunday's matinee with a 7-9-4 record (25 points), good for second-to-last in the Western Conference, one point ahead of Colorado. The Earthquakes, fortunately, have two games in hand that could vault them into contention for the last playoff spot. The Earthquakes needed three points if they wanted to start making a serious push for the playoffs. The Earthquakes, unfortunately, only got one.
Playing on ESPN2, the boys in black and blue tied the Portland Timbers 0-0. A draw that included Chris Wondolowski's failure to capitalize on an opportunity on the doorstep of the goal (don't say it) and a missed penalty off the crossbar with fifteen minutes to go.
"No one likes losing games," said central defender Jordan Stewart. "It's a point. As a defender, it's a clean sheet. But we're still disappointed. You need to win games if you want to get into playoffs, especially in-conference games. That's where we want to win. Obviously, Portland is above us. It was a chance to bridge the gap in between the two teams, which unfortunately, we didn't do."
Portland, who entered the game 9-8-5 (32 points), moved into fifth place (ahead of Seattle) with the tie.
"A point is better than the last month," said head coach Dominic Kinnear, alluding to the month past that saw the Earthquakes go winless and scored a measly four goals in league play.
"So we're happy about that. We definitely had some chances. I thought we played better than we have in a while. That's the positive of it. Obviously you'd love to have the win. Looking on their side, they missed a penalty kick with about 15 minutes to go, so a little bit of fortune. But I thought overall, our game was much better today and that should be the standard we set for the rest of the season."
The Earthquakes best chance came in seventh minute when Shea Salinas found Wondo all alone right around the penalty spot.
"Great ball by Shea. Found me perfect. But my touch—it got stuck under me. I tried poking it, but the keeper made a good kick save. My first touch let me down."
Defensively, the Earthquakes played a stout game, which is impressive considering they played without one of their key defenders, Clarence Goodson. Jordan Stewart, who normally plays left back, slid over into the middle to play with Victor Bernardez.
"I've done it before," said Stewart. "So it was nothing new that I've experienced. Just some restrictions on going forward."
Goalkeeper David Bingham was equally impressive, earning his sixth shutout of the season and quietly making a case as one of the top goalies in the MLS. Bingham is among the league leaders in minutes played, save percentage, and now, shutouts.
"Defensively, we were very sharp tonight," said the net minder. "We stopped their counters when we needed to. And overall, we played well but we let them off the hook tonight…disappointing to me, personally."
And the Earthquakes needed a strong game from Bingham. Facing opposing goalkeeper Adam Kwarasey, who is having a phenomenal year in Portland, the Earthquakes were going to have a tough time getting the ball passed the Ghanan national.
To make things even more difficult, it seemed as though San Jose gave the game away when the ref awarded a penalty to kick to Diego Valerie in the 75th minute after a sloppy tackle from Shaun Francis five feet inside the box. Luckily, Valerie rang one off the crossbar trying to bury the shot high and in the corner.
"It's a combination with PKs," said Bingham. "You, kind of, get a feel for it. Luckily, I went the right way. If it was a hair lower I felt like I covered it."
Long story short, the Quakes needed to win, played well enough to win, but couldn't score and now they face an even more arduous challenge of trying to sneak into the playoffs. Perhaps this is the year of the new, revitalized "Goonies never say die" team from a few years ago. Perhaps this is a team that will figure it out in the last few months of the season and ride a hot streak into the end of the year tournament.
"I think we got the five up top to create chances," said Stewart. "My philosophy is: if you keep a clean sheet, you're always going to have a chance at scoring a goal. We've got a good strike force with Wondo and Quincy, and people down the flanks — Matty, that can create chances for us. So as a team, we're always confident we're going to create chances. It's just scoring goals and defending goals. When you get that unity, most of the time you win games."
The way the Quakes played defense on Sunday, a postseason run isn't out of the question.